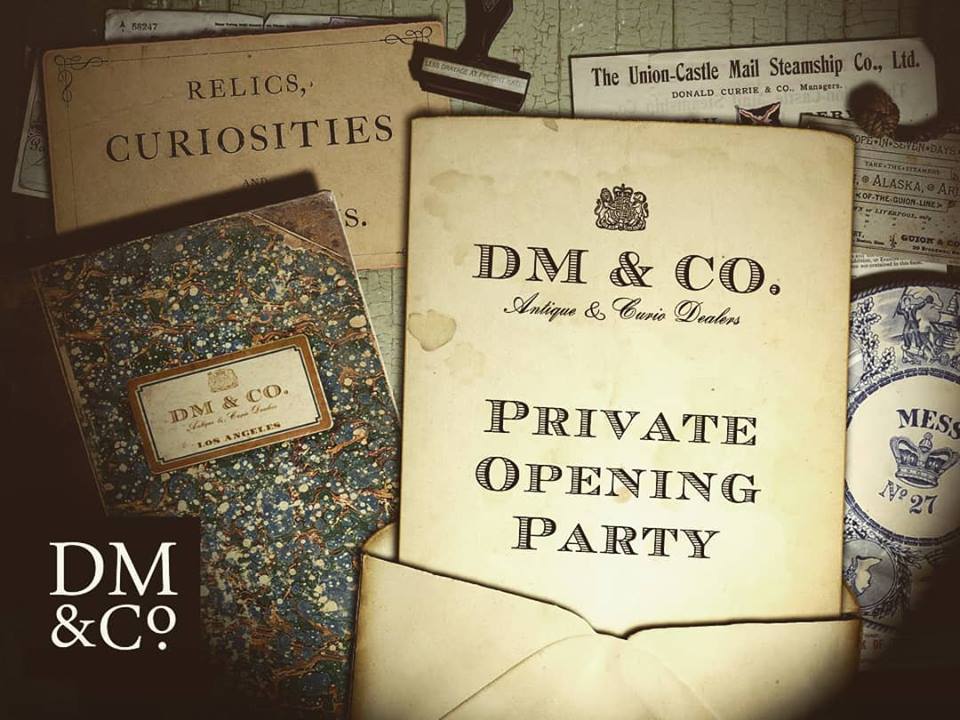 Like the fabled shop Curious Goods from a TV show on long ago, there is a new shop in LA that delivers the rarest of classic sartorial wears, historical curiosities, better umbrellas, safari accouterments, classic books, Victorian atmosphere and a game of chess oft paired with a historic cocktail at their ever growing parties; This latest one being an honorable tribute to Ricky Jay, a man that opened the eyes and changed the lives of perceptive individuals through my own lifespan and generations to come. – He is missed.
I am the kid that would pay to go to Disneyland at times just to hang out around the jungle cruise ride and the Temple of the Forbidden Eye just for the atmosphere of adventure and history rolled into one.
The shop I'm going to talk about. Diehl Marcus & Co. has truly captured that romance in feel… and you can buy the stuff on the walls!
If J. Peterman and 1980s Banana Republic had a store, this would be the flagship.
Christian Marcus and Erika Diehl-Marcus started something quite exquisite and unique in the LA community; an antique and curio shop that is often common in corners of London, is eluded to but at times disappointing when you see the price tags and lack of variety in squished versions of shops stumbled upon in Manhattan, yet ensconcing when laid out like the frame of an image from a history book in a city where history often catches fire right as the locals want to fight for the preservation of long forgotten icons; a refreshing anomaly in LA and something soon to become an icon in its own right. At DM & Co. in full view, are the rarest of rare items that you've seen in 1930s issues of national Geographic — I even picked up a vintage scarf from the famed brand J. Press on my last visit as it reminded me of something a professor from a bygone era would wear when he's still representing his alma mater while watching a rowing competition.
I'm quite in love. DM & Co. Is finally and truly the place where I can dress like Sherlock Holmes while feeling perfectly in place. An establishment where one can have a sit down and talk with the proprietor and proprietress about Sir Arthur Conan Doyle or Herbert G. Wells, and invite well natured friends to discuss the happenings of the world and the oddities of it surrounding us.
Yesterday, I did just that at their latest event. The tribute party I mentioned in the intro to this article. A party featuring conjurers performing illusions that baffled me and excited many.
Unlike any other venue in this part of the world, the conjurers and the (inebriation from the cocktails) ours devours gave the entire scenario a surreal, yet in the real world quality of being part of a movie, the likes of the Illusionist or the Prestige. Guests classically togged in their evening finest, gathered in celebration and conversed over the life and exemplary merits of the Author and Magician Ricky Jay, a man particularly known for his prowess throwing playing cards with great accuracy; some would say "deadly" accuracy.
Ricky Jay was the de facto standard when referencing what one thinks of the term 'master at his craft'. A luminary a historian and a man that greatly embraced the past yet lived deeply in the present. With guest told of his history and the watermelon sliced as a target for cards, he was honored and missed dearly. I truly felt he would have appreciated the affair presented, and the appropriate venue inspired by and in some ways attributed to him.
Of the festivities, there were performances by Fredrick Falk which were spectacularly entertaining and confounding to me and Lauro Castillo that tried my sense of discipline as I watched his mastery of cardistry and slight of hand, but above all else was the talk from the proprietor himself of his relationship with Ricky Jay.
Christian in his youth had admired and studied Ricky. Read his books and even contacted the publishers in order to reproduce imagery that was only found within Ricky's pages so he could make them into antiquarian posters to cocoon him in the beautiful world that the crafty imaginative books created.
I think what I loved most about the tribute was that it was from the heart and from a true admirer. In the end, Christian showcased his own impeccable talents in a neglected art in which he focused on in his youth, the art of plate spinning.
If you're in LA, and you are one like me, hungry for adventure… or just hungry for hard to find Curious Goods. There are many antique shops, but this one… this one is the fabled one the adventurer walks into when they find that pair of goggles they took to India or discovered the novel about the Spanish Civil War.
And also, there aren't many places I could imagine would do proper justice when it comes to a tribute to a man like Ricky Jay. It was done in the right way. And for that, I'm happy.
It's not an antique shop. It's not a novelty shop. It's truly a fantasy and adventure stop, and in that… sometimes, a shop.
4707 Fountain Ave, Los Angeles, CA 90029