Some ads, as early as 1917, begin describing snap-brim fedoras. Eaton's, advertising in the Winnipeg Tribune, uses the term consistent, as does J. C. Penney in many U.S. papers.
There are many other ads available, these are just representative examples.
Winnipeg Tribune
, March 2, 1917, p. 16, and
Winnipeg Tribune
, April 20, 1917, p. 16.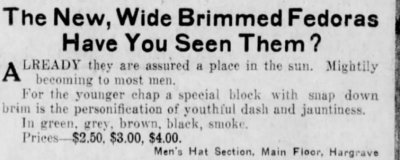 Florence Morning News
. September 12, 1925, p2.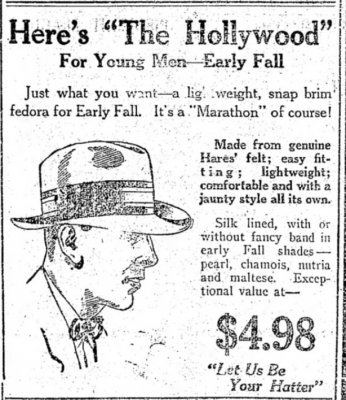 Dixon Evening Telegraph
, September 6, 1928, p. 12. The "Ace" is the hat model mentioned as a snap-brim fedora.
Brainerd Daily Dispatch
, January 3, 1929, p. 3.
Gettysburg Times
. September 12, 1929, p. 9. This ad distinguishes fedoras with different brim styles. Again, it's all about the soft felt crown shape.
Havre Daily News
. September 5, 1929, p. 4.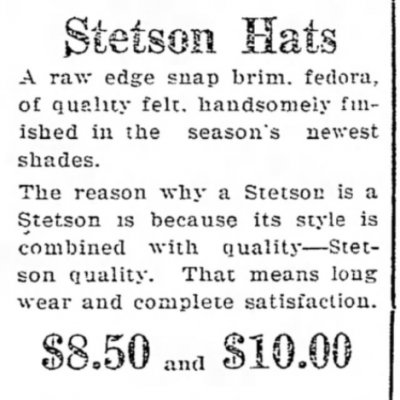 North Adams Transcript
. March 28, 1929, p. 24.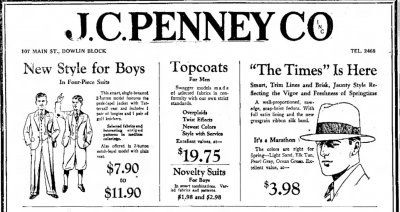 Sikeston Standard
. September 16, 1930, p. 4. This hat has a pencil-curl, but its been snapped down.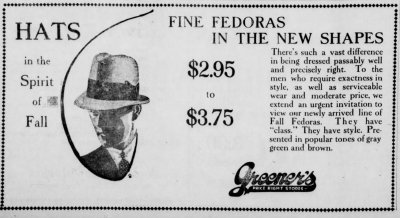 Winnipeg Tribune
. February 19, 1930, p. 23.
Winnipeg Tribune
. December 23, 1931, p. 21.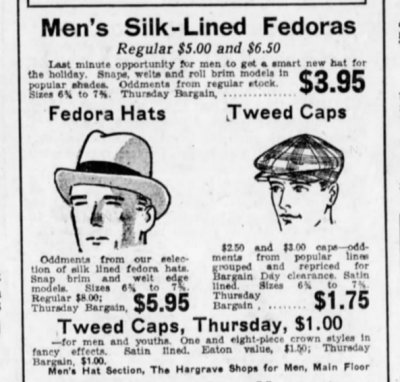 What is consistent throughout the 1920s and into the 1930s in perusing hundreds of advertisements is that the snap-brim hat was worn by younger men and marketed to them as a casual style, while the rolled brim was marketed as the conservative style. This is how the fedora comes to be known as simply a soft felt hat regardless of brim. The fedora shape of the crown was made with a variety of brims. The rolled brims were popular from its introduction in 1882, and consistent sellers until a decade or so into the twentieth century. In researching through the advertisements and newspaper articles, 1924 seems to be the breakout year for snap brims, even though they enjoyed a bit of popularity for over a decade. The late-1920s seem to be the transition period, where hats with fedora crowns and snap brims are replacing fedora crowns and rolled brims in the mainstream of fashion. The soft felt hat is changing into what we know today as a fedora.
Brad
~ The Hatted Professor