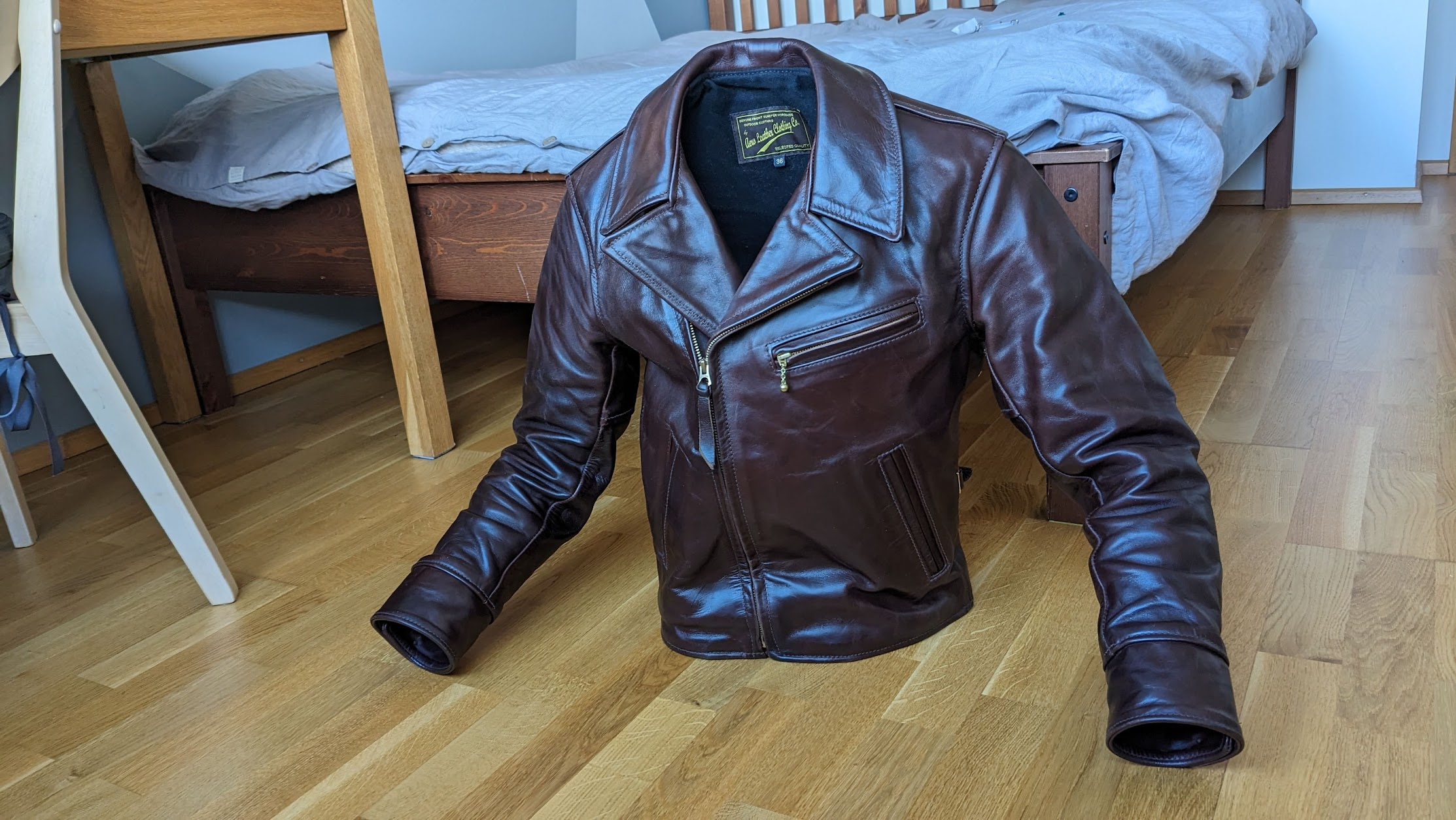 Greetings from Estonia!
I decided to make a separate thread instead of making a post in the
https://www.thefedoralounge.com/threads/aero-hooch-hauler-thread-2022.108961/
thread.
This will be an initial impressions / review of my Aero Hooch Hauler after wearing it almost exclusively for 2 months as well as a short history of my personal experience with leather jackets.
This will be split into 4 parts : My story with leather jackets, the story of this leather jacket, the leather jacket itself and the fit.
I enjoy writing so this will be quite verbal / long. You have been warned. Hope you enjoy this write-up.
---
My story:​
I'm from EU, Estonia. Originally from Lithuania. I'm in my early 30s, wife, two kids. IT job.
My first love are leather boots. Mostly have experience with Red Wings and Sendra boots.
After having fallen in love with leather I started exploring other related fields a bit.
Got into leatherworking, bought a lot of various tools and supplies. Made some wallets. Not very active with this hobby these days.
Got a nice custom belt made, understood better what I like in terms of leather - brown, aniline, waxy with lots of pull-up.
What's the ultimate expression of leather? To me - leather jackets.
Found out about TFL from Jake (almost vintage style) blog if I'm not mistaken. Thank you
@dudewuttheheck
for that!
Joined TFL, started exploring the vast amount of info, knowledge and opinions available around these parts.
Research started here.
First I made a
list of makers
, dividing into parts of the world.
Europe being top priority because then I can avoid extra taxes.
UK is still ok because it's at least rather close by. I consider US and Japan to be too far/remote, so they got lowest priority.
Sorting out through various makers, what hey have to offer and price ranges I ended up with a couple of favorites:
Vanson (US), Aero Leather (UK) and Simmons Bilt (UK). Thedi would definitely make that list but they are in a difference price bracket.
Then I started gawking at tons of photos to feel out what
style
I like most. Eventually ended up with these priorities:
Cross-zip half-bet / aviator > Minimalist cross-zip MC (no epaulets or belt) > Belt length button-up half-belt > Center-zip MC
Next question was -
vintage, used, stock or custom
?
Ideally it would be used because that seems like the best bang-for-buck but requires patience and compromises.
I definitely did not and still do not feel ready or interested in Vintage.
Stock would be ok if I could find the right measurements. Haven't found one yet.
So the final goal was a custom jacket.
Leather
- I had a feeling that I want a waxy, brown, pull-up, medium-thick aniline veg tan / combination tanned leather that is on the stiff side. Basically as far away from floppy leather that I've experienced all my life but something that would show as much natural beauty of the leather and not be covered with pigment / top-coat.
The first glimpse of my potential future was grabbing a used Aero Dustbowl size 36 from DE:
https://www.thefedoralounge.com/thr...l-fqhh-brown-fit-impressions-thoughts.109523/
Turned out too big, but it was amazing to finally get to feel how a "real" leather jacket feels like. Fell in love.
Sold this one without much loss. Good experience.
At some point I started considering Aero / SB more seriously (ordering custom).
Made a thread about Aero leather choices:
https://www.thefedoralounge.com/threads/aero-leather-choices-options-end-of-2022.109422
Contacted Shawn about making a 5* jacket for me. Figured that would really help me dial in various measurements.
It was a custom pattern based on various photos that I sent them and my descriptions.
Result:
https://www.thefedoralounge.com/thr...-belt-in-black-waxed-premium-goatskin.110262/
Body fits ok but the sleeves turned out too narrow. Ok for summer with a t-shirt. Mobility kind of sucks. Will try to sell it as I'd rather wear my IH type 1 denim jacket in summer.
At this point I felt ready. Talked to both SB and Aero for a while.
Decided to go with SB because the communication made a better impression.
The price was better as well because in case of SB I can use a proxy and avoid taxes. That's not an option with Aero.
And the communication was truly a pleasure. Huge respect to Deborah - only after 100+ emails (!!!) did I finally make an order.
I also got free samples 2-3 times from SB.
Got all the details down, placed an order and started waiting.
While waiting for my SB "Pacific" to be finished I made my third purchase - a used Vanson Chopper (size S/36). Also from DE. Turned out too big as well (mainly in terms of body length and gut/naval width):
https://www.thefedoralounge.com/threads/vanson-vanson-vanson.105617/post-3012293
So far my experience has been that my general size is closer to 34 than to 36.
While waiting for SB another opportunity came up which I decided to take advantage of - this is where the "story of this jacket" part starts - the hauler of the hooch!
Eventually the SB jacket was finished and sent to my proxy. Turned out very bad in terms of measurements so I returned it and got a full refund without any problems or negotiations:
https://www.thefedoralounge.com/thr...nd-how-many-potential-ones.89562/post-3017340
Unlike
@Pandemic
who had to fight for his refund, which was a very sad story overall which made me very hesitant about SB from the beginning (together with their backstory). In general I do plan to give SB another shot in the future potentially - I really enjoyed working with Deborah and I believe they CAN make an incredible jacket for a great price, but need to be really strict with them about QC and adhering to requested measurements within the margin of error.
After eventually getting the Aero Hooch Hauler I also got a mint Vanson model B from DE for a great price.
Lovely jacket overall, although I'm not a fan of the CR style and the body length is at least an inch too long:
https://www.thefedoralounge.com/threads/vanson-vanson-vanson.105617/post-3046069
So here I am with 4 leather jackets : 5* button-up (will sell), Vanson Chopper (will sell), Vanson Model B (will maybe sell), Aero HH (will keep forever).
---
The story of this jacket:​
From the very beginning I had my eyes set on Aero - liked so many things about them and they have quite a few styles that I liked.
They were/are also highly respected on TFL (apart from fit/mobility/pattern complaints).
From all the styles the one that really caught my eye and stood out was the Hooch Hauler. Love from first sight!
Initial communication with Aero left me wanting (definitely more my fault) so I was hesitant about ordering a custom from them. The refusal to install bigger than #5 zippers also felt annoying to me.
But on 2023 June 13th Aero announced a 40th anniversary sale :
https://www.thefedoralounge.com/threads/aero-sale-annoucement.111305/
It was now or never (turns out they raised their prices after the sale as well).
Got some leather samples (twice, as the first package got stuck).
Was debating between Brown Kelpie and Brown/Cordovan CXL FQHH.
Eventually went with the brown CXL FQHH for (what I consider) the "classic" Aero experience.
Initially was still thinking maybe go with the J-106/Ridley with some custom configuration but after talking to Holly for a bit and calling Aero a few times I eventually decided to go for a Hooch Hauler - staying true to my initial love.
June 30th - made my order. Respect to Holly/Aero for respecting the discount even though they had (for some reason) officially stopped the sale earlier than promised.
July 6th -Discussed some details with Holly and confirmed my spec. Got an estimation of 2-3months.
July 13th - order in production, communication with Denny starts. He had some suggestions (some very strong ones as well) regarding what should be changed about my spec. Also double checking and confirming some things with me. He gave me an estimation of a couple of weeks.
Aug 3rd - The jacket is finished, Denny sends me info and photos. Shoulders turned out too narrow (16.5" instead of requested 17.5"). Gorgeous jacket! Agreed to do a remake with a few small adjustments and trying to get the shoulders right. Again, huge respect to Aero for doing the remake without any issues.
Sept 4th - got info that the jacket is finished. Paid remaining balance. Waiting for final QC from Denny.
Sept 8th - got QC info, very happy with how the final measurements turned out. Turned out darker than the first one, but looks very nice as well. My shipment gets dispatched.
Sept 14th - the jacket reaches me and I enter leather jacket heaven.
Thank you
@Hide'n'seek
for the great customer service, communication and Aero customer experience!