Well, the latest acquisition has arrived!!
I thought you may like a little break from the trial narrative, so here we go...
I spied this beauty on the sale pages of Aero's website. The measurements seemed to be practically perfect, so I thought I'd give it a go.
This jacket is a modified Sunburst pattern (1920's / 30' cut), with a full action back, lined in Olive cotton drill & has nickel Talon hardware.
The hide is a seal Goatskin with contrast Olive stitching. It is incredibly soft right from the moment I opened the box. Quite a difference to the Sheene that I recently received.
I really like how the high, rounded yoke compliments the action back and half belt below. I think it is a really nicely 'balanced' feature on this jacket.
Man, am I loving this one right from the word 'go'!
Made by Julie, there is not a stitch out of place & there is a really nice detail that I have not seen before around the bottom of the zipper where it is riveted in place.
I have to say just for the record, that every single person I have had dealings with at Aero with my two most recent purchases have been extremely professional, courteous & simply a pleasure to do business with. This is not a post spruiking a business, as they do not need that, rather an acknowledgement that the lost art of good customer service is alive and well & I for one find this a refreshing change.
Here's some pics for you all, hope you enjoy (I REALLY hate taking these kinds of shots BTW).....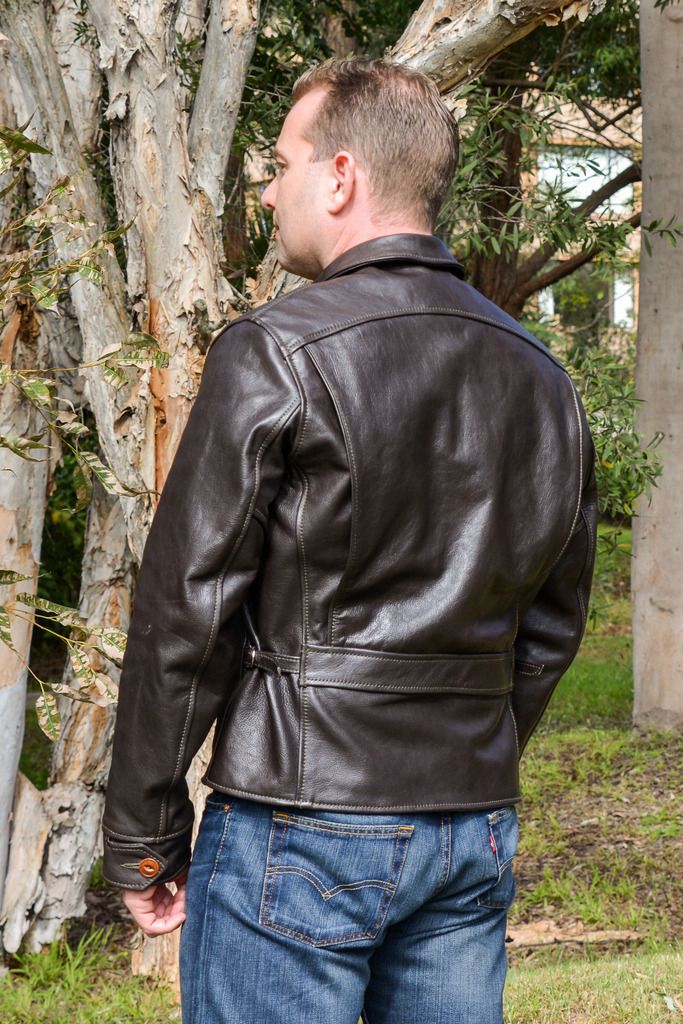 Last edited: