I've been wearing my two Stockmans quite a bit recently because it's winter now, so thought I might as well show a few pics as to how one has aged over the last two years. This is the Cordovan one and I love it like my first born.
I always feel the longer jackets are underrepresented here, so here's my small part in redressing that balance.
As a bit of history, this was a rebuild, as the original got caught up in the Aero soap opera contretemps of two years ago, and when I expressed my concerns on here about the first one, Ken at Aero came back immediately and offered to sort it right away. That was my first experience of the excellent customer service I've experienced at Aero since then, and is one of many reasons why Aero has my loyalty as a customer.
The jacket was made by Julie Leitch, who's made most of my jackets over the last two years and apparently having her as my almost personal jacket maker
)) is another nice personal touch you only get from small operations like theirs.
Starting with a distant shot and a close up one.
Now close-ups compared to its black brother.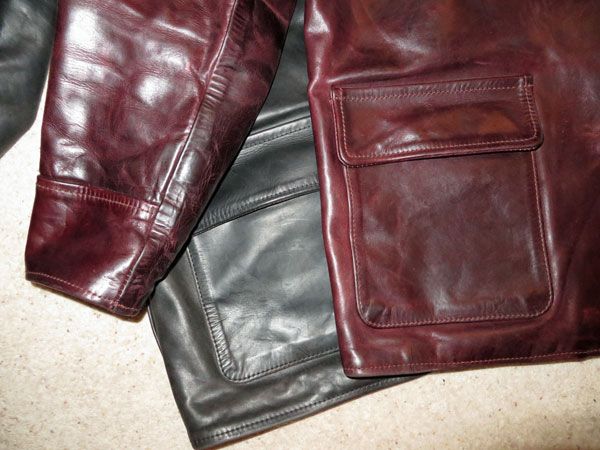 Some creasing on the back.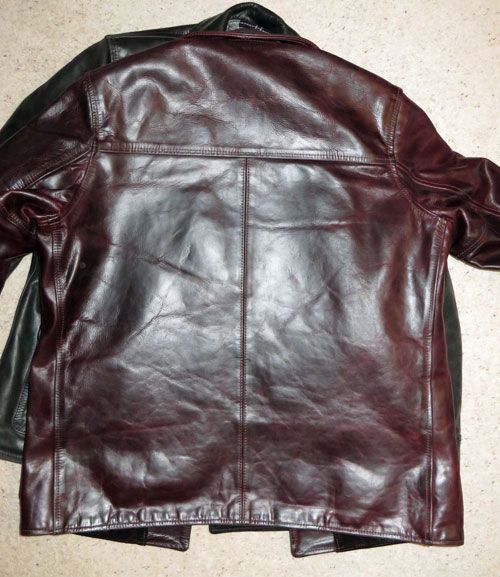 And finally a close-up of an arm, and the sort of grain that's developed.
The good thing about these longer and wider jackets is that fit isn't critical. As long as the sleeves are good, then the rest just falls into place.
It would be good to see how other folks jackets are ageing too.