Hi loungers,
I have been looking forward to this jacket for some time now, ever since I first got wind that AVI LTHR had acquired an original WW2 Bronco 29191 and were going to copy the pattern and add this A-2 to their original maker line.
Finally, an affordable original maker A-2 jacket? Is it any good?
In short… Yes, its a great jacket! This IS the jacket that was promised, and more…
So, what follows is my personal opinion.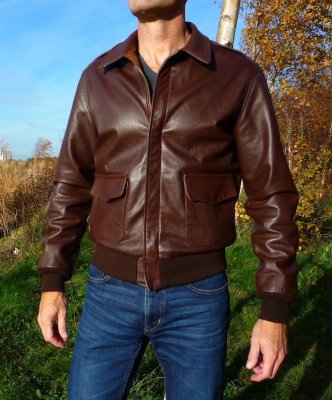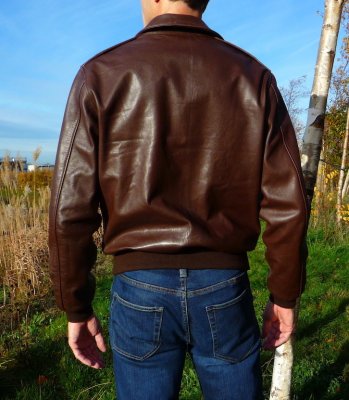 This jacket is a pretty fantastic representation of the original WW2 Bronco on the table. (pic from AVI's website)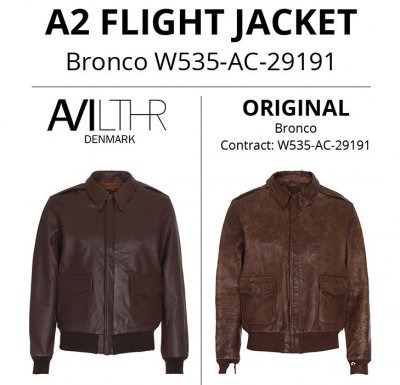 Also, please bare in mind – this jacket is going for $395 INCL postage! That's a LOT less than the price of a top tier jacket maker… less than many 'lesser' authentic mid-priced A-2s... And available immediately.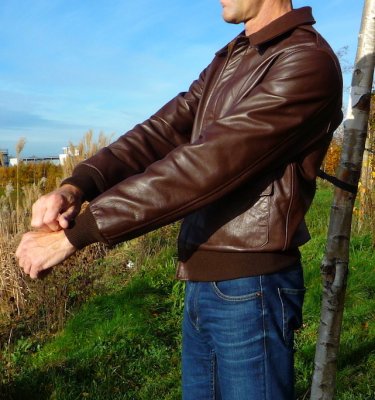 This jacket is so comfortable as A-2s go, easy to wear and move around in, right out of the box. The goatskin is light and supple, with lots of grain and character.
That said, the goatskin feels a touch thinner than what I am used too, certainly thinner and more pliable than my horsehide jackets. Seems strong enough, but I wouldn't role around in the gravel with it.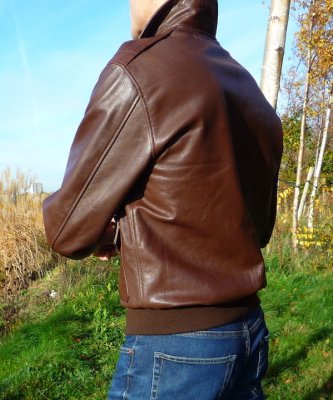 It is a mid, chocolate brown colour, a light seal or dark russet… I have been pleasantly surprised to find variations in the hue of the leather (more pics below). There are also some bits with slightly lighter undertones… a mottling if you will… and some small seam areas where the top coating is very slightly rubbing off… This is fantastic, but I don't know if this will be found across all jackets.
I would love to see this in a darker shade of Seal, as an option, one day perhaps? (hint
Collar and pocket profiles are classic Bronco. Love it.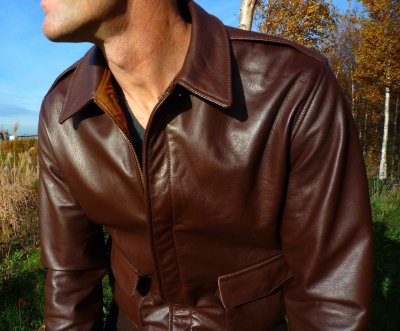 Hows this for 'personality'!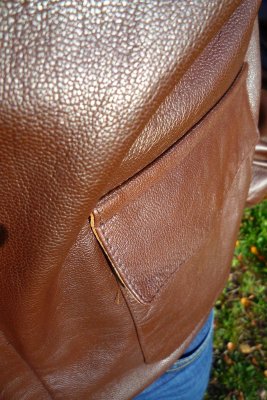 Note: This jacket is not
claiming
to be an exact 'clone' of the original jacket, in that I doubt the original was taken apart and the pattern traced (I may be mistaken). Also, this goatskin is not likely the same as that used by the top tier repro makers (more below)... nor are the minute details as exacting as a GW, ELC or the Japanese makers (hand-made, stitch counts, NOS or specially reproduced 'clone' zippers, studs and hooks etc…)…
That being said, they clearly noted the details and seem to have gone to great lengths to get the pattern, hardware and important bits as accurate as possible.
Continued....
Last edited: