G'day all. After years of collecting various things, it has come time to start paring down a few of those categories. Among them is a collection of about 65 or so peaked (visored) Class A (AKA: Nr. 1 Service Dress) uniform caps of air forces around the world. All (or almost all) are in my head size, which is variously a Euro size 59 or 60. A few are extremely rare (such as a WW2 Soviet Air Force pilot officer's cap, an exquisitely rare 1935 Austrian Air Force officer's cap, a number of RAF and Commonwealth officer caps of all vintages, a few Middle Eastern air forces caps, an early 50s vintage Finnish Air Force officer's cap, etc., etc., etc.)
The uniform collection consists of both original and reproduction aviation officer blouses (Class A tunics), complete with correct insignia, and of all ranks from O-1 through 0-8/9), a few British Air Marshall sets (originals), some WW2 Luftwaffe officer sets (most are excellent reproductions, with matching peaked caps), WW2 USAAF flight surgeon sets, etc., etc. EXCEL spreadsheets are available with pertinent data on these items, so if any of it is of interest to members here, please RSVP.
A collection of Russian, Chinese & US military flight helmet/mask sets is also up for grabs, but needless to relate, modern era 'hard' flight helmet & mask sets are not inexpensive and I have no intention of 'giving them away', as it were (fair prices asked). Examples are several 50s vintage USAF P-1/MS22001 sets, P-3, P-4, P-4B, HGU-2/P, HGU-2A/P, HGU-26/P, HGU-68/P (with correct matching masks, as used by original wearers and ALL in excellent condition).
A further collection of aircrew oxygen masks (US, German, RAF, Russian, Chinese) is up for offer, with some very rare and unusual specimens among them (many in excellent or new/unissued condition).
As a consulting specialist in aerospace life support and human factors (and historian/writer), I have acquired these over the years and can't wear them all on my final flight into the mild,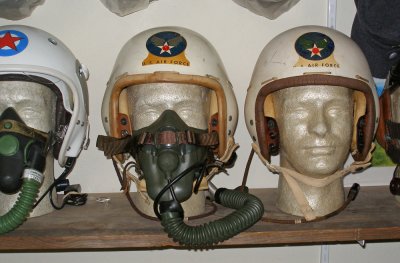 azure yonder, so...contact me if interested.
I've attached an image that shows a few of the helmet sets, just as a visual reference.