I'm selling some more of my G1s. This is the first. Note the slight issue with the zipper (hence starting price of USD125), but it's a proper E-series sz48, in goat!
https://www.ebay.com/itm/US-Navy-G-...MFG-Star-Sportswear-VINTAGE-goat/283423934833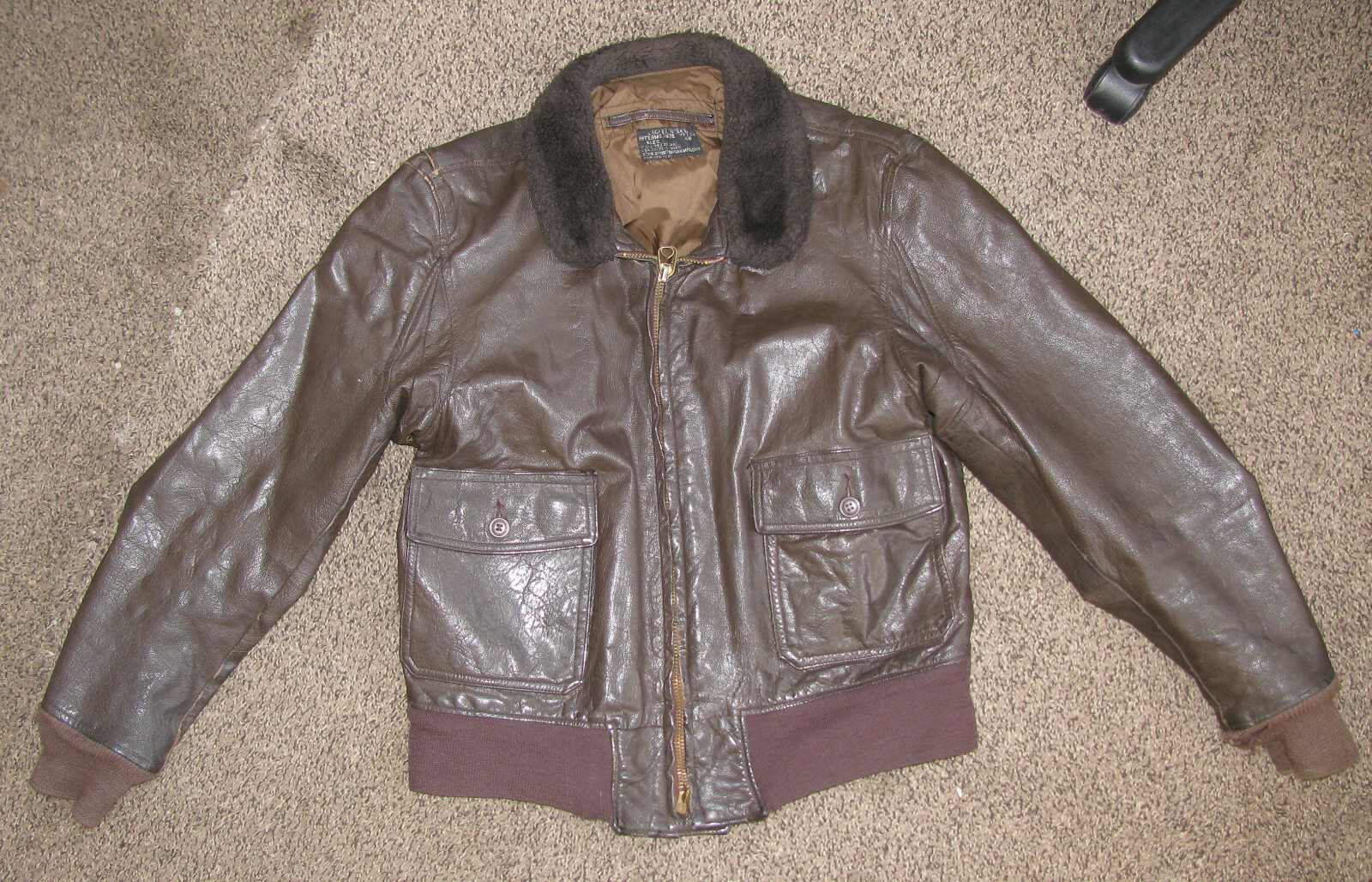 Dark brown goat leather, heavy quality leather with incredible pebbled texture. Incredibly hard to find size 48 - very large for vintage.
The original label is well preserved and reads:
JACKET FLYERS
INTERMEDIATE TYPE G-1
SIZE 48
MIL-J-7823E(AS)
CSA 00-72-C-0060
STAR SPORTSWEAR MFG.CORP.
8415-526-7634
This is an original fifth (E) series G-1 jacket. This contract number identifies this jacket as a 1972 Star contract. It is one of the earlier examples of the E series, and is therefore still real goat leather.
There is one issue with the jacket: the insertion pin of the original zipper has come away slightly at the bottom (see photo). This should be a fairly simple fix for someone with tailoring skills. The jacket will zip up, but getting the pin to go into the retainer box is difficult, and it doesn't hold there well.
The black fur collar is original and in good condition. The waistband is in good condition original and is in generally good condition, with only a few very minor rough areas (see photos). The cuffs look like they are original. One is in good condition, the other has a hole about 3". Some darning would fix it. The windflap is stamped USN.
2 front pockets: 1 inside pocket.
Brass zipper front (Scovill)
Soft liner in good condition
Brass armpit grommets with no corrosion
SIZE
Tagged as a 48" chest, which is extremely large for jackets of this era, and almost impossible to find. My feeling is that (as with many jackets of this era, it is smaller than expected given the size (see measurements below). It is probably equivalent to a modern day large or on the smaller side of XL. I will note that this jacket has longer arms than other G1 jackets I have owned (which were 46's).
Measurements when zipped up and laying flat-
Shoulder seam to shoulder seam: 19.5"
Chest (armpit to armpit): 22"
Length (bottom of collar to bottom hem): 25"
Armpit seam to leather cuff: 19"
Armpit seam to knitted cuff: 23"
Shoulder seam to leather cuff: 24"
Shoulder seam to knitted cuff: 27"
Overall this is a rare find in a very wearable size.
Sold as-is, no returns.
From a smoke-free home
Here are some images - many more on the ebay listing. Thanks for looking!