It's been quite some time posting, just thought you may have a story like this one to share.
I've been searching for a few years now for a Langlitz Jacket that didn't cost a bloody fortune in my size 50. I tried eBay, Craigslist, along with many other websites with no luck. I was on Facebook marketplace this past Saturday, and typed in Langlitz in the search engine. One ad popped up and was posted less than 10 min. The message said Langlitz Jacket and pants xxl $150.00 message if interested. " It had to be a scam, There's no way it's a Langlitz." So I messaged the seller and asked what the label said inside the jacket and pants. He messaged back, The jacket tagged Langlitz size 50, and the pants tagged Langlitz size 44, so We set up a time to meet and have a look at what he had, about 45 min away from my ranch. So we met at a police station parking lot. Once I arrived in the parking lot, he showed up a few minutes later, took the jacket and pants out of his motorcycle. Once I verified it was the real deal I couldn't get the $150.00 out fast enough to pay the guy. After paying him he told me they were given to him by his buddy and said" Your getting one heck of a deal, my buddy bought these and just sat in the closet, I would keep these but they just don't fit" Yes, new without tags! After the 45 minute drive home I tried them on and it was like I had ordered them as they were a perfect fit! The Jacket is heavy cow/steer and the pants are goatskin. Photo from ad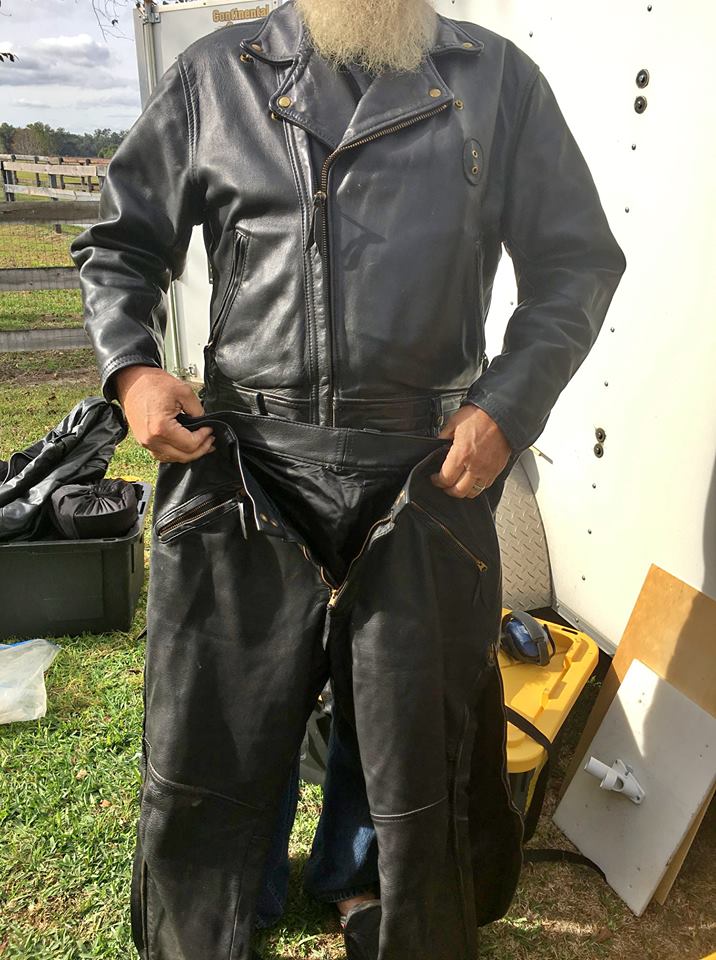 Yes, Christmas came early!