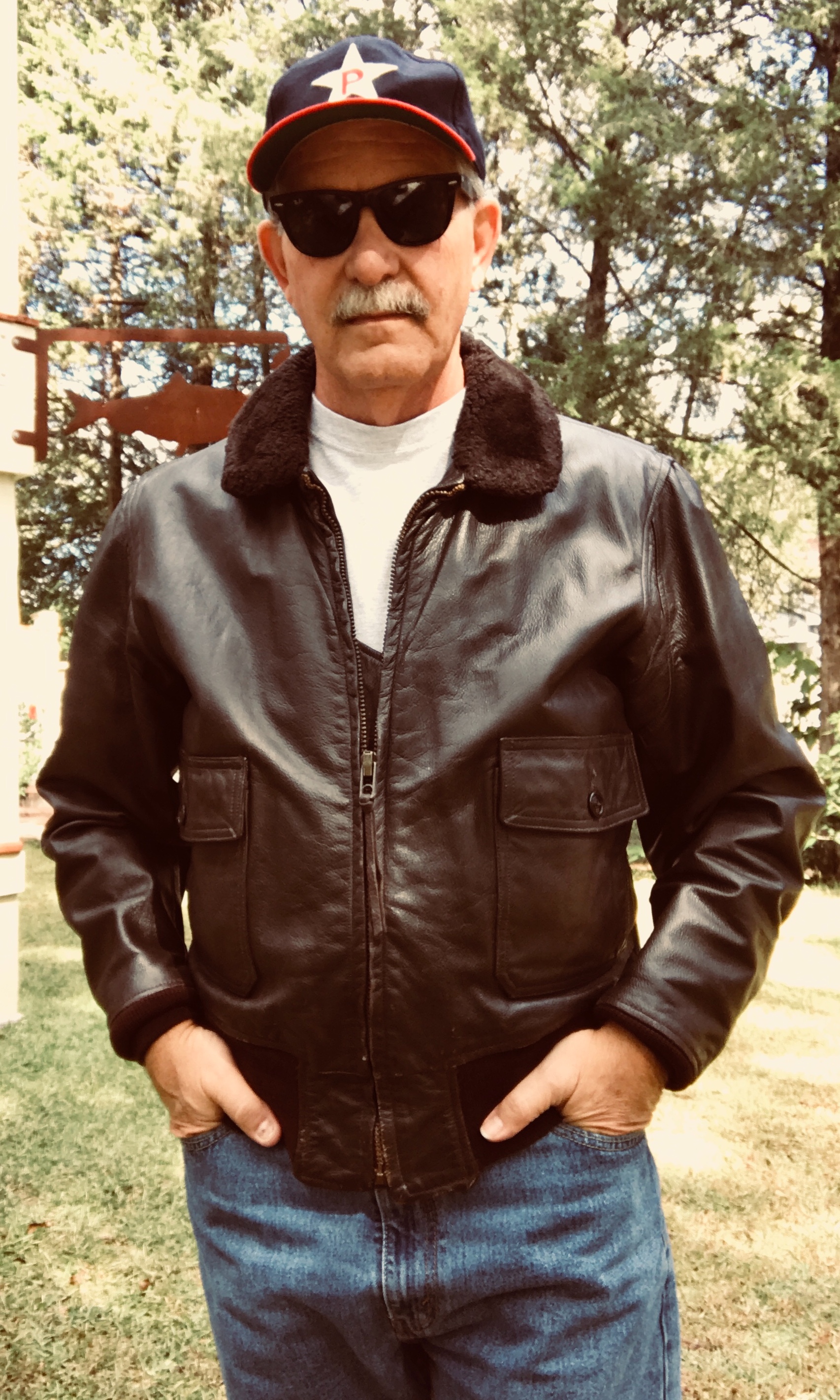 This is my my new/old, no-name G-1.
About four or five years ago, a friend called and said he had an old "bomber jacket" he'd like to give me. He'd found it hanging in his barn where he'd left it decades ago. When he showed up with it a few days later, it was almost unrecognizable as being a leather jacket. It was so dried and covered with grime, it was grey instead of brown. No kidding, it was about the same color as old asphalt. And it was so stiff, it would easily stand vertically on its own, without support. The cuffs and waistband were in tatters and it stank of oil and sawdust. The tag was missing...but from the synthetic collar and modern brass zipper, I guessed the jacket to be an early-eighties, E-series G-1. Not a particularly collectable jacket, even in mint condition.
My friend couldn't remember exactly when he got the jacket, but he said it was a long time ago. Around here, in the days before the internet, to "obtain" a real G-1, one usually had to know someone in the supply department at Cherry Point. My friend was in the North Carolina Senate in those days...so he likely had the right connections...but I can't be sure this is where Bill came by the jacket. I thanked him for the jacket, but I doubted that it could be saved. And, anyhow, it looked smaller than my normal size. So I just stood it in the back of my closet and forgot about it.
A year or so later, I decided to try my hand at restoring it. I had little to lose. After all, the jacket had no historical value and I hadn't paid anything for it. I started by washing it in the washing machine with a strong detergent. Twice. The washing worked wonders. When I'd finished, the jacket was not only clean, but it was brown again...and it didn't stink. At least, not as badly as before. I let it dry for several days and then treated it with gobs of Pecard Leather Dressing. In fact, I left the Pecard on the leather for a month or so. This made the jacket much more pliable and soft. So much so, it actually felt like a jacket instead of a board, and it would no longer stand up on its own. But I was right. It was too small. And I wasn't going to incur the expense of replacing the knits on an E-series G-1 that didn't fit me. So I put it back in my closet and forgot about it, again.
But the story has a happy ending. In 2015, I retired. I was no longer chained to a desk and a courtroom, so I became more active and lost weight. Suddenly, wearing Bill's old G-1 became a viable idea. So last week I bought some mil spec knits on eBay, had my seamstress install them...and, just in time for fall, got a new favorite jacket.
AF
Last edited: