FASHION & STYLE
At the Met Gala, a Strict Dress Code
By GUY TREBAY APRIL 23, 2014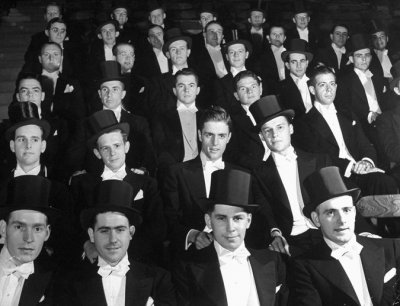 Escorts for princesses and countesses in 1938. Credit Margaret Bourke-White/The LIFE Picture Collection, via Getty Images
Gone are the fabled society queens and their blue-blood escorts, replaced by quarterbacks, mannequins and Jimmy Fallon. Forgotten, too, are the days when the fashionable elite made their stately ascent of the Metropolitan Museum of Art's broad stairway, all the Nans and Pats and Micas stopping for air kisses along the way.
Plenty has changed over the 16 years Anna Wintour spent putting her mark on the great spring spectacle that is the ball benefiting the museum's Costume Institute, now renamed in her honor. Small tribal coteries were supplanted by corporate donors. A moment on the Met's red carpet became less social event than key branding opportunity. Fewer people than ever come wearing clothes they actually own. And yet the celebrities in their borrowed finery still make for spectacular viewing. Or at least the women do.
As at most fancy dress parties, the role of men at the Costume Institute gala has traditionally been to serve as a neutral backdrop for their partners and dazzling displays of the dressmaker's art. Somehow that seemed unfair. Why, the question seemed to ask itself, should women (and Marc Jacobs) get to wear all the fun stuff? Beginning this year, they won't.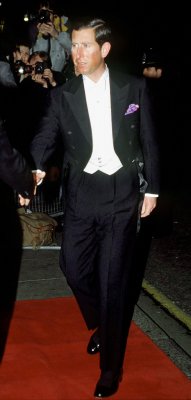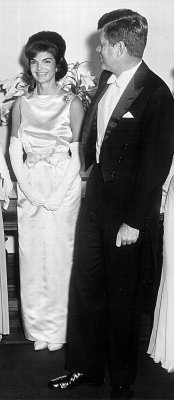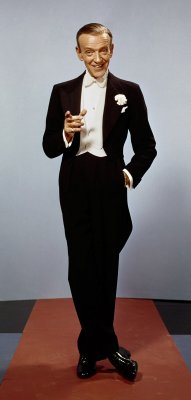 VIEW SLIDE SHOWA White-Tie AffairCredit Giuseppe Cacace/Getty Images.
Never one to let sartorial injustice go uncorrected, Ms. Wintour instituted a radical change in the dress code for an event celebrating both the inauguration of a rebranded Anna Wintour Costume Center and an exhibition on the great designer Charles James. She stipulated full evening dress and decorations for the men. That, for the benefit of those who grew up under the dark cloud of Casual Friday, means a black tailcoat, a waistcoat, a wing-collared shirt and white bow tie. Let's not forget the sheer silk socks, patent leather evening pumps, medals and rosettes.
True, the closest most American guys are likely to have come to this archaic get-up is playing Monopoly. That is probably just as well, since it turns out the new sartorial ideal for Costume Institute dandies comes fairly close to that of the game board's icon, Uncle Milburn Pennybags.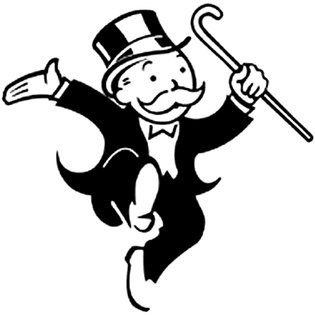 "I think there is something great about trying to encourage a love of formality and injecting that into the pop-culture bloodstream, where so much suffers from the opposite," said Jay Fielden, editor of the society bible Town & Country and himself a dedicated dandy. "But I'm not sure where you'd go to find tails. And if I don't know where to get it, who in hell does?"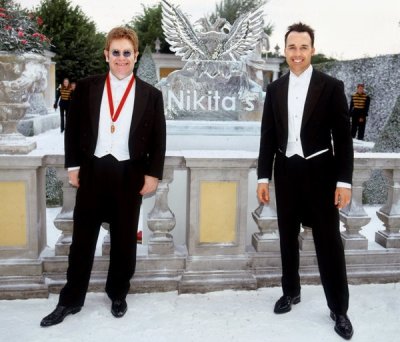 Elton John and David Furnish in 2003. Credit Rod Johnson/Getty Images
Moshe Halevi can tell you. "I do 90 percent of the tails in the city, and for me it's big business," said Mr. Halevi, of the clothing rental company Baldwin Formals. "But compared to black tie, it's nothing, not even a fraction of a fraction of a percent."
Go out on the street, Mr. Halevi advised a reporter, and ask a passer-by to describe white tie and tails. "They'll have no idea," he said.
His dismal view was shared by others in the business who had little trouble identifying the source of sartorial ignorance: decades of guys dressing as if they plan to mow the lawn. "Think back to a black-and-white photo of Yankee Stadium in 1960, and every man is wearing a suit and a hat," said Glenn Eisenberg, president of Eisenberg & Eisenberg, providers of formal wear to New Yorkers for 116 years.
Yet given an opportunity to shine up, most men embrace it, Mr. Eisenberg added. They do in traditionalist cities like San Francisco, where white tie is still worn for the opening night of the opera, or New Orleans, where being fitted for a tailcoat is a rite of passage for many a teenage boy.
"Anything you've got a reason to celebrate in New Orleans — a party, a graduation, you just lost your first tooth — we dress up for," said Kenny Rubinstein, a third-generation owner of Rubinsteins, suppliers to the River City's carriage trade. It's a custom that comes out of Mardi Gras and the obligatory finery men are required to wear at debutante parties and pre-Lenten balls. "You have to be wearing white tie to a Mardi Gras ball or you won't get in," Mr. Rubenstein said.
Rising to Ms. Wintour's challenge will not prove easy. "None of these guys will want to rent, because the rental quality is not going to be something that's photogenic," Mr. Fielden said. "And who's going to take a special trip to Huntsman to order a set of tails?"
What few New York retailers sell fine evening wear (Ralph Lauren is one) have registered no particular increase in demand. And that, according to a fashionable past guest of the gala, suggests that wardrobe dissenters are likely to interpret Ms. Wintour's dictum to suit themselves.
"I'll be curious to see the Hollywood people in white-tie outfits," said this man, who would most likely attend in a light-colored smoking jacket over tuxedo trousers and who spoke, as most people do where Ms. Wintour is concerned, on condition of anonymity. "Tails are very hard to pull off without looking totally kitsch. You don't want it to look like a Liberace ball."
Last edited: