Dear Fedora Lounge associated Stetson retailers, and Stetson retailers at large,
Recently, the bug for a modern production Stetson Stratoliner hit me. However, being one who likes to shape his own hat, I hit the wall. The hat is made with a factory crease only. Matter of fact, all of the modern Stetson dress hats I've seen have a factory crease. Nothing wrong with that, but the option of having an open crown is one that I think should return to the Stetson lineup!
Enter a photo I saw on Facebook this morning that made my jaw drop.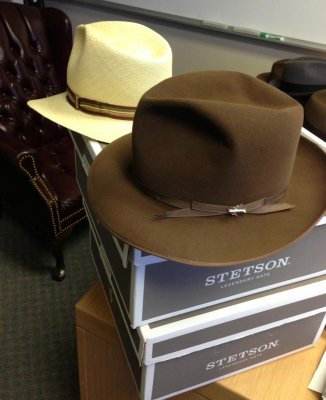 THAT
is a modern, open crowned Stratoliner made on an original block, and I think it looks amazing!
They do exist, or at least can exist!
Following up on this pic, I was told by someone at Stetson that these CAN be made, but that retailers haven't expressed interest in selling them, so Stetson hasn't! That's a terrible shame! Retailers, why not strongly consider ordering some open crown options for your customers?! I, for one, would pledge my patronage to you and Stetson if this would happen! I know others would jump on this, too!
And now, fellow Loungers.
Please
add your voice to mine in saying to our vendors
"WE WANT OPEN CROWN STETSONS!"
! If enough people say they want them, and retailers step up to order them, it can happen!
The bottom line is, Stetson is ready willing and able to make these, all it would take is orders. So please, retailers, order already!!
Yours sincerly, an unusually empassioned,
Randy