Evening gents & ladies,
This is just a post to give credit to my experience with the team @ Aero Leather and the ups and downs of this journey. To give a transparent background of the entire story, I'll explain the 6 month history I have with the company and the certainty that I'll wish to partake in further business with them in the future. Apologies for the lengthy post.
Round 1
Back in Mid April I was in Edinburgh on business and found myself with enough time to jump on the train to Galashiels to enquire about potentially putting an order in with Aero. At the time I knew I wanted something motorcycle themed with preference towards a cafe racer styled jacket. As per usual process I was greeted by the team at Aero, given a lovely tour of the facilities by Murray and before long given the full session by Denny himself. Soon enough I worked out the details and was settled on a custom Board Racer in FQHH and 10 working days later the jacket was made and shipped out. The manufacturing of it was spot on and it literally fitted me like a glove.
After 3 months with the jacket and the honeymoon period worn off I started to get some kind of 'buyers remorse' where I wasn't quite getting along with the jacket out of personal preference and things about it started to gripe me. Was FQHH a good idea for an every day jacket? Not for me. Was the jacket too form fitting for every day use? Yes for me. Did I wish it had hand warmer pockets? Yes I did. As such the decision was made that first opportunity I got I would head back to Aero and see what could be done.
Round 2
Fast forward to August and I found myself at Aero again with my Board Racer chatting to Denny in the showroom and I was openly telling him my gripes with the jacket and said I wasn't sure what I wanted to replace it. Denny smirked walked away and 2 minutes later turned up with a jacket before asking me to put it on without saying what it was. Actually perfect. Trim fitting but not too slim, much lighter leather and hand warmer pockets. This was what I wanted. "That's our Premier Highwayman in Blackened Brown Vicenza with nickel hardware". It was definitely a case of monkey see monkey want and I told Denny I wanted the fact spec of that jacket with some changes to the dimensions as the sleeves were too short for my preference. This is Mistake number 1 and this is the starting point of where things began to go wrong.
On the train back to Edinburgh I started looking online at Premier Highwayman's and quickly realised I'd made the wrong choice on the colour of hardware and lining of my specced jacket, however I was at ease as I knew that Aero contact all customers to finally confirm specifications prior to manufacturing and the predictably enough the next day Sam (workshop manager) got in touch to ask if my spec was still the same. I told her about the changes I wanted and was met with a pleasant "No problem, consider it done".
Mistake number 2 I made that evening: I forgot to tell Sam about some minor (yet stupid) tweaks to the dimensions and emailed her late in the evening assuming they'd get picked up in the morning but suprisingly she replied that very evening saying she wasn't in work at that time but would do the changes when she got in as they are easily done to the panel cuts. Awesome I thought. Over the next couple of days I kept in touch to make sure that everything was correct, admittedly excessive on my part to the point of pestering.
Not To Be.....
Two weeks later the jacket turned up and when I opened the box to see the beautiful construction of the rear yolk, flipped the jacket over and noticed something wasn't right with it. Nickel hardware fitted and not brass as per the new specification change. Oops. I popped an email to Sam to enquire about it and after her checking the final spec sheet which is what the order is bound to (due to the changes made prior to manufacturing) it was agreed that there was a slip up made on their part. Now at this point I can't put the blame on Aero as I did constantly draw their attention to the dimension changes through various emails so I can understand that other details slipped through the net while they made the efforts to appease my pestering regarding the dimensions. However Aero did offer to take the jacket back and make a replacement which I thought was completely outstanding.
Here's where things got a little tense. Not long after agreeing to return the jacket I can openly say I got what I deserved for being an awkward customer when Denny directly got in touch with me to express that he wasn't happy with the situation and couldn't understand why I'd made the last minute changes. In my mind this was a fair comment and I expressed that I'll take it on the chin and absorb as much of the cost of exchanging the jackets as I could as well as adding additional purchases to the order to try and sweeten things out. I appreciate that at the end of the day Aero are a small indie business who are constantly swimming upstream in a market where big corporate businesses are operating through low quality & high profit so I wasn't hesitant in trying to compromise with Aero. Myself and Denny made peace on the matter and I don't hold any grudges, nor do I hope this impedes any future business but I perfectly accept that my photo was likely on the office dartboard that day.
Round 3
Following on from discussions with Denny and Aero, the jacket went back to Galashiels and the production of the replacement would be initiated upon receipt of new stock of Vicenza, I was kept in the loop as this stock issue caused approximately 6 weeks delay but I said not to rush. Anyway today I received the replacement jacket in the mail and I can only say one thing and I mean it this time. Literally Perfect. The Premier Highwayman that I envisioned the first time around was laying on the floor in front of me and the construction can't be any better. Julie L has made an amazing jacket and incorporated my request of Cafe Racer style zip sleeves in to the design with zero issue and this should be a modification anybody who isn't a fan of button cuffs to consider. As for the blackened brown Vicenza, I'm actually delighted with the 'warm' shade it has as I've seen some jackets that look practically identical to jet black Vicenza but this batch they must have gone easy on the black overdye as it has a much browner to, not quite seal but it's going in that direction
Specification:
- Premier Highwayman Size 38
- Blackened Brown Vicenza
- Zip Sleeves (CR style)
- Talon zip & brass hardware
- Minute length additions to body and sleeves
- Black Stewart Lochcarron Lining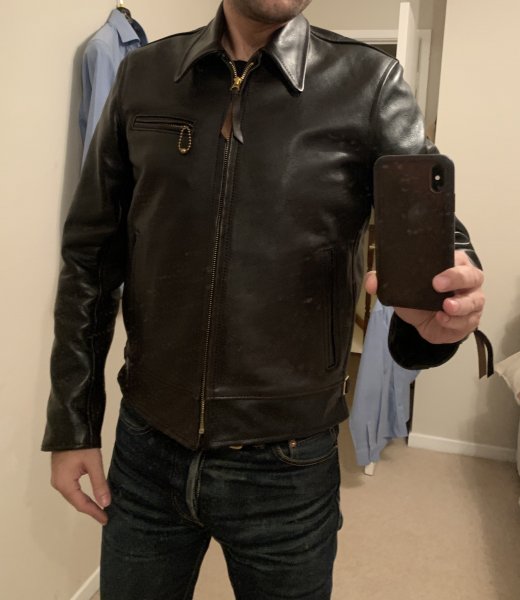 Try to avoid comments of the beer belly look in the first picture, the side cinches haven't been tightened and that's the excuse I'm sticking to (alongside the local Chinese buffet being reasonably priced). For reference on sizing, I'm 5'10" and currently weigh 10st 11lb and suffer from a bad case of monkey long arms.
Do As I Say, Not As I Did
In terms of advice I can give to potential customers thinking of taking the plunge with Aero, I can say a few things that will help you avoid my mistakes and what will allow Aero to do what they do best:
Don't overthink things, don't think a 1/4" change here and there will make a difference, it really won't. Aero make jackets with a 1/2" tolerance so silly little tweaks will be swallowed up by the manufacturing processes alone.
Be 100% certain you know what you want before committing to an order and avoid last minute changes were possible. Sure Aero has a policy of contacting to confirm final specification but don't rely on this, get what you're certain you want dialled in first.
If you're unsure about something regarding jacket features, rather than post on FL, go and ask Aero themselves! These jackets are their bread & butter so they'll know the answer better than anyone. FL is a great place but mainly if you're asking for previous customer's experiences of something they've bought and getting opinions from said experience but it's purely subjective. I'll say that from my experience FQHH is too heavy for an every day jacket, others will say from experience that FQHH is spot on for an every day jacket. Tomato Tomato.
If you're alert all the time then consider a Hookless zipper as they look damn cool, but if you're like me and have a First-Class Honours degree in Aeronautical Engineering but sometimes leave your house keys in the fridge, maybe avoid Hookless and get Talon instead.
Conclusion
To sign off on this post I can openly say that after this experience I have a lot of gratitude & respect for the team @ Aero Leather, mainly down to the fact that not only did they make three outstanding quality jackets, but they also handled an issue regarding specification mismatch professionally and with maximum understanding.
I did have some expectation that they could have told me to whistle regarding the hardware issue as technically it was correct to the initial spec sheet, but instead they held their hand up and offered to the correct the issue (granted I was the origin of the specification change that caused the issue to occur) but we came to an arrangement that satisfied us both.
A special thank you (and sorry for being a pest) to Denny and Sam at Aero for holding their tongue and being professional when dealing with a somewhat nightmare of a customer like myself though this drawn out process but I can safely say (and they'll likely be dreading) that I'll be back next year regarding a potential A-2 order and will take what I've learned from this journey forward.
Goodnight! If you've read all of this, it's ok, the dizziness will go away after a few minutes.