Clearing my coat rack in time to fill it with new jackets in 2019!
Please don't post in this thread unless you feel you have to, but pm me instead directly with questions. I want to update this thread with more jackets over the next days the new forum doesn't allow me to edit the initial post anymore to give links to jackets posted further down in the thread, so the fewer people post here, the neater this thread will be to read for interested people.
All descriptions given and measurements taken of these jackets were taken to the best of my knowledge and ability, please ask if you are unsure and I'll send you pictures.
Sleeve measurements are taken along the side and around the curve of the sleeve.
I will ship outside of the EU, however be prepared to face fairly long shipping times, the German Post is incredibly slow with overseas shipping.
1) Eastman Flying Instructors jacket
This jacket is the one I have gotten most compliments for when I wore it. (Germans aren't that great with compliments.) The brown horsehide on the sleeves is gorgeous and the wool body in a intriguing shade of olive which goes great with the brown. It's a much more greener shade of olive than the fairly brownish one depicted on the Eastman website.
I picked this up at the german equivalent to craigslist in gently worn condition. Haven't put it on more than a handful of times myself. There's creases on the sleeves, no other prominent signs of wear.
Labeled Size 42, I feel it fits more like a size 40.
Measurements:
Shoulder: 48 cm
pit to pit: 57 cm
sleeves: 65 cm
backlength: 64 cm
the woolen waistband at the bottom hem in relaxed state: 41 cm.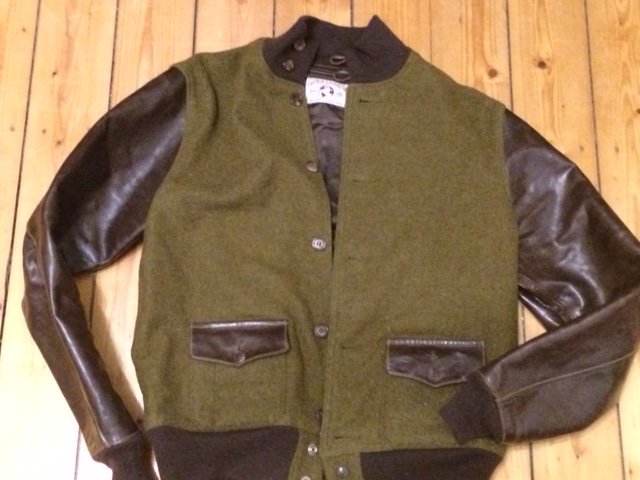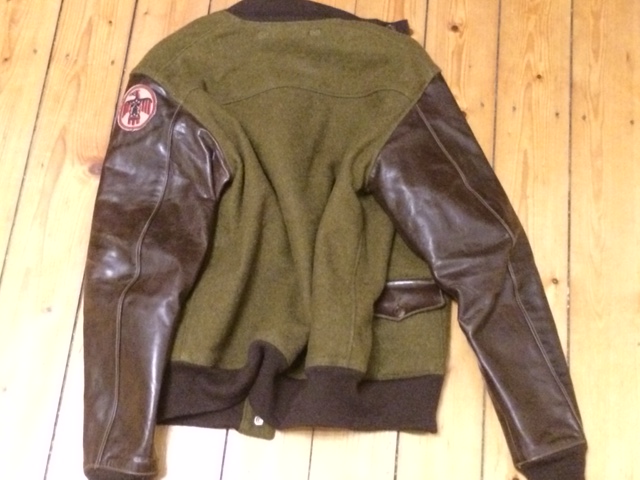 Asking 450 € plus shipping.
2) Aero Leather Zipsleeve Highwayman
The one and only, the destroyer of worlds, the she's your daddy now, nuclear Highwayman. Originally ordered and presented in this forum here by Mendel, this jacket is made from the by far thickest steerhide I have seen on a jacket until now. It's incredibly sturdy, heavy and certainly undestructable, but the leather has seen some breaking-in over the year and has become comfortably pliable and feels great in the hand, in a thick soft waxy luxurious fashion.
I'm selling this only because I walk the 2 km to uni since I moved to a new place and find myself reaching for lighter jackets for this. As a result of that daily routine, I find myself rarely putting that gem on.
I recommend this jacket to someone dedicated to very heavy jackets, no less. This doesn't compare to your standard 4-5 lbs jackets in comfort and wear, it's actually really heavy.
This godzilla of leather jackets has the usual signs of casual and gentle wear you'd expect from clx leather. There's no holes or tears (Gl tearing a hole into that jacket. It's gonna tear you a hole before that happens.) in the leather, only light abrasions, creases on the sleeves and the like. The corduroy hem protecting the lining at the waist starts to wear through at some spots, I feel this needs no fix for a very long while, it's a purely aesthetic sign of wear. Please pm for close-up shots if in doubt.
It's labeled a 38 and was ordered with the request for a taper in the body to a 36. Imho, the jacket fits like a 40 and not even a tight one. I am 40" chest, 180ish lbs and can wear it with a thick sweater.
Measurements:
Shoulder: 47 cm
Pit to pit: 58 cm
Bottom hem: 52 cm
Backlength: 62 cm
Sleevelength: 67 cm (I feel they wear shorter than that!)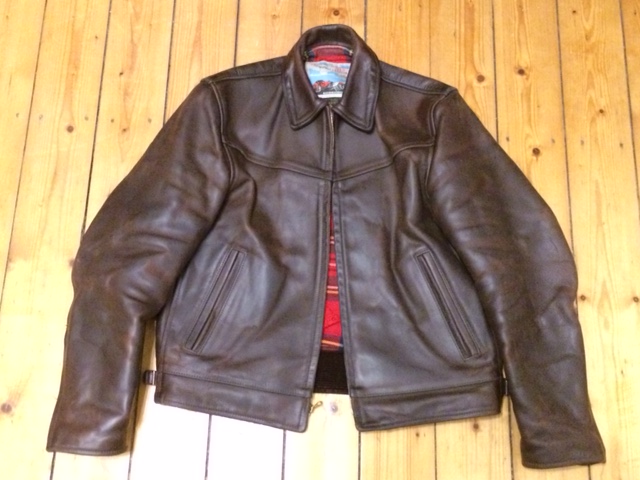 Asking 500 € plus shipping for this unique piece.
Thread to be continued in next post.