[...[

(Some kid ran off with Ann Sheridan?!! Oh, wait...)...
The good news for all those saddened college kids is all they have to do is wait a year for the marriage to end (literally, a year, as Sheridan and Brent will divorce in January of '43) and the lovely Ms. Sheridan will be available again. Marriage was a sport for those two anyway as they racked up nine nuptials combined.
..

("Chubby? CHUBBY? Say, where'see get'tat stuff!")...
I don't think John Lennon ever ate a full meal again after being called "the fat Beatle" in 1965.
Freddie Fitzsimmons: "Words can hurt."
Unidentified blonde bank robber from NJ: "Yes they can."
...[

(Oh, the sacrifices.)...
Not only is this a truly funny one, but as we've noted before, Lichty is the comic writer most current.
And who hasn't been where the wife is, "Please stop with this storm warning alert that might save lives as you're interrupting the tenth time in my life I've watched 'Breakfast at Tiffany's."
...Reader William J. Sanifin writes in to complain that the younger generation may know everything there is to know about "sex and social behavior,: but it is completely lacking in common courtesy and good manners, noting that he saw a bus full of high school students refuse to give a seat to an "elderly crippled man with a crutch." He remonstrated the youths in a loud voice, and two workingmen offered their seats to the gentleman, but the youths ignored him. "The people who ride the buses daily constantly criticize the conduct of the 'enlightened generation.'"...
I've ridden the NYC Subway a whole lot over the past thirty-plus years (and buses now and then) and have seen an incredible amount of individual rudeness and worse, but never once have I been on a subway car where several people, men and women, didn't offer their seat up to a clearly elderly person, a pregnant woman or a disabled person - not once. What's changed in this time (I started riding the subway in the early '80s) is that many men no longer offer their seats to not-elderly women or, if they do, they are almost sheepish about it as they don't know if they are going to get a lecture (I've seen that happen).
...

It's purely a coincidence that the night club guy looks like Thomas E. Dewey.....
Or Eddie Munster's father.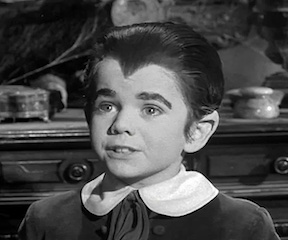 ...

H. Teen, Dead End Kid....
It's hate sex time.
...

Time's a-wastin', fellas.
A week from now, after frantically but unsuccessfully looking for April, Pat and Terry hear a knock at the door. They open it to see a bedraggled but safe April being fireman carried by Hu Shee.
Hu Shee: "Can you two knuckleheads be more careful; I have a country to save and can't be spending my time cleaning up your messes."
Pat and Terry (sheepishly): "Yes, Hu Shee, sorry, Hu Shee, do you want to come in Hu Shee?"
Hu Shee [looking past the boys and then with a lilt in her voice]: "Just you two living here?"
Terry: "Yes."
Hu Shee: "Okay, I'll come in. Where's your room Terry?"
Terry: "You're tired, you probably want to lie down and rest?"
Hu Shee: "Yeh, sure, come with me Terry. Here [hands April over to Pat like she's a bag of flour]."
Terry (being led upstair by Hu Shee, in a shaky voice over his shoulder to Pat): "I'm scared."
Last edited: