...

JEEEEEEZ you guys! Have you NO RESPECT FOR THE DEAD?...
A pang of sadness shot through me just from seeing that, sadly, iconic image of Raven. You wonder if they chose it to be provocative or if it was just grabbed by some clueless staff writer told to blend up some images of T&TP.
...[

Seriously? A "school bully" story? Don't you know there's a war on? Bring back AXEL!!!....
"If Gray would bring me back, I could be a big help to the war effort. Sure, a few officials and others would have to "look the other way" now and then, but it would all be to advance the bigger goal of winning the war."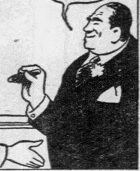 ...

Well, at least this guy won't make a pass at her. Probably....
Once he gets a Chigger hairpiece, he'll believe he's God's gift to women.