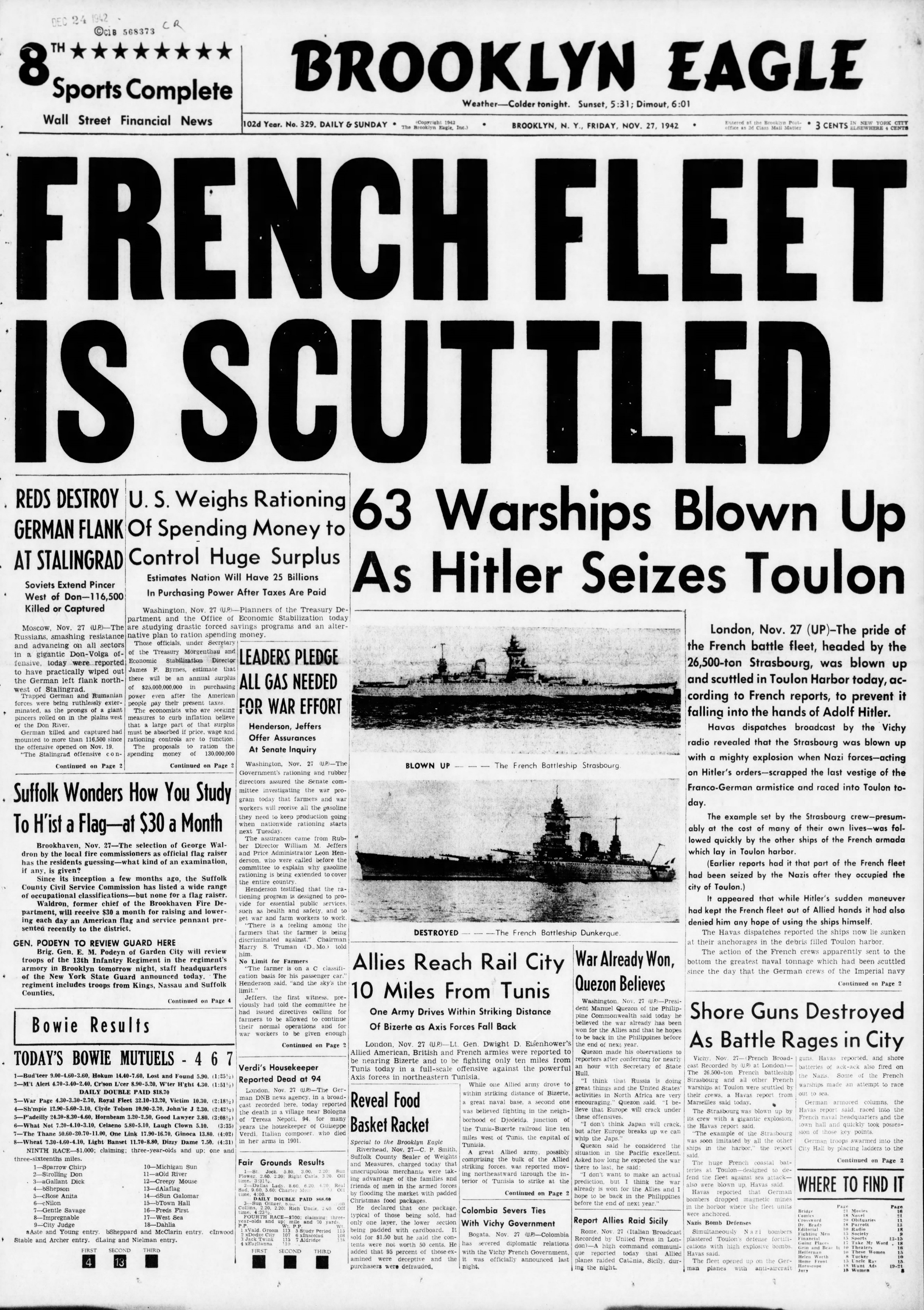 (World events seem to be moving with considerable acceleration. I don't think we've seen the Eagle bust out headline type this large since the Dodgers won the pennant. Oh, and note the box at the bottom of the page. It would seem extremely likely that the prominent play given the mutuel total for Bowie is because it's today's winning number for policy players. If you bet 467, or any combination thereof, collect at your neighborhood candy store.)
Operations against the Axis on all fronts are "proceeding satisfactorily" according to Secretary of War Henry L. Stimson. At a press conference today in Washington, the Secretary observed that the Germans have "failed in all their objectives" this year in Russia, and will now be forced from an increasingly wide area unless they can stop the present Soviet counteroffensive. Mr. Stimson also pointed to the buildup of Allied forces in North Africa as a prelude to ousting the Nazis from Tunisia, although "a stiff fight" is anticipated when Marshal Erwin Rommel and the remnants of his Afrika Korps make their last stand at El Aghelia. In the Pacific, the Secretary praised the feat of American soldiers fighting their way thru the jungles of New Guinea as "one of the outstanding performances of the war," although, he noted, "much hard fighting awaits American forces in the Solomons." The situation, Mr. Stimson summarized, "is very favorable from our point of view."
("We otta get t'ese f' Solly," suggests Joe. "Get'm in maroon, you know how he likes t'em flashy c'loes." "Won'eh if t'eyre sand proof?" ponders Sally. "Heh," hehs Joe. "At's Solly, awright. Awrways hangin' rouna beach.")
In Los Angeles, the former Peruvian Consul, implicated in a vivid divorce trial and now at the center of a child custody wrangle, declared today that personal criticism directed toward him over the affair is a "violation of the Good Neighbor Policy." Former consul Max De La Fuente was named in the recent divorce trial of Mr. and Mrs. Mark T. McKee, a case which accused the prominent airline executive of recruiting a "harem of love slaves," Mrs. McKee of improper conduct with Mr. De La Fuente, and De La Fuente himself of involvement in the disappearance of the McKees' two year old child after custody had been awarded to the father. "The evil implications and tendencies of these insults," declared the former consul in a public statement, "will be understood and shall not be forgotten by all Latin-Americans."
Officers of an American Legion post in Flushing declared today that they will fight for their right to conduct bingo games for charitable purposes. A special meeting of the William A. Leonard Post at 140-26 Franklin Avenue to plan the campaign in opposition to the present crackdown by Mayor LaGuardia and Police Commissioner Lewis J. Valentine on games of chance. Nearly a thousand persons were playing bingo at the Legion's hall when police raided and shut down the game last Wednesday, and when patrolmen surged into the hall and declared the game closed, most of them rose in a spontaneous demonstration, howling down the police to a chant of "WE WANT BINGO!" to the tune of "Auld Lang Syne." Post Commander Joseph Ollen noted that not only did bingo pay for the construction of the hall, the post has also contributed significantly to local war bond and Red Cross campaigns, and recently purchased 50,000 cigarettes to be sent to General MacArthur's men in the Pacific. "We had the biggest, best, and cleanest Bingo in New York," insisted Ollen, "At no time was any promoter connected with it. The games were run entirely by members of the post, with all profits going to the post."
Officials of the General Foods Corporation issued a statement today advising all stockholders in the company that they are entitled to no special privilege or consideration when it comes to coffee. Since the freeze on coffee sales and the announcement of rationing, the firm's New York office has been flooded with "requests and threats" from stockholders demanding one or two pounds of the company's coffee, insisting that, as part owners of the corporation, they are entitled to it. All such requests have been rejected with a letter pointing out that the Federal Government strictly prohibits such special considerations.
In Long Island City, a 65-year-old man was convicted of disorderly conduct after he sawed up benches in a small neighborhood park. James Dickinson, who lives not far from the little park near Nelson Memorial Chapel, 42nd Road and Hunter Street, told Magistrate Jenkin R. Hockert that he was outraged by the sight of "able bodied men" loitering on the benches when they should be in the Army or at least working at some defense job. He decided to do something about it, got out his saw, and had destroyed two benches and was at work on the third when a patrolman intervened. Magistrate Hockert admitted that he was sympathetic to Mr. Dickinson's point of view, but admonished him that he couldn't go around destroying city property. A $25 fine was imposed and then suspended, on the promise by Mr. Dickinson that he will send $15 to repair the benches. That was where the matter stood -- until Queens Borough President James A. Burke heard about the case. This morning, a crew from the Borough President's office arrived at the park and took away all the remaining benches.
The anti-discrimination clause in the Selective Service law will be put to the test in the case of a 36-year-old black gardener from Jamaica, Queens who is on trial for draft evasion. Thirty-six-year-old Winfield Lynn of 109-25 Union Hall Street, who is being held for refusing to report for induction, contends that under the anti-discrimination clause in the law, he cannot be required to serve in any branch of the Armed Forces which is segregated by race. Lynn maintains that he is ready and willing to serve in any military branch in which blacks are not segregated, but insists that any induction order requiring that he serve in a segregated unit is illegal. He is represented in the case by his brother, Conrad Lynn, who has subpoenaed New York City Selective Service Director Col. Arthur V. McDermott to testify in the case.
("You distract her, I'll get the siphon.")
(Yes, there's a legitimate question to be asked about whether able bodied men should be playing sports right now. But at least they aren't sitting around on benches. Well, all right, most of them are, but still...)
(If there's any question at all of the low expectations Warners has for "Casablanca," it's that they opened it not in one of the Times Square prestige theatres, but in the Hollywood, which doesn't even have a functional entrance on the Broadway side. You have to go around to 51st Street to even get in. On the other hand, though, this will likely mean it'll show up in Brooklyn in a couple of weeks rather than six months from now.)
Aficionados of the daytime radio serials would do will to pick up this month's issue of Harper's Magazine, which includes a lengthy defense of the soap operas by Max Wylie. Entitled "Washboard Weepers," the essay contains a salient point all Americans should consider in these times -- "If you like radio, stick up for it. If you don't like it, complain about it. But complain in the charitable terms that bespeak your recognition of the tastes and the rights of others."
(NOW YOU'RE IN FOR IT)
(On the other hand, don't knock it -- you know how hard it is to find help right now.)
(If only you'd bet it all on 467.)
(Medicine? Is that what they call a shot of rye?)
(We saw Miss Glory at a drawing board yesterday, so perhaps she is Dale's personal avatar. And from the looks of panel four, she's already planning her escape.)
Last edited by a moderator: