("It ain' like she's a bad poisson," declares Sally, as she and Joe sit on a bench in Satellite Park watching Leonora dig furiously in the sandbox. "I mean, Alice is got a lotta outstandin' qualities." "Yeh," grumbles Joe. "Look what her outstandin' qualities done t'me p'jama top." "She's allalone inna woil', Joe," Sally continues. "Ain' got no relatives, ain' got no fren's, 'cept f'rus. I feel bad 'bout makin' 'eh leave." "How come she gets t'bed an' we gotta sleep onna flooeh?" growls Joe. "Y'got guests," shrugs Sally, "an' ya s'posta make'm comf'table." "Who says?" Joe growls, kicking a pebble away with his toe. "Look," says Sally, "she says she's gonna leave soon's she c'n find a place to go. She says t'at room she had, when she din' come home, t'lanloehd jus' wen' ahead an' rented it to to somebody else, some weldeh downa shipyawrd a'sump'n. She foun'eh stuff in a box out onna stoop." "T'at's kin'a sad," agrees Joe. "An' her woikin' f'ra good cause like she is." "Whatcha mean?" queries Sally. "She woikis wit' me out t' Weste'n Electric. Yeah, I s'pose wawr woik's a good cause, but..." "Well, yeah," returns Joe. "But on toppa t'at she does awlis whatchacawl volunteeh stuff, sitt'n up awl night plannin' t'ings out. Awl f'ra good cause." "Well, yeah," agrees Sally. "It *is* a good cause, but I gotta say, I'm s'prised t'heeh ya say so. I neveh t'ought you even liked Petey." "Huh?" huhs Joe. "What Petey? I'm tawkin' bout Alice woikin f'r ya Uncle Frank, onnat Greateh New Yawrk Fund t'ing." "Whea'd you eveh heah t'at?" interjects Sally. "She ain' doin' nut'n like t'at. Her an' me is woikin' onna plan t'get t'Dodgehs t'get Petey back f'm t'Pittsboigs!" "No, no," insists Joe. "Uncle Frank tol' me his own self." "Well, he musta been t'inkin'a some utteh Alice Dooley," maintains Sally. "She ain' got nut'n to do wit' t'at. Wheah's she gonna get t'time?" "Oh," ohs Joe, his features sinking into a frown. "Y'know, two dollehs is a lotta money." "What?" "Nut'n.")
Russian dispatches reported today that the German air force lost another 66 planes north of Novorossisk yesterday, bringing enemy losses over the past three days to 197 aircraft in the Caucasus sector. Soviet land operations remain underway in that sector to wipe out the narrowing Axis bridgehead on the Kuban. Unofficial Soviet reports from Moscow report that Russian forces have broken several strong German counterattacks.
In East Farmingdale, bloodhounds combed the woods as police continued to search last night for 28-year-old David Cox, ex-sailor wanted in the connection with the Friday night strangling of 53-year-old painting contractor Valentine Glaab. Cox, a native of Melville, New York, was discharged from the Navy in February after a period of hospitalization, and was advised upon his discharge to enter a mental institution. His sister, Minnie Cox, who was employed by Glaab as a housekeeper, told police that her brother had called at the residence to pick her up, and, while walking across the living room, suddenly leaped upon Glaab, seized him by the throat, and choked him to death. Miss Cox told police she tried to pull her brother off Glaab, and beat him with a rolling pin to try to get him to let go, but without effect. He escaped and fled into the woods after she ran to get help from a neighbor. She further told police that her brother has been "undergoing treatment" since he was injured in a fall off a cliff in Englewood, New Jersey about a year ago.
The Post Office Department has finally conceded that Brooklyn is part of New York City, more than 44 years after consolidation made that a fact. Where mail slots in the main post office at the Brooklyn Federal Building were, until this week, labeled BROOKLYN and NEW YORK CITY, they now read BROOKLYN and MANHATTAN AND BRONX.
(Keep 'em flying.)
Brooklyn Hills' peppery critic of Mayor LaGuardia's crime policies has refused an invitation to debate a LaGuardia supporter at Girls High School next week. Aaron H. Eastmond yesterday declared that he will not appear at the debate proposed for next Friday night by Court Clerk Harry Wolkolf, but that he would gladly debate the Mayor himself if Wolkolf could get him on the stage. "My controversy," declared Eastmond in a letter to Wolkolf, "is wholly with a responsible elected official and not with a self-appointed attorney or representative." Wolkolf reiterated that he will be present at Girls High School next Friday prepared to debate Mr. Eastmond, or a substitute who shares his views, and that he is hoping to arrange for "Kate Smith or some other radio or stage celebrity" to sing the national anthem.
(I hear Margie Hart's in town.)
(Any debutante who shows up on the Society page in saddle shoes is OK by me.)
The formation of a new wartime "super bureau" under the supervision of James F. Byrnes must be conceded, declares the Eagle Editorialist, as an admission by the Administration of the "complete breakdown" of its homefront policy. The new Office of War Mobilization, announced by the President this week, must be seen as a response to the constant quarreling and failures within the War Labor Board, the Office of Price Administration, the War Manpower Commission that have brought "widespread condemnation on the part of the politics." "Sheer incompetency" is blamed by the EE for most of this, although he also sniffs that "cheap New Deal politics" must also take a share of the responsibility. The President himself sounded the correct note when he declared in his announcement of the new bureau that "we must streamline our activities, avoid duplications and overlapping, eliminate interdepartmental friction, and make decisions with dispatch."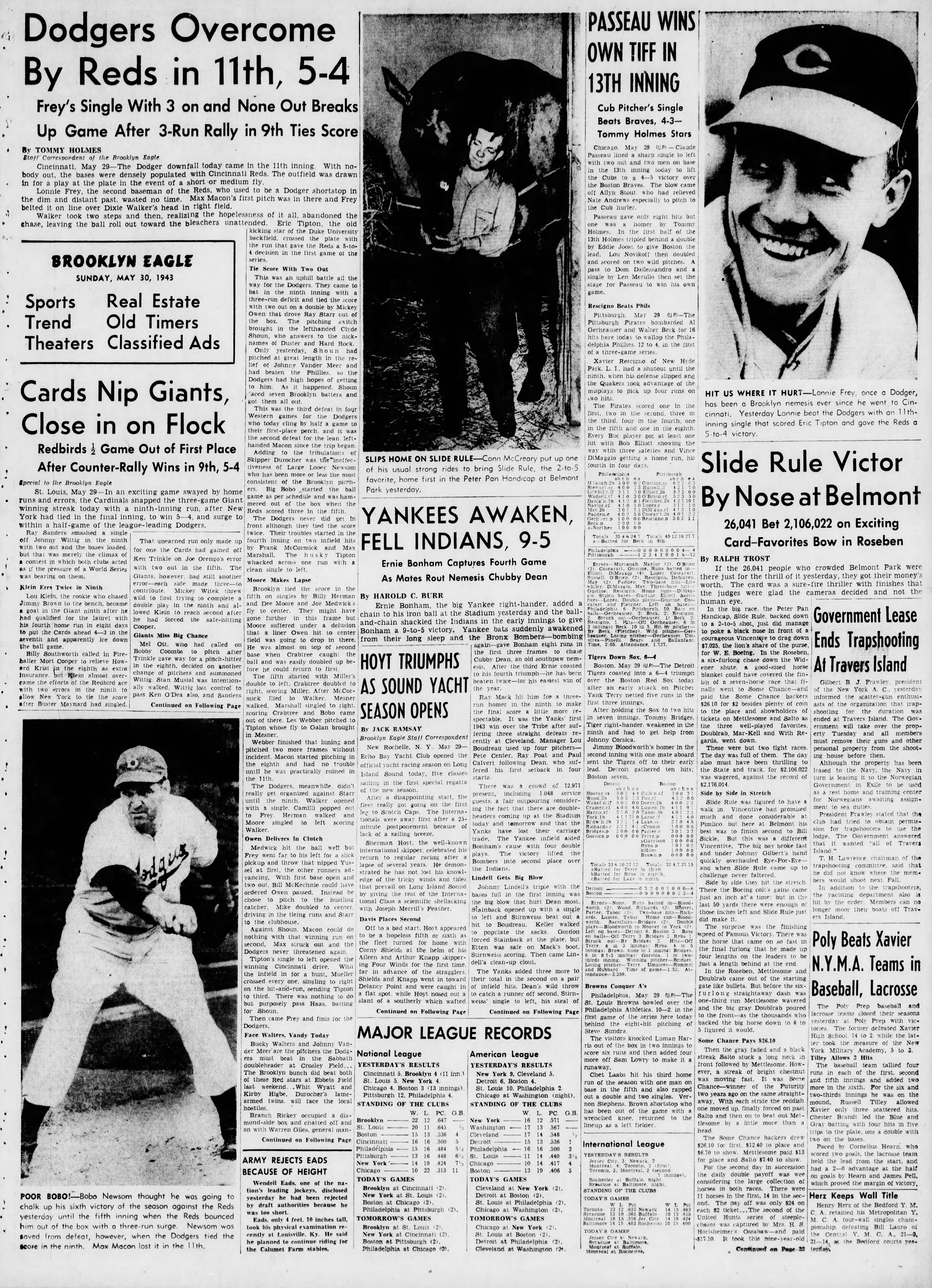 ("Hey Sukey," beckons Leo Durocher, slapping at the just-delivered telegram unfolded in his hand. "Whattaya make of this?" "They spelt 'Higbe' wrong," replies coach Clyde Sukeforth with a chuckle. "'I heard ya on the radio,' Sukey reads aloud, in his thick Maine accent, " 'an' yer as good a comedian as Higsby is a pitcha. Get wise t'yaself. Signed A Friend of Higsby.' Wal, now, that don't even make sense." It's Hig himself that sent it," fumes the Lip. "He was all bent up the other day about some fool telegram he thinks I sent him, an' this is his way of gett'n back at me. Well, I don't have to take nothin' from that cornpone fathead. Where's he now?" "Out shaggin' flies," Sukey replies. "He's pitchin' today, you ain' gonna do nawthin' t'get him riled up, ah ya?" "Oh," smirks Leo. "I'll rile him up. Gimme a pencil.")
The most severe test the Bushwicks have encountered yet this season unfurls this weekend, with back-to-back doubleheaders on the schedule. Today's twinbill at Dexter Park against the St. Louis Stars of the Negro National League will be followed tomorrow by another doubleheader against the Ellis Island Coast Guard squad. The St. Louis twinbill takes on the tone of a grude match, with the locals having beaten Negro National League teams eight consecutive times this season, and the Stars will be out to put a stop to that. The Bushwicks have won twelve straight games while losing only one over the young season.
Margie Hart has put her g-strings in mothballs, she declares, and intends to keep them there. The titian-haired former stripteaser is a legitimate actress now, and wants very much to put her past career into mothballs too, especially her Broadway turn last year in the officially-reviled "Wine, Women, and Song." Margie says when that show was closed down by judicial order, and its producers jailed, she was besieged by offers to appear in similar types of productions, and she turned them all down "because the only reason they wanted me was for just a lot of cheap notoriety and I didn't want that." Margie will appear next week at the Flatbush Theatre in "Cry Havoc," playing the serious role of a Red Cross nurse at Bataan, a role which, she laments, prevents her from wearing nail polish.
(True story: two cops were kicked off the local force in my town a couple years back for "abusing porcupines" while on duty.)
(WELL WHY DIDN'T HE THEN????)
(Well, hey, after the war packaged snack foods are gonna explode.)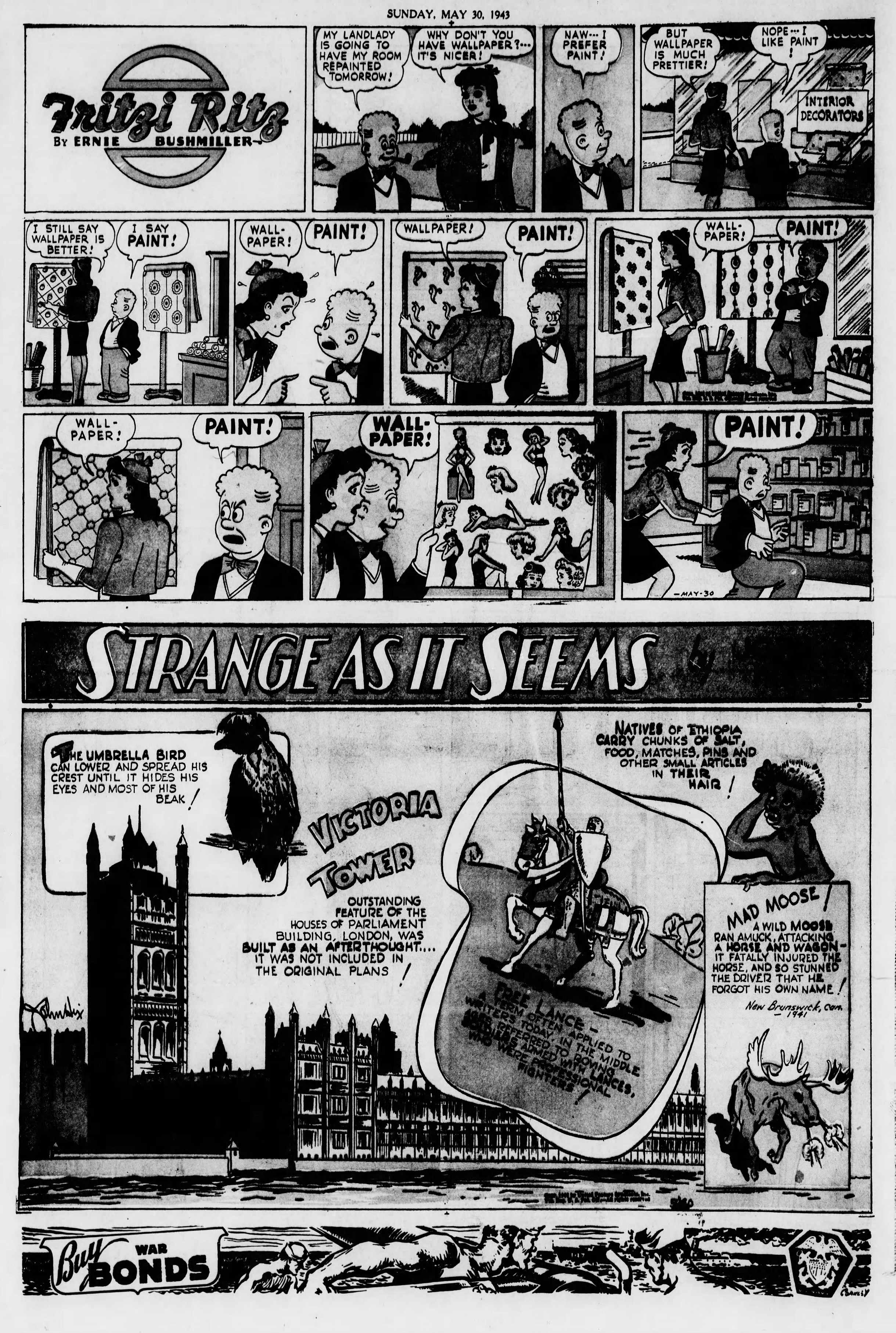 (Ernie Bushmiller has a very strange sense of humor. And I have seen a rampaging moose in person, and yes, it's that menacing.)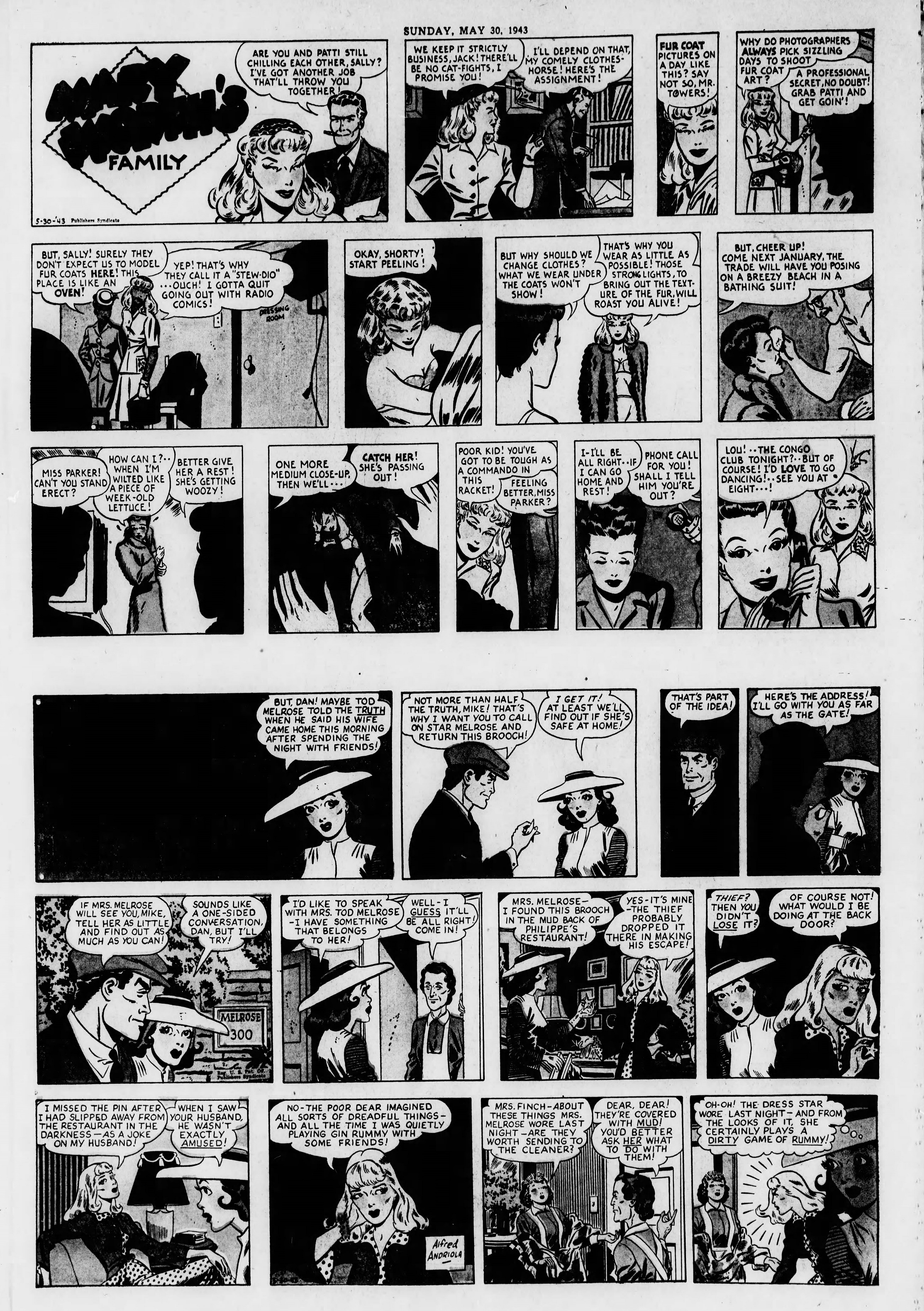 (It's a sign of the times in the comics business that "Sally O'Toole" and "Mrs. Melrose" are played by the same actress.)