Note: This thread contains posts from another, earlier thread in which the idea of a custom design gained traction. As the threads are merged together in order of posting, I am copying the original first post by tmitchell59 here as an added edit. The original post also appears farther into the thread. - Scotrace
This thread is going to be set up to do some exchange of ideas about designing a jacket with HPA and Buzz Rickson.

The plan is to merge my Buzz Rickson thread with this.

I have two of their jackets so I'll just keep quiet and let you guys come up with something. All the past jackets have been great.

Enjoy.
Well, I'm pleased you all like these coats now that they're no longer available.
[huh] These were made under the Aviation Associates label, which is the Buzz Rickson's line of items forged from civilian designs of the past. The designs have never been repeated, which isn't to say they never will be repeated, because the AA label has only been around for five years, but it's an erroneous belief that Buzz Rickson's repeat styles every year even if a style has existed for 10 years in a row (they could withdraw an item out of the blue, as they did with their blue USAF B-15C for five years).
Both styles have knit cuffs up inside the sleeves and both are lined in wool blanketing. The camel-colored coat was produced along with a black version in 2010 (see pics below). Despite the dollar's great weakness back then and these coats selling for about $1, 750.00, they performed brilliantly and I personally own the black version. When the double-breasted coat with sheepskin collar was introduced for 2011, it was offered in brown or black with sleeves lined in a beautiful salmon-colored rayon acetate and we again stocked both colors. The dollar had further weakened that year, so these coats were selling for about $1, 875.00. I'll never know for sure, but I suspect the price had a great deal to do with the horrible performance of these styles, because the last few we had left had to be sold for near cost just to make them go away - and they went away quickly after that!
The leather on both coats is shrunken buffalo hide that's been fully vegetable tanned and fully aniline dyed, and it's beefy stuff at about 3.5 ounces. Buffalo of this pedigree is sometimes referred to as goatskin on steroids, which is a fair characterization. Shrunken buffalo is quite costly because you're paying for the original-size hide that is then shrunken to a smaller size to compact the grain and textile strength, plus you're paying for the process with the resultant need for more leather in the new smaller size to make a coat of the same size you had intended.
Many of the Buzz Rickson's coat designs fit generously, especially those under the Aviation Associates label. I can't say we marketed these coats as being two sizes larger than labeled but we certainly found that one size larger was very much the case, so a size 42 was indeed satisfactorily sold and purchased for chest measures of 44". And I do recall many of our customers for these styles were members here. :eusa_clap
Aviation Associates does offer some great styles every year and these two have been high on our list of faves since the label was introduced. In 2013, we carried a great coat now long gone from the Buzz Rickson's military line, which was a really nice USN transport coat that was fully sheepskin lined (see pic below) and many were sold again to TFL members.
And in 2014, we had yet another great jacket made under the AA label, which runs slightly large (I'm wearing a size 38 but my chest is 40"). I'll post a separate thread on this item with fit images, but don't snooze if you like it; we're down to just 1 each in 38-42 and no size 44s are now left.
The 2015 AA jackets have yet to be seen, so maybe something sweet is waiting for us. If so, the likelihood is strong that anything will cost far less this year since the dollar has soared against the yen in the last 8 months.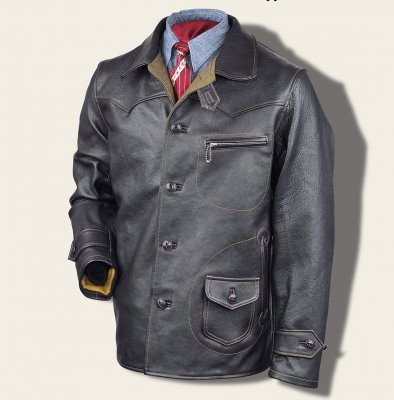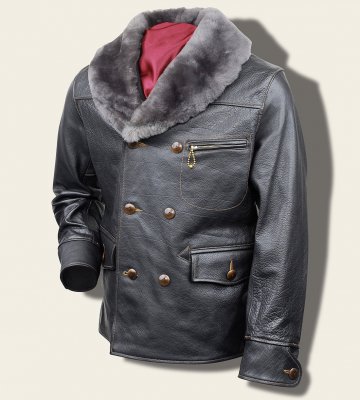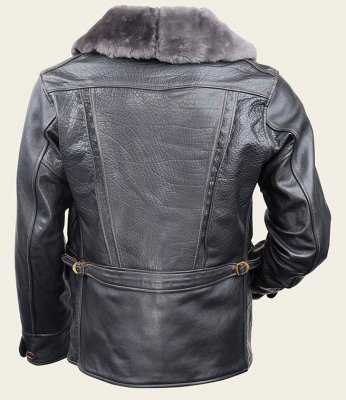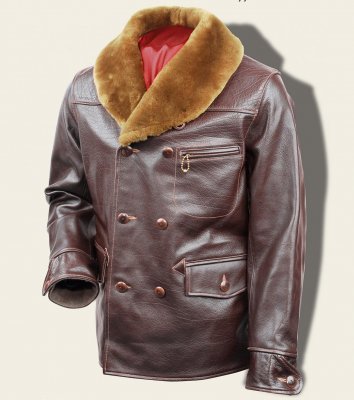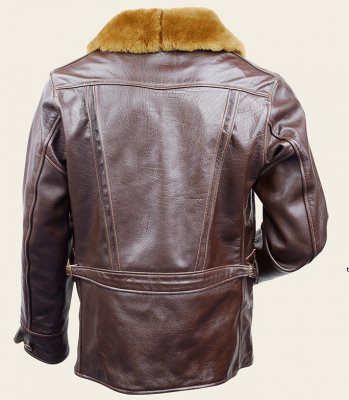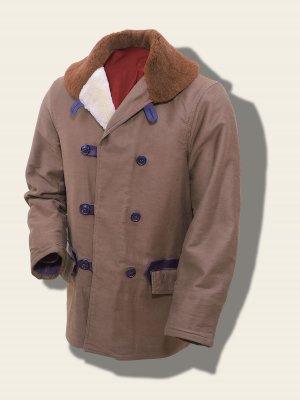 Last edited: