I wanted to share some great information that I was able to dig up about a very rare and unknown company. This thread is for THE LION BRAND made by Triest and Co and NOT the Langenberg Hat Co which was famous for making the LION SPECIAL.
A little background:
I was getting some hats ready for sale and I came across one hat that I purchased about 2 years ago on ebay. The seller had two pre-1930 hats and I had bid on both of them. Unfortunately I lost on the second hat, but was able to pull a winning bid on this Lion Brand hat. I originally thought it was a Lion Brand hat made by the Langenberg Hat Co of St. Louis but the sweatband stamp looked much different than any other Lion Brand stamp I had seen before.
Here's the stamp on my hat....
And here's the stamp on a Lion Brand hat made by the Langenberg Hat Co......
(I can't find a picture of the actual stamp on a sweatband right now, but I have seen them before and it looks like this.)
Upon closer inspection I noticed that the Crest in the "The Lion Brand" logo also had a couple letters in it. I couldn't make out what they were, but as soon as I received the hat from the seller I brushed it, steamed it, and went to work looking for any info about the company I could find. I found out very quickly that there was literally no info about "The Lion Brand" so I admired the hat, put it in a box, and didn't touch it for a while. About 6 months later I was looking through some American Hatter publications on google and came across a list of manufactures and what labels they produced. AH HA! I found a line in that article that said, "The Lion Brand" Triest & Co, New York. Upon closer inspection of the crest in the logo, I noticed that the two half-covered letters were a "T" and a "C." I had finally found my answer.....the hat was made by Triest & Co. At that time I tried doing some research about that company and come up empty, so again....I put the hat in a box and left it alone.
Fast forward to today (A year and a half later)........Upon looking for some more info about the company again to put in my auction page, I came across some pretty neat stuff!!! Google had scanned in a couple more American Hatter publications and there were some new documents online pertaining to the company. Here's what I found.....
Triest & Co was a Wholesale hat Warehouse business from San Francisco, California. They sold numerous hat brands which were made by various makers. They also had a couple house brands which they themselves manufactured, and one of them was.......THE LION BRAND. The main office was located at:
116-118 Sansome St
San Francisco, CA
The Manufacturing plant was located at:
52 Myrtle Ave
Watsessing, NJ
Triest & Co also had sales locations in New York. They had various locations which opened a closed during the companies existence.
14-16 Waverly Place, New York
13 Waverly Place, New York (Moved there in 1901)
20 W. 4th St, New York (Moved there in 1915)
Overall it was VERY difficult finding information about this company and even after going through all the American Hatter publications on Google and doing a search for "Lion" and "Triest," there was still very little info. I was unable to find any original ads for The Lion Brand hats, but I was able to find 1 ad from Triest & Co. It was in an issue of the American Hatter from 1897 and its advertising their "Klondike Hat." The Klondike hat was a netted hat that keps Gnats and Mosquitos away....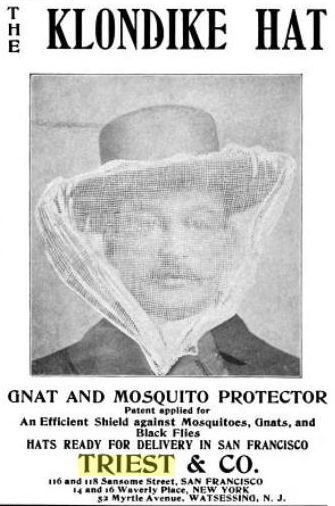 Here's what is REALLY interesting though.....
Upon doing a web search for Triest and Co, I came across some really neat scans of documents on the Columbia University web page. Apparently around 1903-1904 Triest and Co was boycotted on the West Coast because they would not comply with the wishes of the United Hatters of America Union. They were part of the Union because my hat has a Union sticker. Triest & Co had been doing business with the D.E. Loewe Company for quite some time. They were buying products from D.E. Loewe which they were unable to make themselves. Starting in 1902, the workers of the D.E. Loewe Company went on strike and the Union encouraged every hatter, hat supplier, etc not to do business with the D.E. Loewe Company. Because Triest & Co needed the products that D.E. Loewe produced, they kept doing business with them. The union warned Triest & Co if they didn't stop doing business with D.E. Loewe, then they would be boycotted. Triest & Co kept buying from D.E. Loewe and therefore was boycotted and put on the "unfair list" along with several other clothing manufactures and hatters.
Read this article.......its about 30 pages and is absolutely FASCINATING!!
http://www.columbia.edu/cu/lweb/digital/collections/cul/texts/ldpd_9079633_000/pages/ldpd_9079633_000_00000001.html?toggle=image&menu=maximize&top=&left=
The section that talks about Triest and Co starts around page 12 and goes to about page 19.
Here's a couple screen cuts.....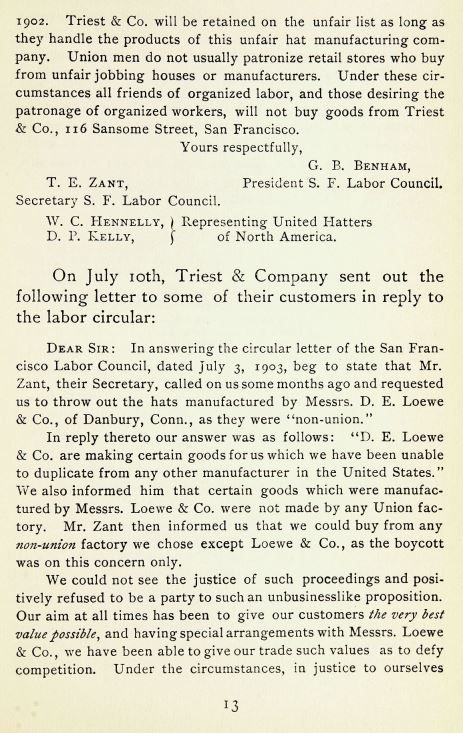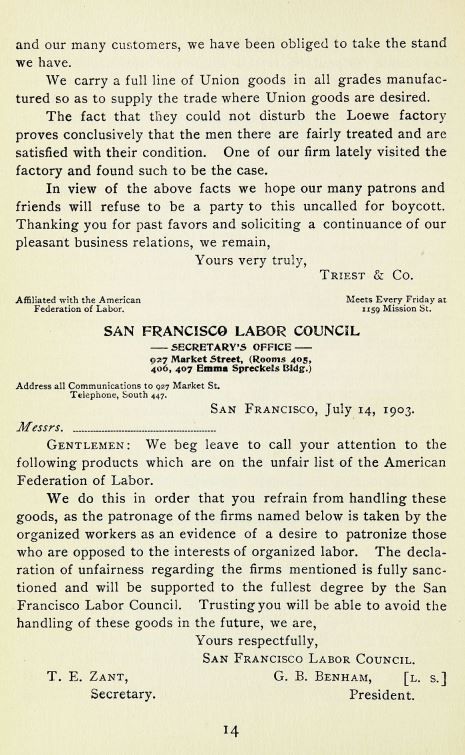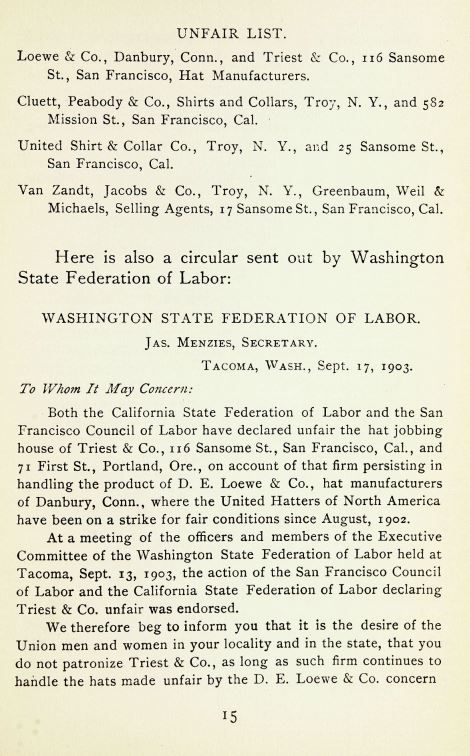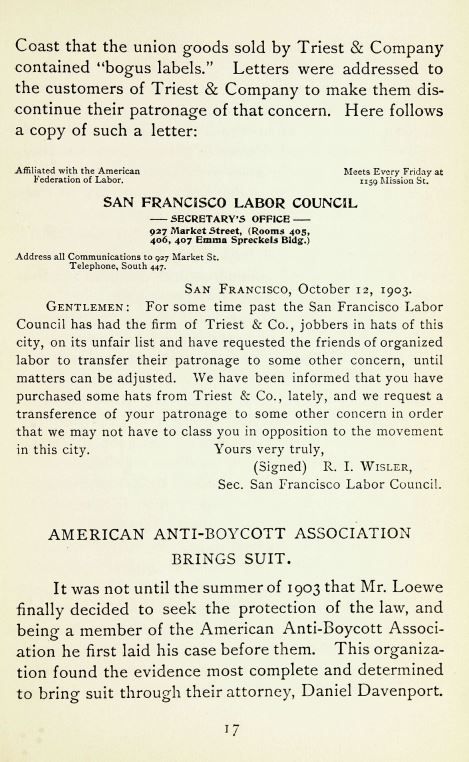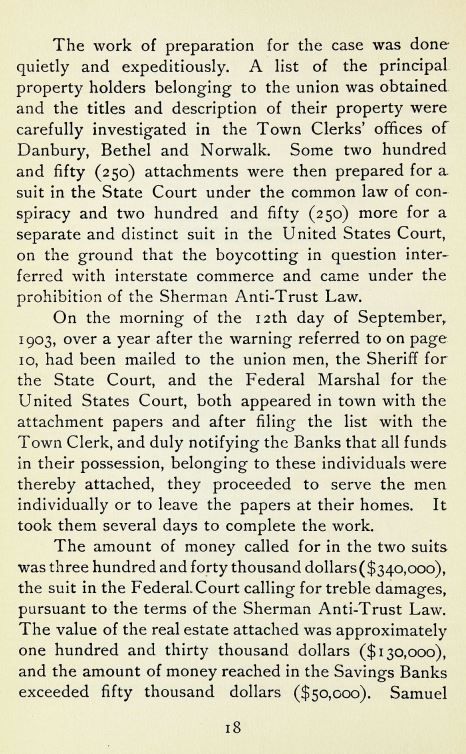 Last edited: