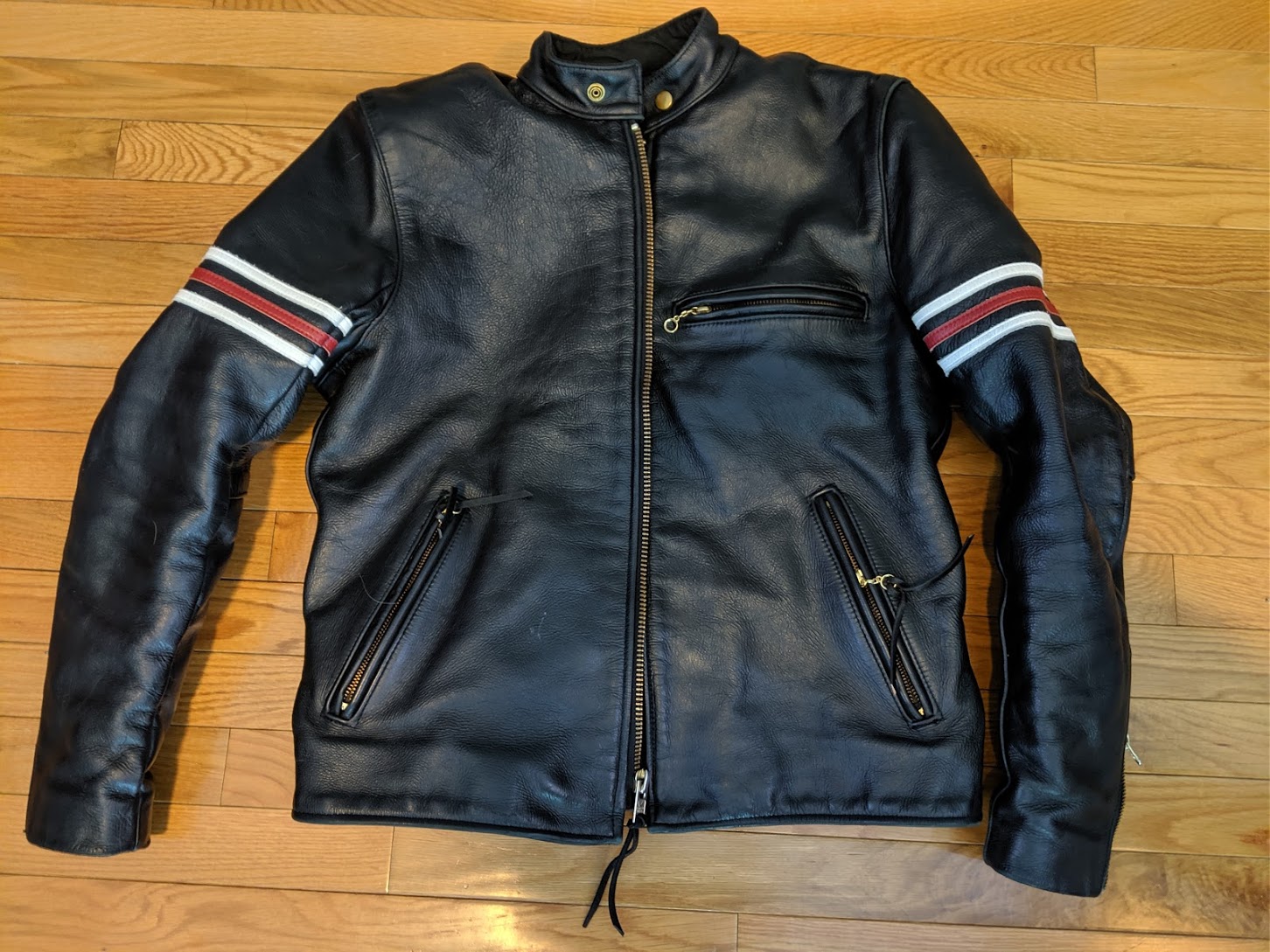 Genuine Vanson Model B "House" - Technically it's a Model BH - Black Competition Weight Leather Cafe Racer style Jacket. (even still has the serial number key chain fob) Size 42.
Listed on ebay but I would rather sell it here (no ebay fee's). Reasonable offers will be entertained and hopefully not entertaining
https://www.ebay.com/itm/133116229115
The Model B is the second Vanson leather jacket they made, after the original AZ2 was introduced in 1975. It has a Bi-swing action back for better movement, it doesn't go quite so low in the back so it's more comfortable to sit in. The sides taper at the waist for comfort and to accentuate the shoulders. This is a hand-built jacket, manufactured in Boston.
The "House" uses the red and white race stripes on the arm, lifted from the Vanson Star.
Features solid brass buckles and zipper. One interior pocket, three exterior. A black rayon liner and a zip out fleece liner (included), but also has snaps to accept the Vanson Streamliner snap-in vest.
I wore this only in winter (Utah; its cold for a long time here) just as a coat. It was always a little bit big on me, but I've lost weight and now it's really too big on me. There are wrinkles in the arms/shoulders from normal wear and a few minor scuffs, like on the leading edges around the wrists. One scratch over the hand warmer pocket (visible in the photo). But overall, still in excellent condition. (non-smoking home) This is a Buy it for Life (unless you change size) heirloom product. It takes years and years to break these jackets in. It still stands up on it's own.
From Vanson:
Size 42 - Chest measures about 48.5 inches = Normal ease is about 6.5 inches.
Back length is about 25.5 - Front 22.5 - Sleeves are about 35.5 (Nape of neck to Wrist)
Bottom circumference sweep is 44 inches.
This is the jacket worn by Hugh Laurie in House,
It was also used in the first season of Showtimes Shameless:
MSRP: $680.00