Below are comments on two versions of the same movie,
Bill of Divorcement,
separated by only eight years .
Bill of Divorcement
from 1932 with John Barrymore, Billie Burke, Katherine Hepburn, David Manners and Henry Stephenson
"So, in our family, there's insanity."
- Katherine Hepburn's character to her aunt after discovering the family secret (Not a spoiler)
Bill of Divorcement
is dated in its storytelling and acting style, as well as, in its views on mental illness, but if you can see past that, you'll enjoy a short and engaging early "talkie" that includes the screen debut of Katherine Hepburn.
Director George Cukor, who was Hepburn's advocate and film-making partner for years, fought to have Hepburn star in this one, thus launching one of Hollywood's most-notable careers.
The wealthy Fairchild family has a secret worse than the absent father, played by John Barrymore, who came back from WWI so shell shocked that he's spent the last fifteen years in an asylum.
Barrymore's wife, played with impressive restraint and nuance by Billie Burke, is about to remarry having obtained a divorce from her institutionalized husband. At the same time, Barrymore's daughter, played by Hepburn, has just become engaged to a young man played by one of the many generically handsome men that populated the screen in the early 1930s, David Manners.
Hepburn and Burke speak fondly of their missing father and former husband, respectively, but after so many years, he's like a ghost that the family, other than the crabby aunt, Barrymore's sister, wants to treat as if he's passed away. With both on the brink of marriage, Hepburn and Burke are ready to move on to their new lives, but it's not to be.
Enter Barrymore, who has come home from the asylum, proclaiming he is "better." Barrymore, playing a man just out of a mental institution and home for the first time in fifteen years, blasts through his dialogue while chewing up the scenery, as any stage actor who has yet to adjust to movie acting would. Yet, there is so much talent and presence in him that it kinda works, especially since he's playing an "off kilter" character anyway.
Barrymore is not alone, as Hepburn's performance, too, is pretty stagey and strident, as is the entire dialogue-heavy and action-light picture. Yet, today, there's a charm to it as you are seeing the transition from stage and silent to talking-picture acting taking place in real time and in the hands of incredibly talented professionals.
The movie, from here, is all guilt trip, sacrifice and a 1930's view of mental illness. Barrymore wants his life and wife back, but Burke wants to marry another man. Yet she knows, fair or not, she'd be abandoning her former husband when he desperately needs somebody to care for him.
Hepburn, putting a few pieces together with the help of the family doctor, played by Henry Stephenson (one of the 1930s go-to actor when a role called for a sincere and wise older father, doctor, lawyer, etc.) realizes that "insanity runs in her blood and might come out in her children."
Will Burke break her engagement to care for her former husband? Will Hepburn still marry and have children despite knowing "the risks?" Will Barrymore crack if his family moves on from him?
Today, we wince at that era's view of mental illness, but our "modern" view will probably be winced at by future generations. And that era's respect for self sacrifice is foreign to our "forgive and do your own thing" views today, but it was real back then, which left Burke and Hepburn facing difficult decisions.
It's impressive how much story and conflict Hollywood could squeeze into just over an hour of screen time in the early 1930s.
Bill of Divorcement
is clunky and stagey with uneven acting, but there is so much talent in the cast that it's still an engaging sixty-nine minutes of movie watching.
Plus, for film buffs, you not only see Hollywood trying to figure out the talkie, but one screen legend, John Barrymore, near the peak of his career and another, Katherine Hepburn, on the brink of what would become a legendary one.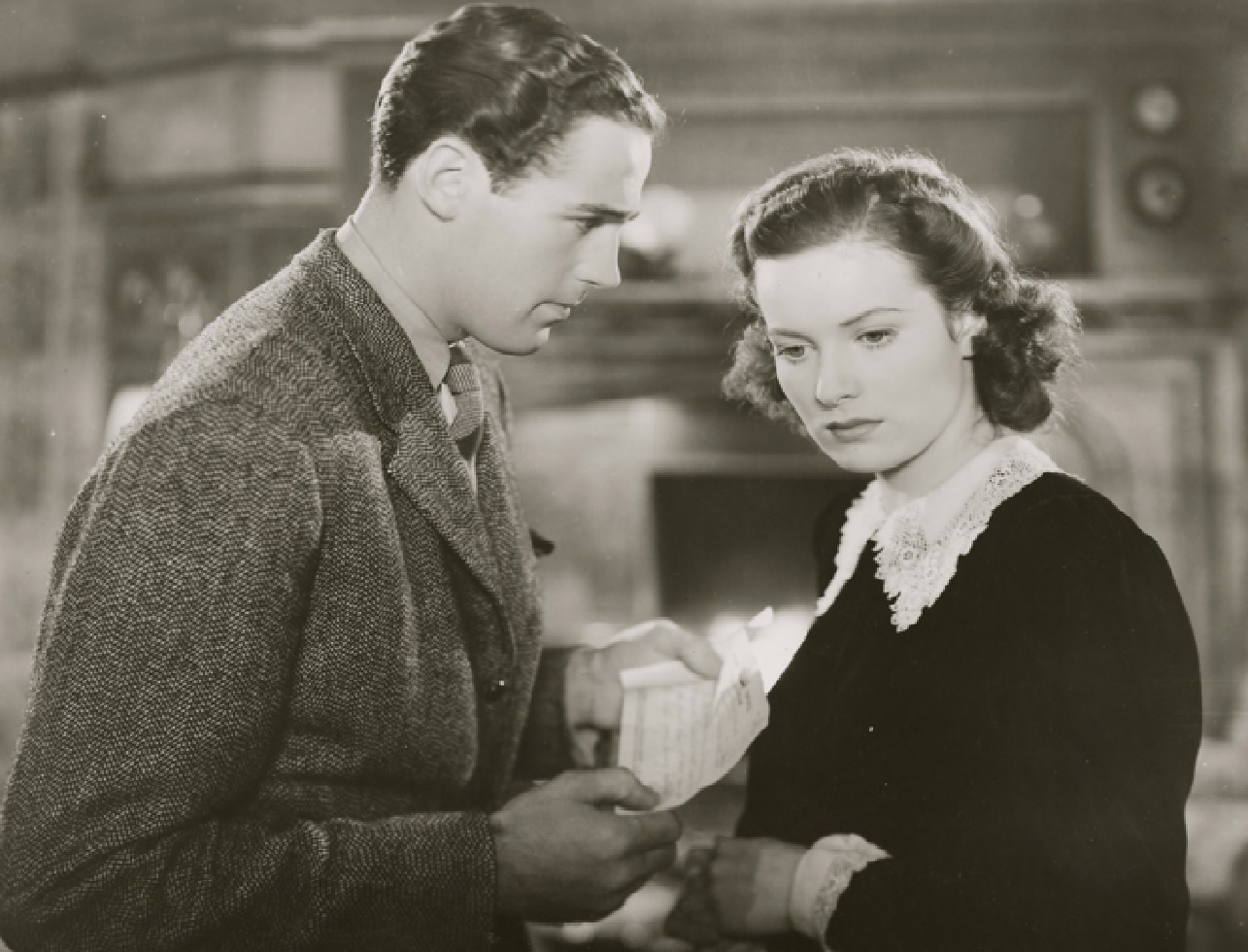 Bill of Divorcement
from 1940 with Maureen O'Hara, Adolphe Menjou, Dame May Whitty and Fay Bainter
With less than a decade separating 1940's
Bill of Divorcement
with the 1932 version, comparing the two pictures is a classic-movie-fan requirement. Since the stories are all but the same, the differences are the movie's production and, much more so, what each actor brings to his or her role.
The plot is, basically, unaltered and very stagey in both versions: a wealthy English family, comprising a middle-aged mother, a daughter in her late teens and an elderly spinster aunt face a crisis and a dark family secret.
The wife's husband has been in a mental asylum, ostensibly suffering from "shell shock" (the PTSD of its day) since coming back from WWI nearly twenty years ago. The wife divorced him five years ago and is about to remarry. The stern, bible-spouting spinster aunt, the husband's sister, is furious at the mother for "abandoning" her husband. Also, the daughter is about to marry.
Before anyone can marry, though, the missing father/husband/brother shows up claiming he's all better and ready to resume his life. The aunt is all "I told you so;" the former wife doesn't want to hurt her former husband, but she wants to move on and marry her fiance and the daughter is at sixes and sevens just trying to make sense of it all.
The big secret, which comes out halfway through and isn't really a spoiler, as there is no story without it, is that insanity runs in (the blood of) the father's side, with the family believing WWI didn't cause, but only "set off" his insanity. This view of insanity might offend us today, but it is how it was viewed at the time, plus, our view today probably won't look too good to future generations either.
The husband, desperately wanting his wife back, drops a big guilt trip on her, which is aided by the religious scold aunt telling the wife to remember your wedding vows, "for better or worse, in sickness and in health." At the same time, the daughter realizes that she has to tell her fiance, who wants many children, about "the insanity in her blood."
The climax is all melodramatic sacrifice over who's going to stay with the just-returned husband to help prevent a relapse. It's a conflict that will feel alien to modern audiences raised on movies preaching that genuine personal sacrifice is unacceptable because everyone today should get everything they want, come what may.
The two versions of
Bill of Divorcement
are similar with the 1940 one having a polish in production quality lacking in the earlier version as Hollywood was still figuring out "talkies" back in 1932. Hence, other than small tweaks to the story and some minor reordering, eliminating or altering of a few scenes, the real difference is the actors.
Adolphe Menjou has the unenviable task of taking on the John Barrymore role of the returning husband and, while he doesn't chew up the scenery the way Barrymore does, he also doesn't bring the passion and presence of a Barrymore.
Fay Bainter puts in a professionally understated performance as the torn-in-both-directions wife, but Billy Burke brought just a bit more verve to the role in the 1932 version.
The two big differences, though, are the aunt and daughter. Dame May Whitty as the angry aunt gives the audience someone to truly dislike in the 1940 version; whereas, with Elizabeth Patterson playing the aunt, the character all but disappears in the earlier production.
Which brings us to the true difference in the two versions: Maureen O'Hara creates a much more engaging and nuanced character in the later version in the pivotal role of the young, strong-will daughter who is not only rocked by meeting her father for the first time, but also by discovering a dark and life-altering family secret coursing through her blood.
In 1932, Katherine Hepburn, new to the screen, has too much stage actress still in her - over emoting, wildly gesturing and all but yelling some lines - and too much natural frenetic "Hepburness" to create the empathetic character needed to fully "sell" the climatic scene.
That "small" difference helps make the 1940 version superior. Despite Barrymore's captivating performance in the 1932 one, it's Maureen O'Hara's engaging and heartbreakingly nuanced portrayal of the shattered daughter that gives 1940's
Bill of Divorcement
a depth and sympathy missing in the earlier production.