WONDERFUL Vintage Banana Republic Safari Bush Vest!
​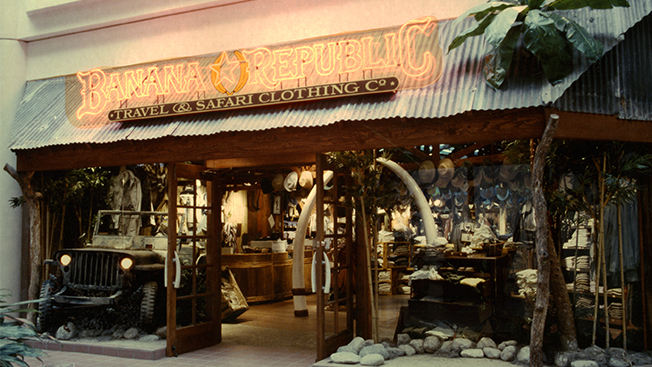 The retail shopping Beverly Hills, California, is, to put it mildly, not exactly punk. Women of a certain age with handbag-sized yappy dogs, men with slicked back hair, expense accounts, and a desire for watches cut from hunks of pure gold are the stereotypical customers, and the goods are either aimed at tourists, or encrusted with diamonds. Lots of diamonds.

One morning, back in the early 1980s, all this came to a halt--quite literally, as traffic had to be stopped to allow a vintage (and very non-functional) single-engine bush plane to be dragged along the street and installed into the newest retail location. This was (rather dangerously) suspended from the ceiling.

It was then followed by a US Army Surplus Jeep... that was positioned do it looked like it was bursting out of the store window, Indiana Jones-style.

Then followed a life-size giraffe replica. And some tom-tom drums.

Banana Republic, the catalog-based safari clothing company that had been started on just $1,500 three years before, was getting its very first retail location.

Started in Mill Valley, Calif., by two travelling journalists, Banana Republic sold army surplus items rebranded as safari wear. Why military surplus? It was cheap, built to last, and classically cut. Why the plane, the jeep, the giraffe, and the admittedly offensive name? Why not? The founders had no retail experience, but could write ad. copy for the catalogs, and knew their products were first-rate.

What could go wrong?

The answer was nothing, until the brand was bought by The Gap in 1983. Five years of fun, and then... Banana Republic's fate was sealed, and it became what it is today. A mall brand that occasionally lucks into some excellent clothing.

But this vest dates from the original Banana Republic era, between 1978 and 1983. And it's classic "original" Banana Republic! A genuine Bush Vest, this is cut from soft yet sturdy cotton and is simply packed with features. It features two deep bellows pockets on the lower front, cut to hold an awful lot of gear. There are two very deep flashlight pockets on the front also, one on each side; these are complimented by two shallower bellows pockets. The left-hand front side features two deep zippered security pockets as well as a D-ring lantyard at the shoulder; the right side has a quilted shooting patch. All of the bellows pockets close with velcro fastening.

The interior features a full-length and very deep zippered game/security pocket, as well as two velcro-closed security pockets. The back features a full length game pocket; behind this on each side are two deep luggage pockets, each of which extend half the length of the vest.

The vest features side-adjusters, which are secured with heavy brass rings. It fastens with a heavy-duty and beautifully fluid YKK zipper as well as brass studs.

This is in excellent condition, apart from two small blemishes on the back, as shown.

Given the carrying capacity of this vest it could easily double as providing you with an additional item of hand-luggage.... so this could easily pay for itself on your first domestic US flight when you avoid the new baggage charges!
Asking just $39, or offer, boxed and shipped in the USA.
Tagged a size S, this would work best for around a 36/38.
Measurements:

Chest: 21 1/2
Length: 30 1/8