Good afternoon everyone.
I got me the wild hair to try my hand at sewing and/or getting a bespoke suit made. I've talked to my tailor who is willing to make what I'm looking for. I just need to find the fabric.
That's my problem. I can't find what I'm wanting. I've been googling and estying for a couple of weeks now and I just can't find what I want. What I'm wanting is a tropical weight wool houndstooth in brown or green. I can find the pattern but it's in a heavy weight warm wool. Being from Texas that would mean I could only wear it a couple times a year as it's generally too hot. I was hoping to find a good tropical weight to make an unlined unstructured suit harkening back to what Dr. Watson wore in 1939's Hound of the Baskerville. I have a pattern and instruction set for something extremely similar, my tailor and I both agree it can be done. I just need a good fabric. Any thoughts?
Here's a fabric similar to what I want just much heavier.
https://www.etsy.com/listing/104973...f=sr_gallery-1-1&pro=1&organic_search_click=1
What I'm wanting to make is similar to the below image but with a Norfolk style sporting jacket. Large patch pockets on the waist with a smaller patch breast pocket. A functional storm collar, and suede patches on the elbows and shoulder. Action back and double vented. I'm wanting to go for that early 20th century outdoors/adventure feel but in something that won't kill me if I wear it outside of December to February.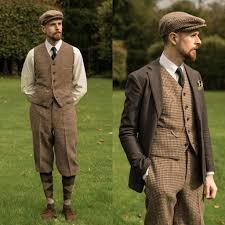 If this isn't the right place to post this please move or let me know where to post it.