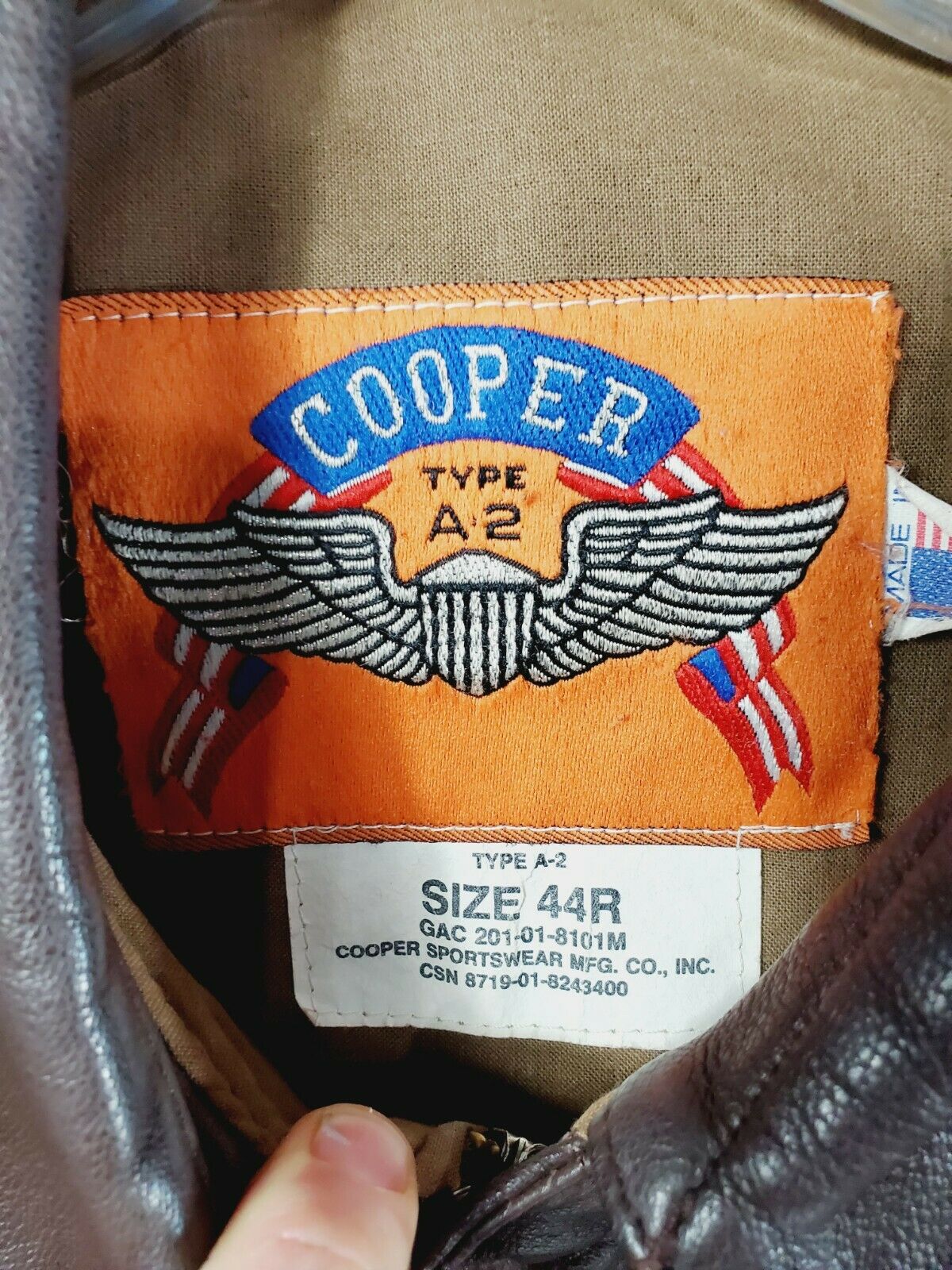 Got into a discussion with a gent about his claimed "USAF-issue", orange tag Cooper A-2 flight jacket. This inevitably led to disagreement re: his position that his jacket was a USAF issued item -- by virtue of it saying so on the orange tag/label.
So, thought I'd revisit the topic and walk through my recollections/experiences with both the issue and commercial versions.
Most here are probably familiar with the fact that, in 1988, USAF began to reissue the A-2 to mission-qualified aircrew. Saddlery (a division of Cooper Sportswear) was awarded the initial contract. What most folks don't realize is that the orange-tag Cooper A-2 predated the 1988 reissue by several years.
Pre-1988 Cooper A-2.
I don't know exactly when Cooper started producing the A-2 but I purchased my jacket ~1984 at the BX at Castle AFB in CA. My recollection is that the jacket could be purchased with a removable velcro nametag or without (Mine had the velcro attached and I still have the original, blank tag somewhere at my house).
These early orange tag jackets were a russet-colored goatskin and had brownish-purple knits (cuffs and waistband). The zipper was brass with a chrome Ideal-brand puller. Interior was lined with a tannish cloth with an olive hue.
The label was an orange rectangle with "Cooper" in a blue arc sitting atop a silver embroidered USAF pilot wing. Just above the wing was "Type A-2". Immediately below the orange tag was a white spec tag reading:
Type A-2
Size (size shown here: 42R, 42L, etc)
GAC-201-01-8101M
Cooper Sportswear Mfg Co, Inc
CSN 8719-01-8243400
Enter the USAF-issue Saddlery jacket:
As mentioned, Saddlery (a division of Cooper Sportswear) was the awarded the initial contract for reissue of the USAF A-2. My 1990-issued jacket is, for all intents and purposes, identical to the pre-1988 orange tag with the following exceptions:
- velcro for a command patch present, in addition to the nametag velcro
- supposedly a flame retardent coating on the leather (I have two 1988 contract jackets. The one I received in 1990 has near-identical leather to my 1985 orange tag. My second jacket (also a 1988 contract) has a wetter/shinier finish -- more on this later
- Saddlery label which was a white tag with stylized "Saddlery" text with "Made in USA" and size underneath. It had a similar white spec tag to the above but it is a true
mil-spec tag:
Type A-2
Size (size shown here: 42R, 42L, etc)
DLA 100 88 C0420
Cooper Sportswear Mfg Co, Inc
NSN 8415-01-258-6401 (last digits will vary by jacket size)
The post-1988 orange tag Cooper.
After the USAF reissue, the orange tag on the jackets received the following addition below the embroidered wing on the label: "under exclusive manufacturing by the Cooper Defense Contract Division USAF".
Some of the early post-1988 jackets appear to retain the same knits and zipper as the early jackets but soon had the robust purplish knits replaced with less-robust brown knits. The zipper lost it's chrome puller -- replaced with a brass version. The lining material also became thinner.
The CSN number on the white label also changes slightly -- becoming 8718-01-824-3400 (sometimes the last series is combined as 8243400). I've never determined what these numbers mean.
None of the orange-tag Cooper A-2 jackets were ever USAF-issue items.
Saddlery USAF contracts:
In addition to the original 1988 contract, Saddlery also had three additional contracts for USAF A-2 jackets (1992, 1995, and 1996):
1988 DLA 100 88 C0420
1992 DLA 100 92-M-0061
1995 SPO 100-95-C-4030
1996 SPO 100-96-D-4020
Saddlery finish:
I've seen some variation with the USAF-issue jackets. On my two issue jackets, one was received pretty early after these were approved, the finish is nearly identical to the Cooper jacket -- ie it has a mostly matte finish to it although just a hint shinier. My second jacket, received a few years later, but still a 1988-contract, is both darker and shinier. So, either production variation or the result of the oft-quoted flame retardent finish.
I always questioned the flame-retardant thing. The A-2 was not originally approved for wear while flying. Whether it just hadn't made it thru the approval process yet or was only intended for non-flying use, I don't know. If these were intended only as a morale item, then it seems a waste of money for adding a flame retardant coating. Possibly the explanation for the matte finish on some early jackets is that they never received this flame retardant coating? The other option is just production variation.
I don't own any examples of the later jackets, either Saddlery or Cooper, so can only comment on what I see in photos. The later (definitely the 95/96 contracts) appear to be a darker brown color compared to the original russet hue. I don't know if the later version incorporate any design changes (handwarmer pockets, etc). Perhaps someone who has an example can comment?
Last edited: