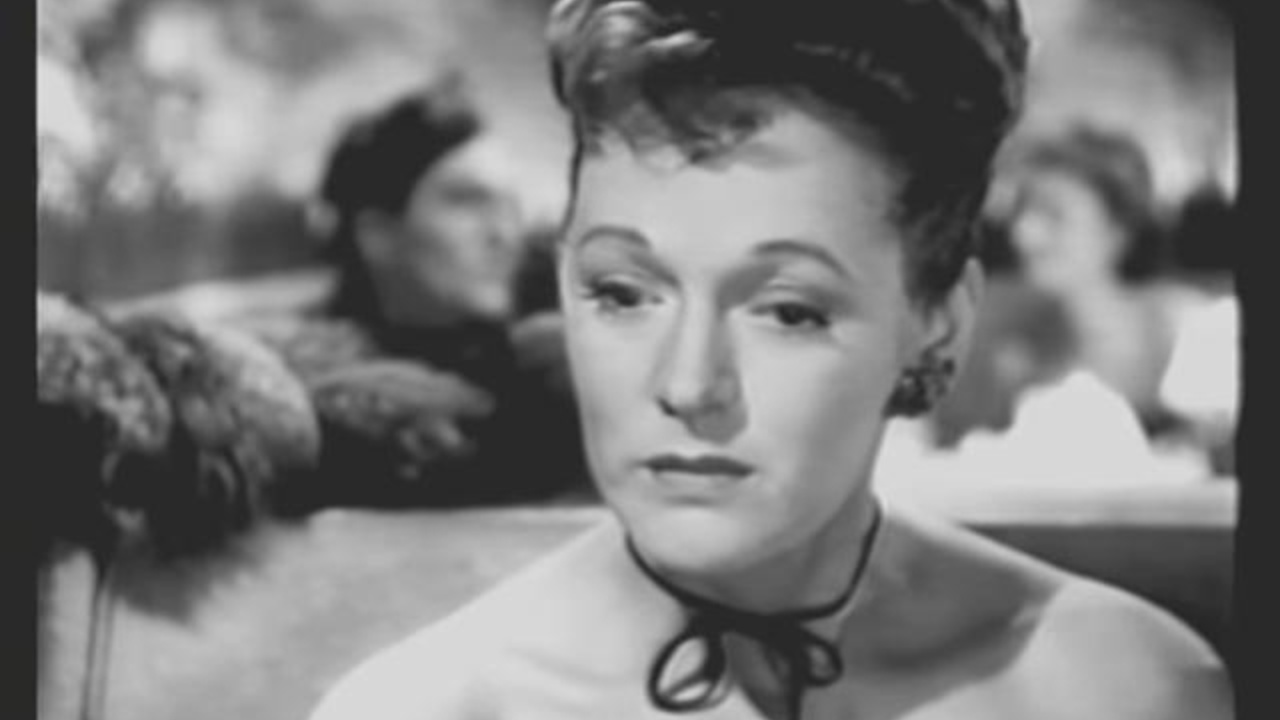 Never Look Back
from 1952 with Rosamund John, Guy Middleton and Hugh Sinclair
Most movie plots fall apart under too much scrutiny, just some more than others.
Never Look Back
, a short English legal drama from famed Hammer Films, completely crumbles if you think too hard about its plot, but if you don't, outstanding acting, a bunch of fun
j'accuse!
courtroom moments and a potential scandal carries this one comfortably over the finish line.
Rosamund John, adorable in a reserved English way, plays a rising-star barrister in the insanely confusing to anyone not English, British justice system. She is a before-her-time woman who puts her career ahead of marriage.
As the movie opens, we see John spending an evening celebrating her latest career achievement with her pining-to-marry-her boyfriend and fellow lawyer, played by Hugh Sinclair.
When she's at home later that same evening, a former boyfriend, played by Guy Middleton, shows up at John's apartment telling a fishy tale about a fight he had with his current girlfriend.
With no place to go to sleep that evening, John, generously and at risk to her reputation (different times), lets him stay on her sofa for the night. After he leaves in the morning, things quickly go very wrong for John.
Middleton's girlfriend was murdered that same night leaving John as Middleton's alibia, but to take on that role, she'd have to admit to him having stayed over, which would ruin her reputation, both personally and professionally.
Instead and at his insistence, and against her colleagues' advice, she agrees to represent him in court. Amping up the drama, boyfriend Sinclair, the man whose marriage proposals she keeps rejecting, will be the state's prosecutor on the case.
Effectively, a brilliant female barrister did a kind thing for an old boyfriend and now has to put her career at risk to save it, in a move that has everyone who knows her, especially her current boyfriend, confused and opposed to her decision.
Things only get worse for John, but better for the story, when the action moves to the courtroom.
English law is generally recognizable to Americans (American law is, after all, based on English law), but there's more pomp, wigs and baleful tones to England's variety, which makes English courtroom dramas that much more fun.
Director Francis Searle and the writing team sacrificed proper legal procedure (several surprise witnesses pop up with little challenge from the opposition) to heighten the drama. It works as each surprise threatens, with the movie racing to a climax, to expose John's secret.
Never Look Back
is carried over its plot holes, and it has several, by the talented acting of its cast. John is wonderful as a formerly in-control woman seemingly powerless to stop her life from slowly imploding in a few short weeks.
Middleton is equally good as the slimy ex-boyfriend who proves to be nastier and smarter than he first appears. Sinclair, too, delivers an engaging performance as the lovelorn man rejected by a career woman.
Movies like
Never Look Back
can't be made today because we no longer care who sleeps with whom, in or out of marriage. Well, we care, it's always fun gossip, but that news doesn't wreck careers anymore.
Today, though, one out-of-step politically incorrect comment can kill a career, but that has a bitter and spiteful Salem-witch-trials feel to it; whereas, the old "reputation" risk, rightly or wrongly, had a long historically established set of rules that were simply accepted (until they weren't).
Never Look Back
is just an off-the-shelf English courtroom drama, but its seventy-three minutes speeds by as the story is engaging (if you don't think too hard about the plot), the acting talented and the directing fast paced.
Plus, for us today, there's almost a charm to everybody getting so worked up over an unmarried man and an unmarried woman having, possibly, spent the night together.