I just picked up this Excelled jacket online, and I could use some info and opinions. I got it because I liked the look and don't already have a jacket in quite the same style/cut.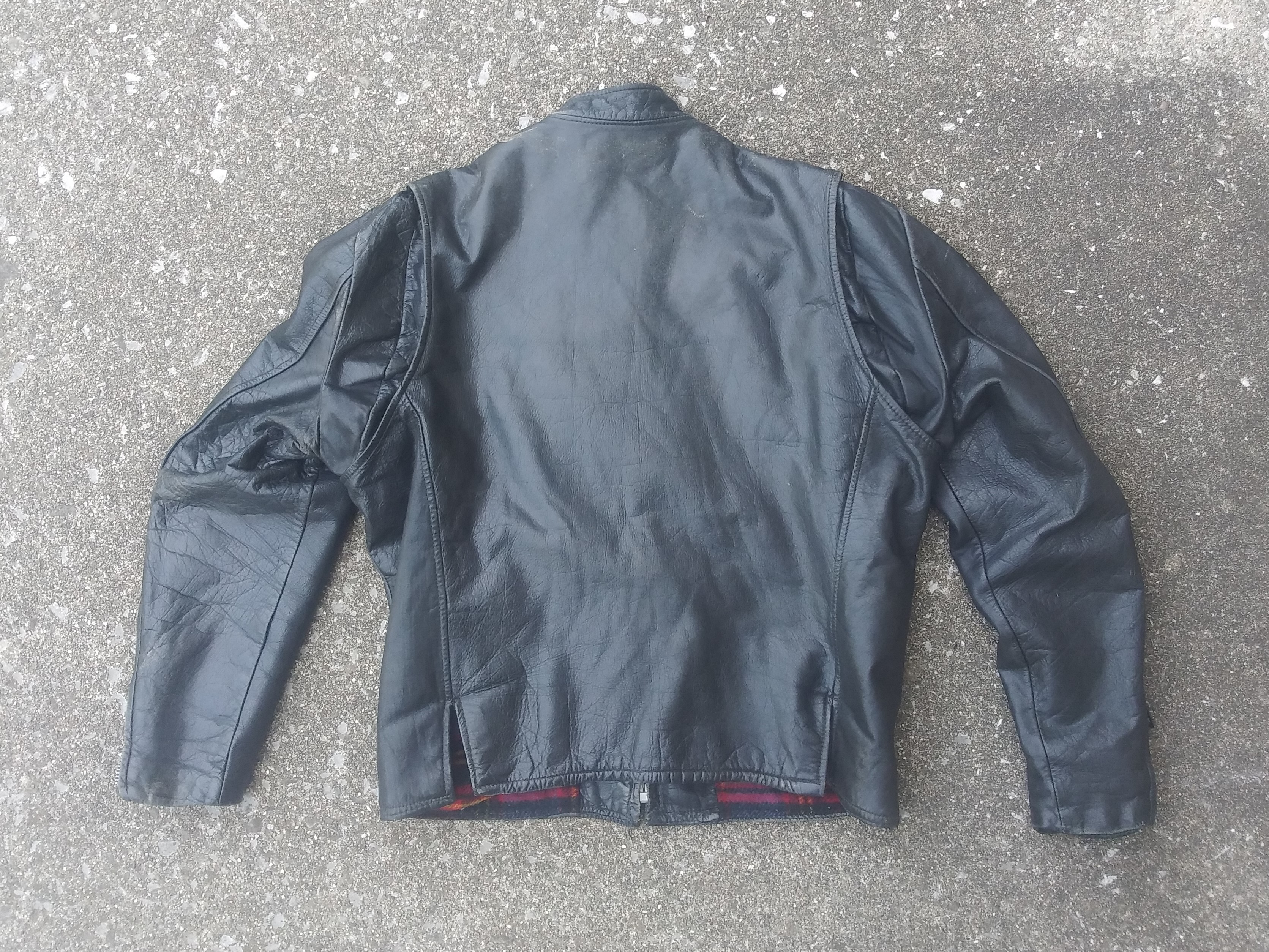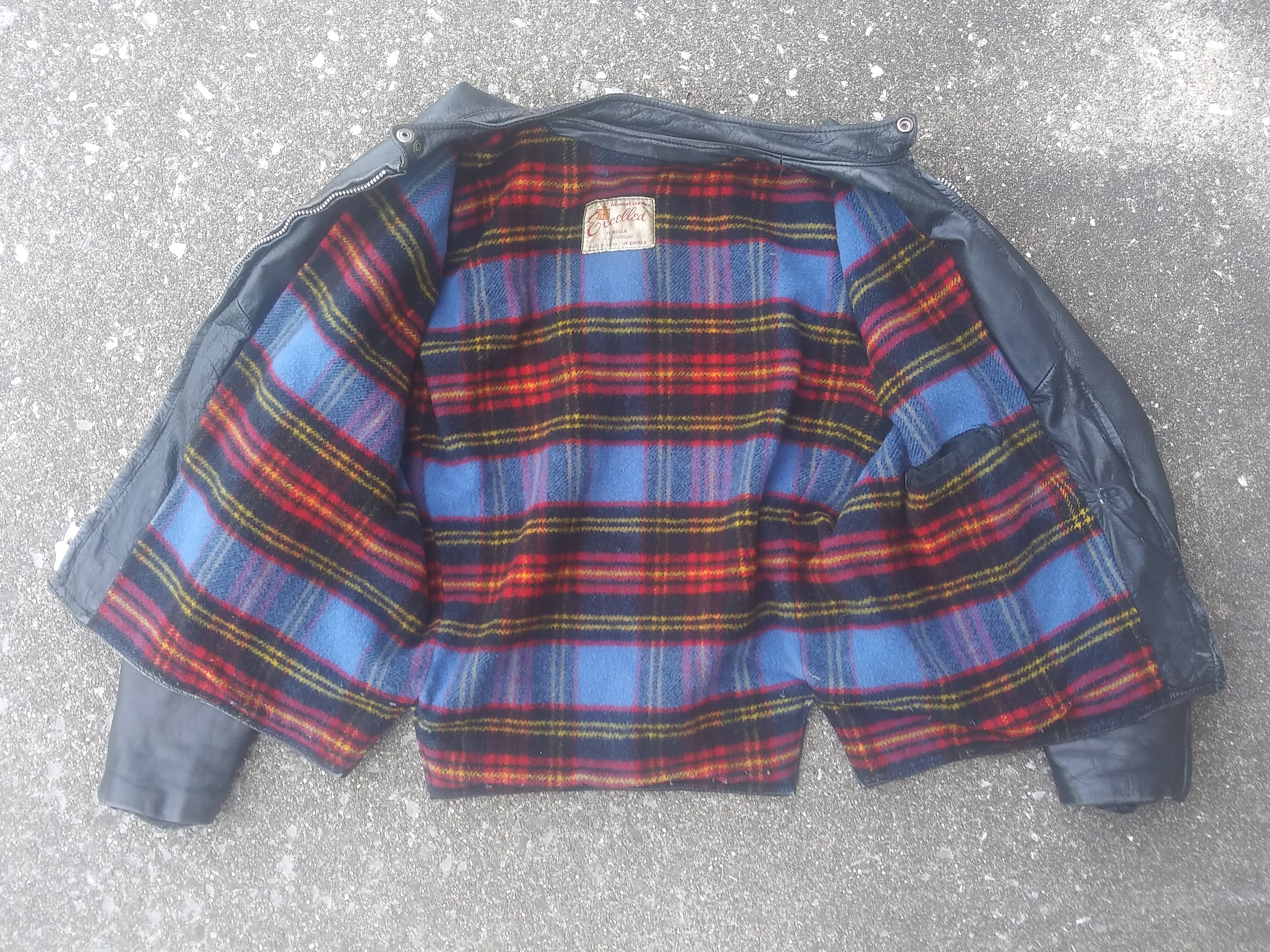 Unfortunately, there were some issues undisclosed by the seller. I don't mind some flaws in a used jacket—they lend some character, and, after all, it's not like I paid Cal money for this one. How "okay" to be with flaws is down to personal preferences and will vary widely, but since I don't really know anything about this jacket, I feel like I don't have a context for judging. I'm aware Excelled jackets are generally considered lower-end, but I've always liked their look, and if there's something special or unusual or interesting about this one, it would make a difference to me. Also, maybe I'm just being too persnickety.
So, I guess the two main things I want to know, along with whatever else you might want to throw in, are:
1. Is there anything intrinsically special about this jacket?, and
2. On this particular jacket, how much would
you
be okay with letting slide?
The things I find interesting/cool about it:
First, it's made in Japan, which I didn't know was a thing with Excelled.
I like the tapered cut. Love the grain. Dig the lining. Also like the...what are they called?—
vents
? in the bottom hem. And the YKK zipper pulls on the cuffs are cool—interesting shape and kinda chunky. Haven't noticed these before.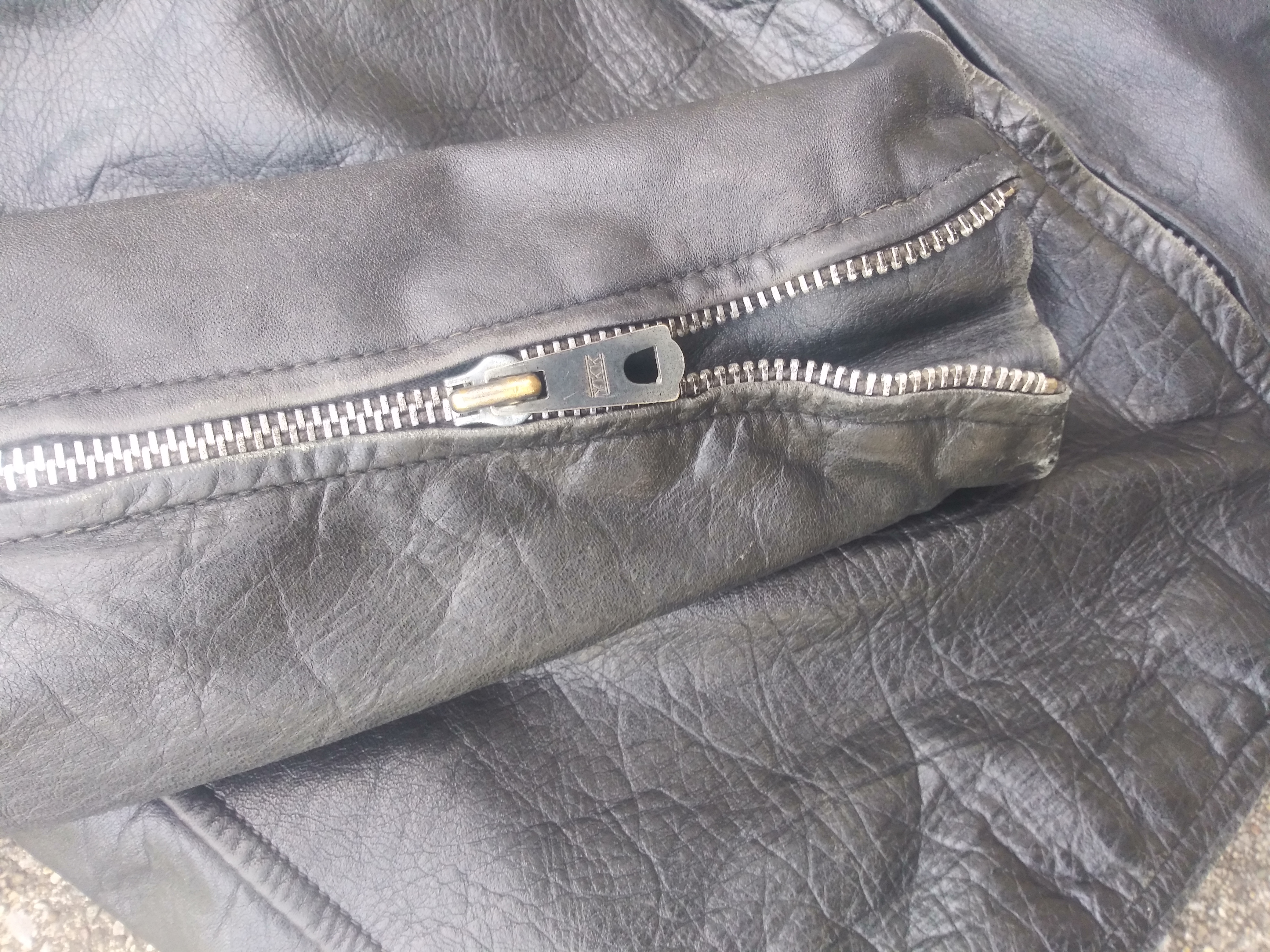 Speaking of zipper pulls, the main Talon is curved (or kinked, rather). I would guess this was how it was made, but I suppose it could have been done (neatly) by an owner. I like it. It's cool, and is a great ergonomic fit for one's fingers when grabbing onto it. I have no idea how to date it, though.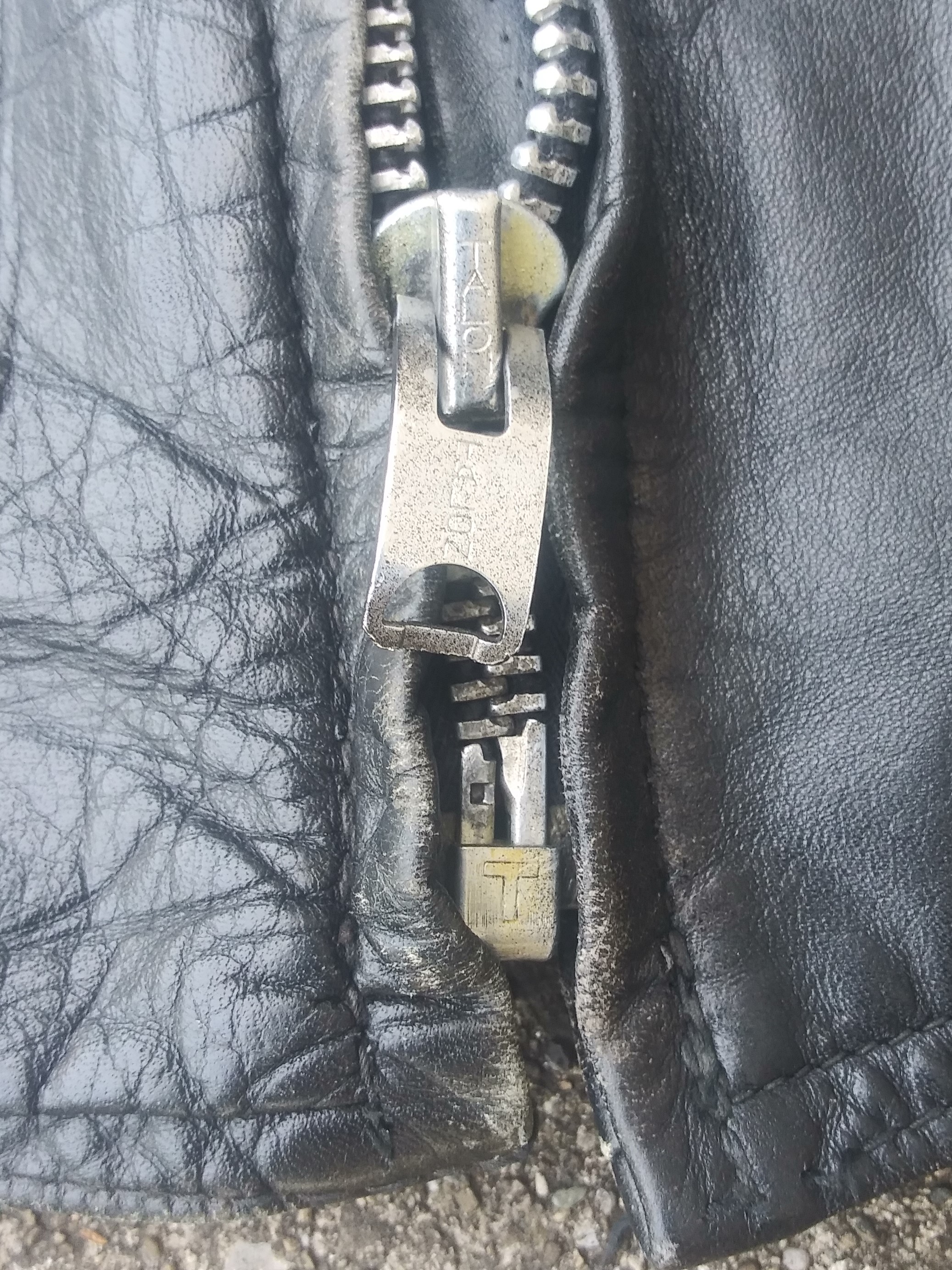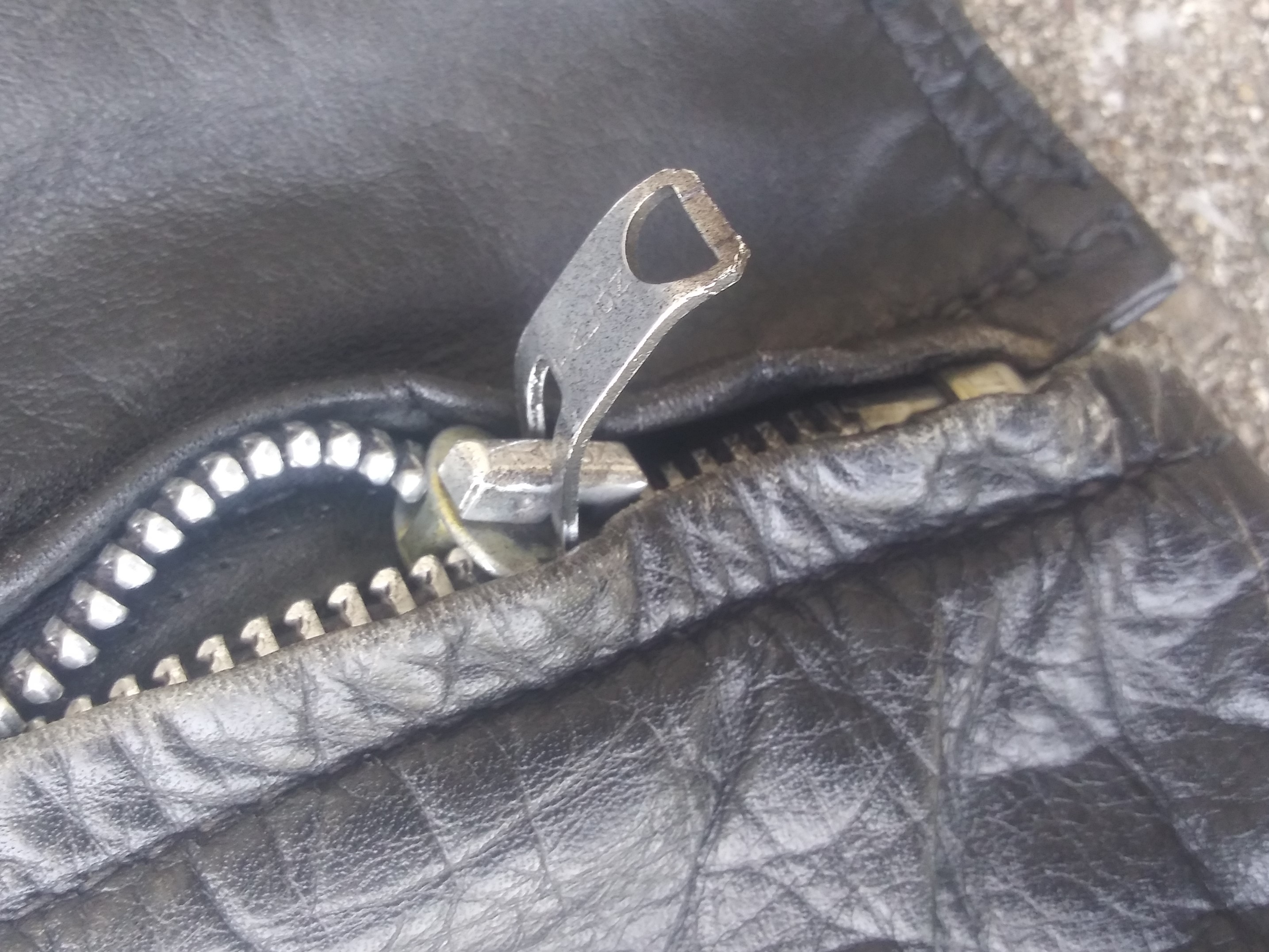 The problems/issues:
Well, the sizing is off from what the seller claimed, though this isn't really a huge problem: rather than being slightly snug as I expected, it's just a bit roomy instead—not, by itself, something I'd return it for. Also, it's missing a chest zipper ring pull, but I can't imagine that's going to take much effort to source.
There's no elastic running between the shoulder gussets. Shouldn't there be? There's nothing there
now
, anyway, and, feeling around each gusset, I don't feel any hanging from either one, so it seems there never was any elastic? The gussets are a maybe a bit poofy, and don't stay folded in, but I wouldn't say they look like there's something wrong with them.
There's an open segment about 3/4 of an inch long in the left sleeve seam. Looks like something I might be able to close up well enough myself, but I haven't tried something like that before.
There are two small holes, each maybe 2–3 millimeters wide, in the right sleeve. (Are these repairable, and is it worthwhile to do so, or would you leave it be?)
The main zipper is pretty damned wavy, and the left side of the jacket front seems misaligned from the right, as can be seen with how the collar meets unevenly—the left side being noticeably higher than the right. (It's actually even a bit higher than in the photo, when that area above the zipper is straightened out.) I reckon both of those issues could be remedied by having the zipper removed then reattached with everything straightened out, but again, I have no idea if it would be worth the cost.
Last edited: