Super Moderator
Bartender
For those of you new to hats, here's a brief intro to terms and styles. For the sake of simplicity and easy reading, a lot of the finer points have been omitted, but this will at least get you started. This is in the guides section for reference, but to post in this thread, see the copy
here.
General Hat Styles
Fedora- Soft felt. Brim generally has some curl.
Homburg - Soft Felt. Curled brim edge, nearly always with a bound edge. Typically will have a center dent crease, though other creases were also seen, especially in the 1930s and prior.
Bowler - Stiff Felt. Curled brim edge, open crown. Generally will have heavily stiffened felt.
Cowboy hat - Soft Felt. The defining characteristics of cowboy hats have changed dramatically. Generally characterized by wide brims and narrow ribbons.
Panama (optimo) - Made from straw woven in Ecuador. Optimo style is characterized by an open crown with a ridge running front to back, a stylistic holdover from rollable hats
Porkpie - Soft Felt. Characterized by a telescope crease. Brim may have typical fedora flanging, or may be flat. Particularly popular in the 1910s-1920s, and the 1950s-1960s.
Campaign Hat - Generally heavily stiffened, especially the brim. A descendant of the "Boss of the Plains" style, the campaign hat is characterized by a short crown and flat brim. Associated with military usage, as well as with the park service.
Boater - Straw. Stiff straw, produced in a variety of weaves/braids. Flat brim, flat topped crown, generally has wide ribbon.
Stingy Brim (fedora) - Soft felt. A variant on the fedora style, popular in the late 1950s-1950s. Brim 2" and under. Generally accompanied with tapered blocking to the crown and a wide ribbon.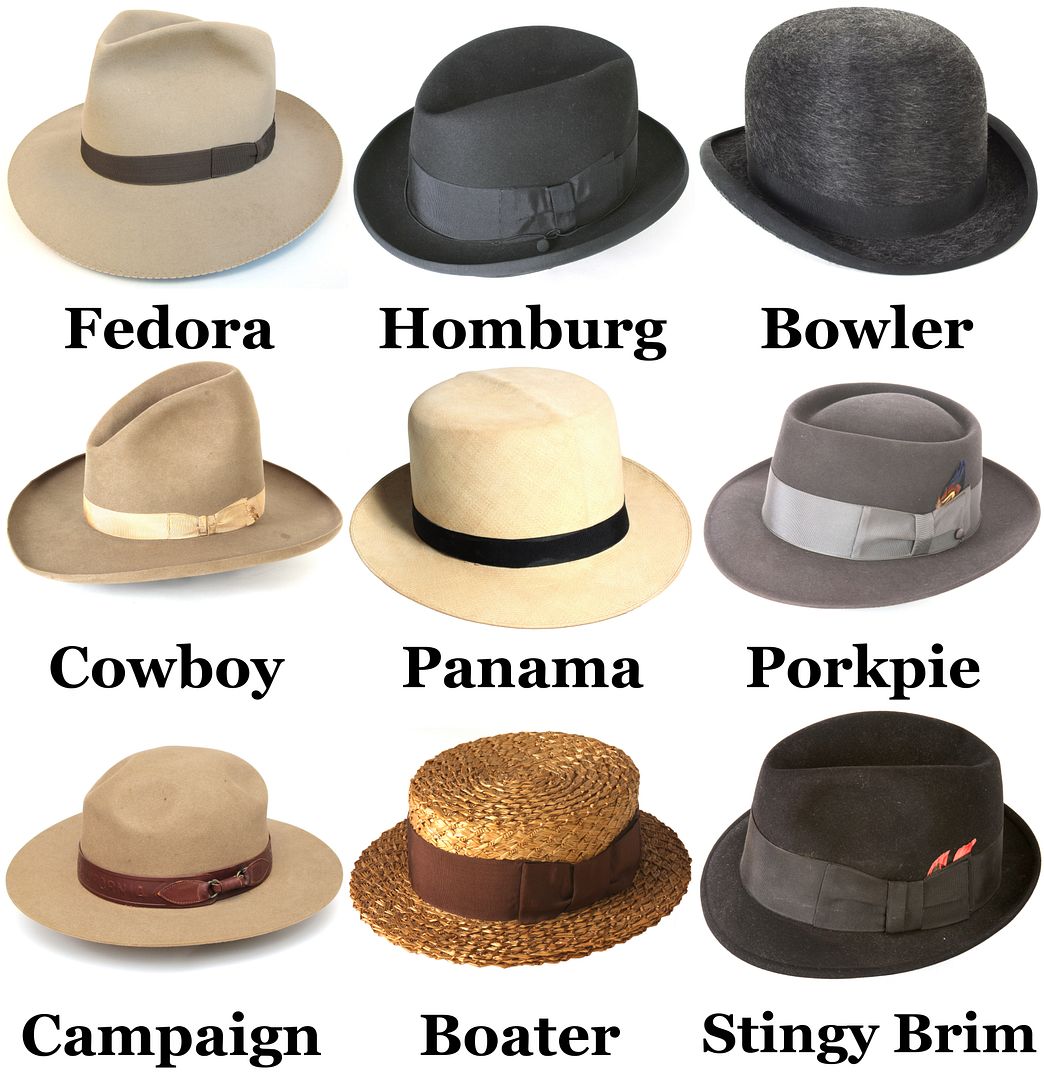 Common hat creases
Open Crown
Center Dent
Diamond
Teardrop
Cattleman
Telescope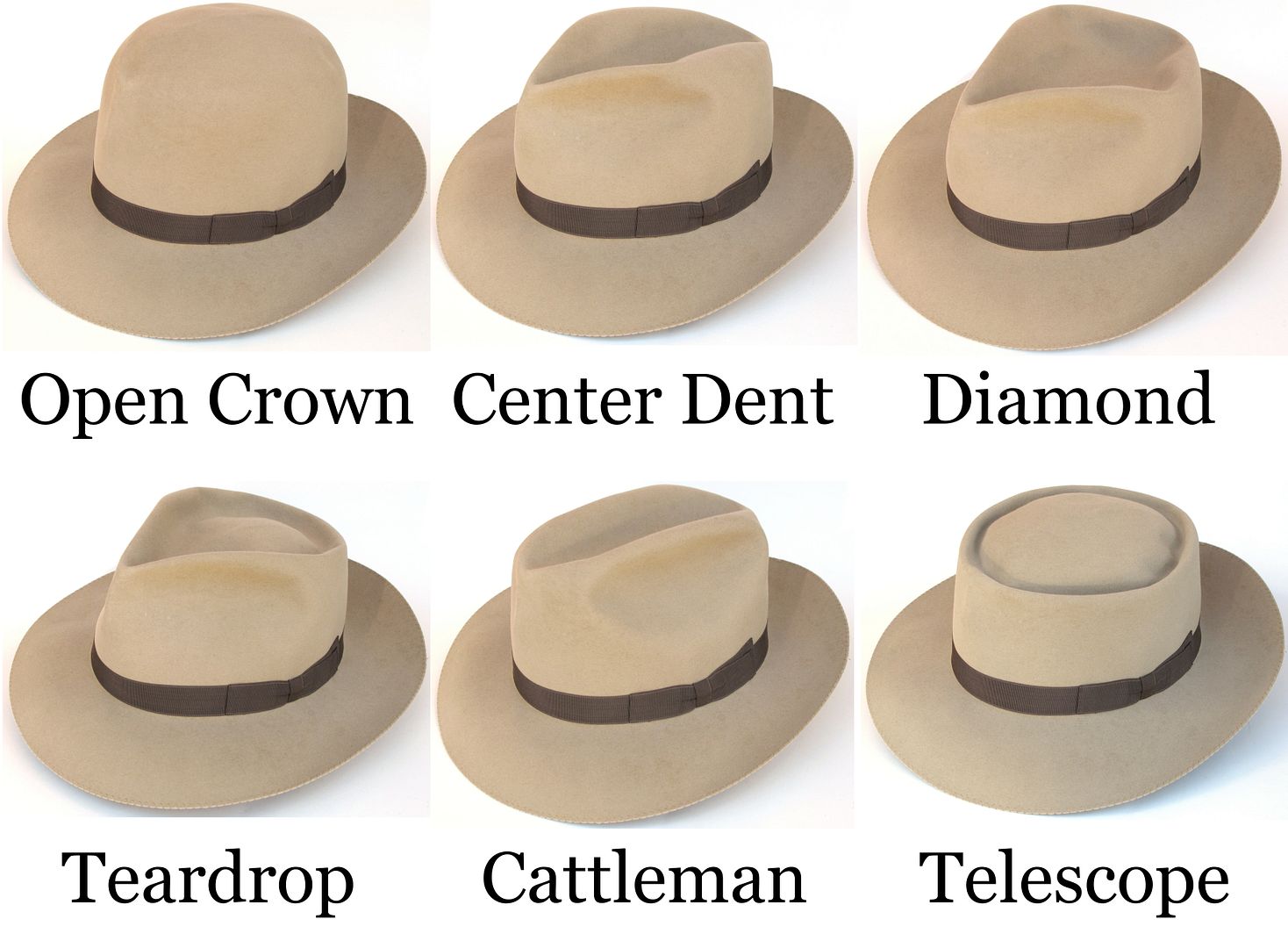 Hat Parts
Crown
Pinch
Bow
Ribbon
Brim
Liner
Sweatband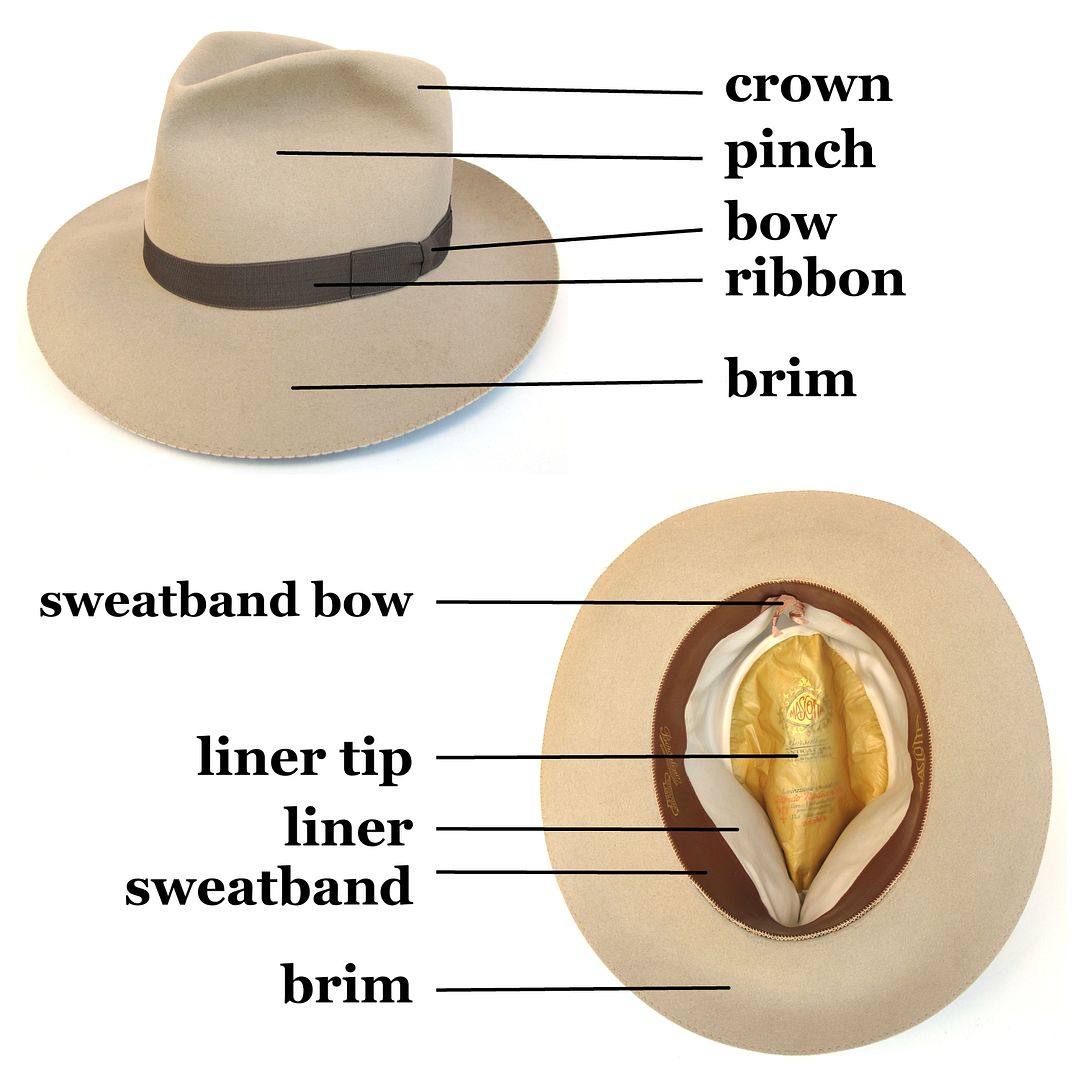 Types of Brim Edges
Overwelt: Brim edge folded over and sewn. Related to the underwelt, where the brim edge is folded under and sewn.
Raw Edge: Brim edge is cut and left untrimmed
Bound Edge: Brim edge is trimmed with grosgrain ribbon
Cavanagh Edge: Brim edge is welted, but seamless.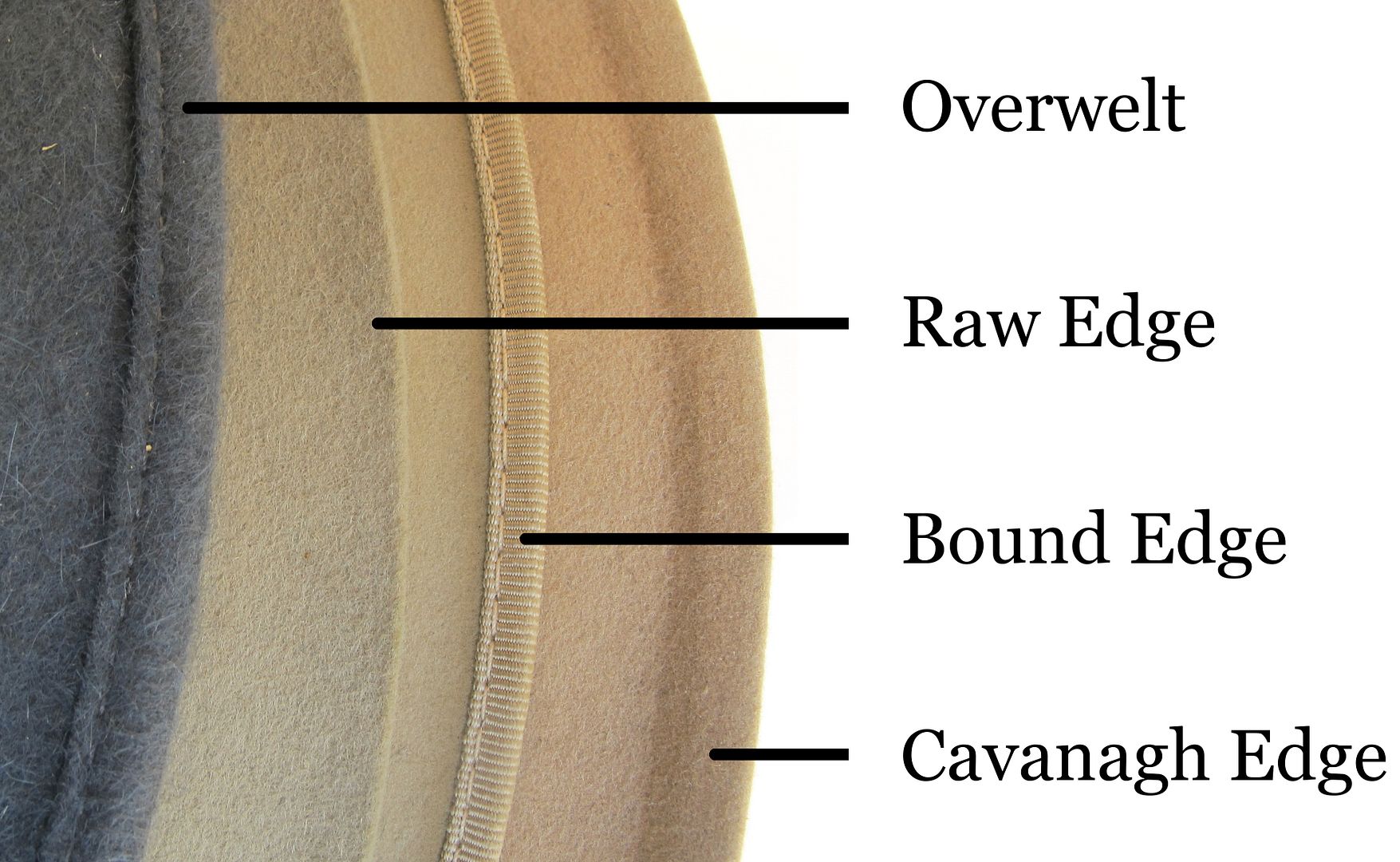 Types of sweatbands
Unreeded: Leather of sweatband is stitched directly to the felt body of the hat, at the brim break.
Reeded: Leather of sweatband is stitched to a secondary component (the reed tape), which contains a filament (the reed). Reed tape is stitched to the felt body of the hat above the brim break.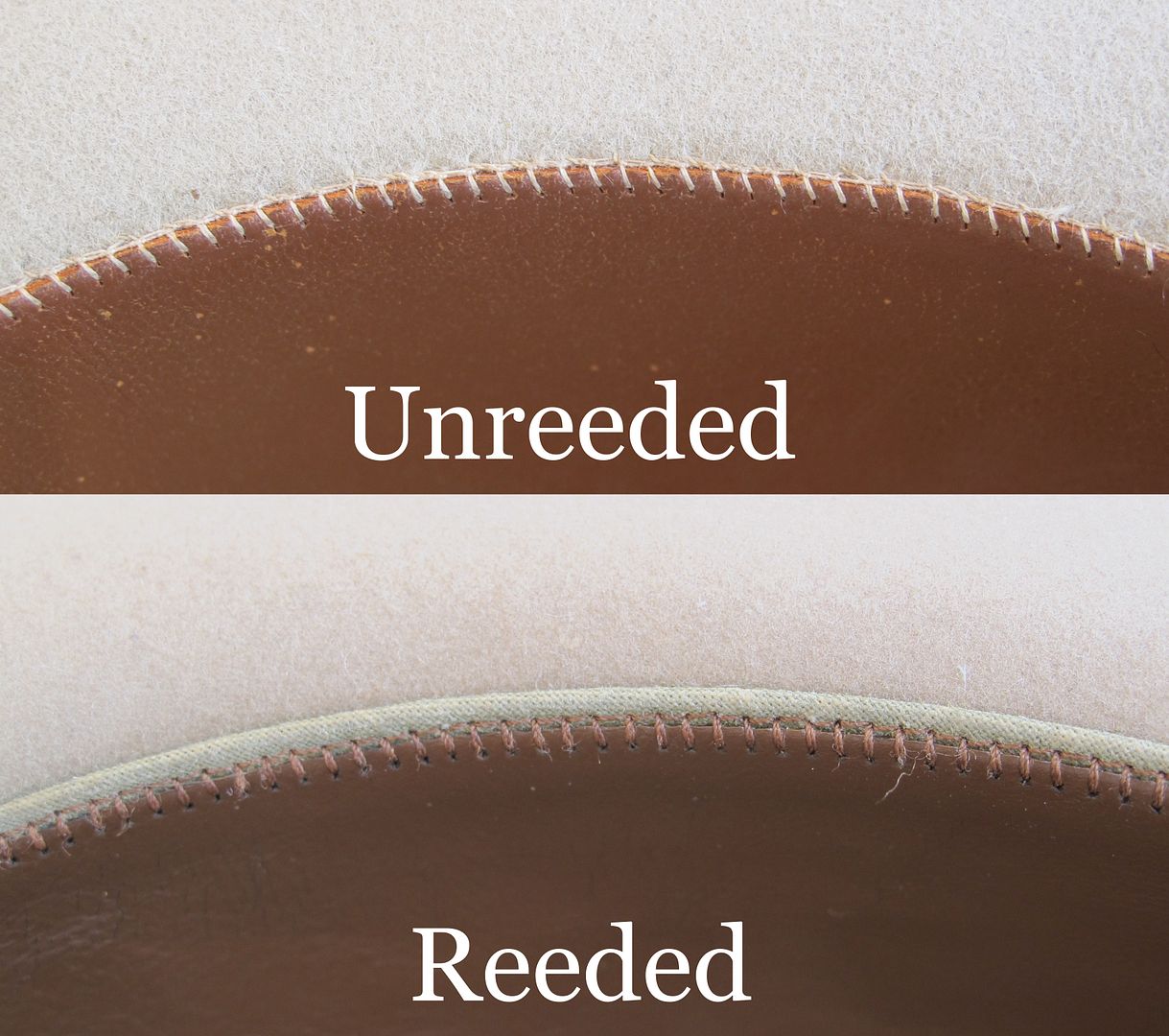 Last edited: