...been about five years since I was here last. Turns out, children really eat into free time!
Anyway, I offered this guy up for sale way in 2017, but there wasn't any interest in it back then. Probably because I asked too much for it. Five years on, it still doesn't fit me and I still don't have excuse to wear it, so I'm again checking in to see if anyone here might be interested in this guy
Based on what I know (which isn't much), this particular style was quite popular in Germany for a very short time, from about 1929-1931. Two things, in particular, stand out to me: the link-button jacket closure, and the faux-undervest on the waistcoat. The former is pretty self explanatory, and I think the photos show it well enough. The latter, however, is a bit more interesting. As I understand it, time was that a gentleman had an extra undergarment, that went over the shirt an under the waistcoat. Not sure if it has a proper name, so I'll just call it an undervest. It would seem that, by the 1930s, that particular undergarment had fallen by the wayside, though it would seem to have been considered distinguished enough to live on in some fashion, not unlike the modern, attached, contrasting collar hearkens back to the days of to-attach collars.
Photos first, then measurements: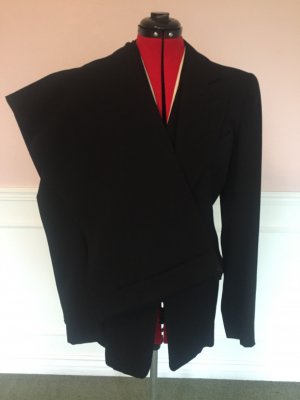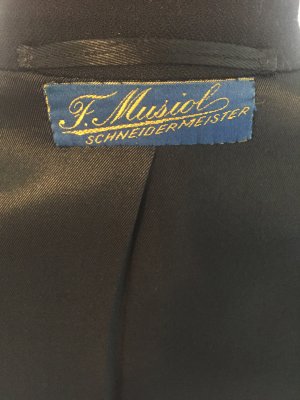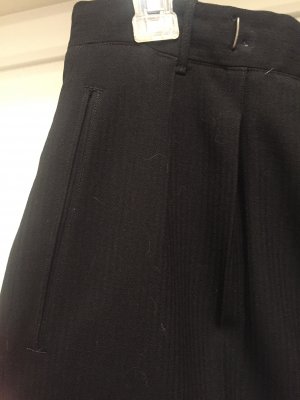 Measurements:
Please remember, these are approximate, and taken to the best of my ability; I'm not a trained tailor or dealer, but have done my best to give accurate numbers. All measurements were made with the garments laying flat.
Jacket:
-Chest: 19" (nothing to let)
-Shoulders: 18"
-Sleeve: 26"
-Length: 32" (lots of let)
Waistcoat:
-Chest: 18"
Pants:
-Waist: 16" (nothing to let)
-Outseam: 42.5" (2" of let, at least)
-Inseam: 32"
-Leg Opening: 11"
-Pants are cuffed, approximately 2" deep
In modern sizing terms, I would call this a 36L, that can (and has) been let out to a 38 on the long-ish side. I'm 6'0", and even (heavily) tailored for me, it's still a little long. I could wear it when I was a 38. Now, I wear a 42, and it's not happening!
Asking $215 shipped CONUS. I'll ship worldwide, but I ask that the shipper please pay for shipping cost.
Hopefully maybe someone takes an interest this time around! And it's good to see y'all again