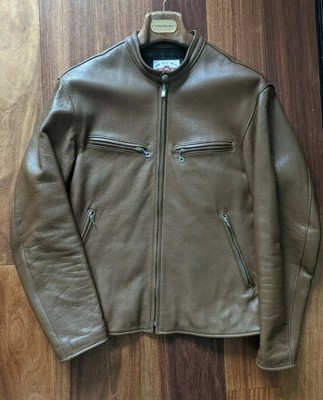 Find many great new & used options and get the best deals for THE FLAT HEAD Deerskin Cafe Racer Jacket - 38 at the best online prices at eBay! Free shipping for many products!
Details are on the eBay listing. Measurements are in the photos, I will attach a couple of pics here. It is marked a size 38, if you are familiar with flat head horsehide jackets, i would say it's more like a 40 for the brand. But obviously check the measurements. I can provide additional pics of you would like. It's a really great jacket, leather is substantial yet lightweight and luxurious. Great for spring. I'm in process of moving so have to sell a few things. Really special. Price is negotiable i will take best offer, will definitely do the obvious eBay deduction on fees if sold here. Will ship global but can be expensive. Paypal friends and family additional discount. Thanks for looking.
Additional details on this thread
I wanted to start a thread dedicated to The Flat Head now that they've been resurrected. I've seen some posts on one particular jacket, people looking for sizing advice or info so I thought it might be nice to put as much of it in one place as possible so that it might help others in the future...
www.thefedoralounge.com