This is a heart warming story about a jacket deal between two Forum members. One ends up with a Grail Quest jacket.
I buy, sell, trade jackets on a daily basis. I've got a youtube channel and now have instagram. I'm still learning instagram, but know how to respond to messages. Yes, I get a lot o messages about jackets; curious about leather, what size, who made it, and is it for sale. I advertise jackets here, sell on ebay too.
Recently I got a message on instagram about jackets that the writer seemed to know better than me! I was confused because these jackets were never for sale and not even shown for some time. Again, I do a lot of posting etc.,so I answered some questions.
The jackets he was inquiring about were closely held collectors pieces placed on the Top Shelf in my closet. This Cape Skin Californian was one he asked about. I was quick to tell him it was a size 44 and not for sale.
He told me his size, which was limiting in my inventory. Then he asked about another jacket in my vault. Never for sale and never priced. Certainly Top Shelf in my world.
I purchased this jacket years ago on ebay. Just an old black jacket with no label, torn lining in a smaller size. I knew it was a cool jacket, but no idea about the history or maker. I don't recall exactly how it was identified, but it got to Ken Calder at Aero. Ken and I exchanged some emails and he gave me the story on the jacket.
It is a Levi jacket from the late 30s, the same jacket that Ken based his Speedway model on. He recognized construction techniques used my Levi. He also said that Levi company did not make all the jackets with their label even in the 30s, but said this one was. Even the lining provided Ken with clues to the maker.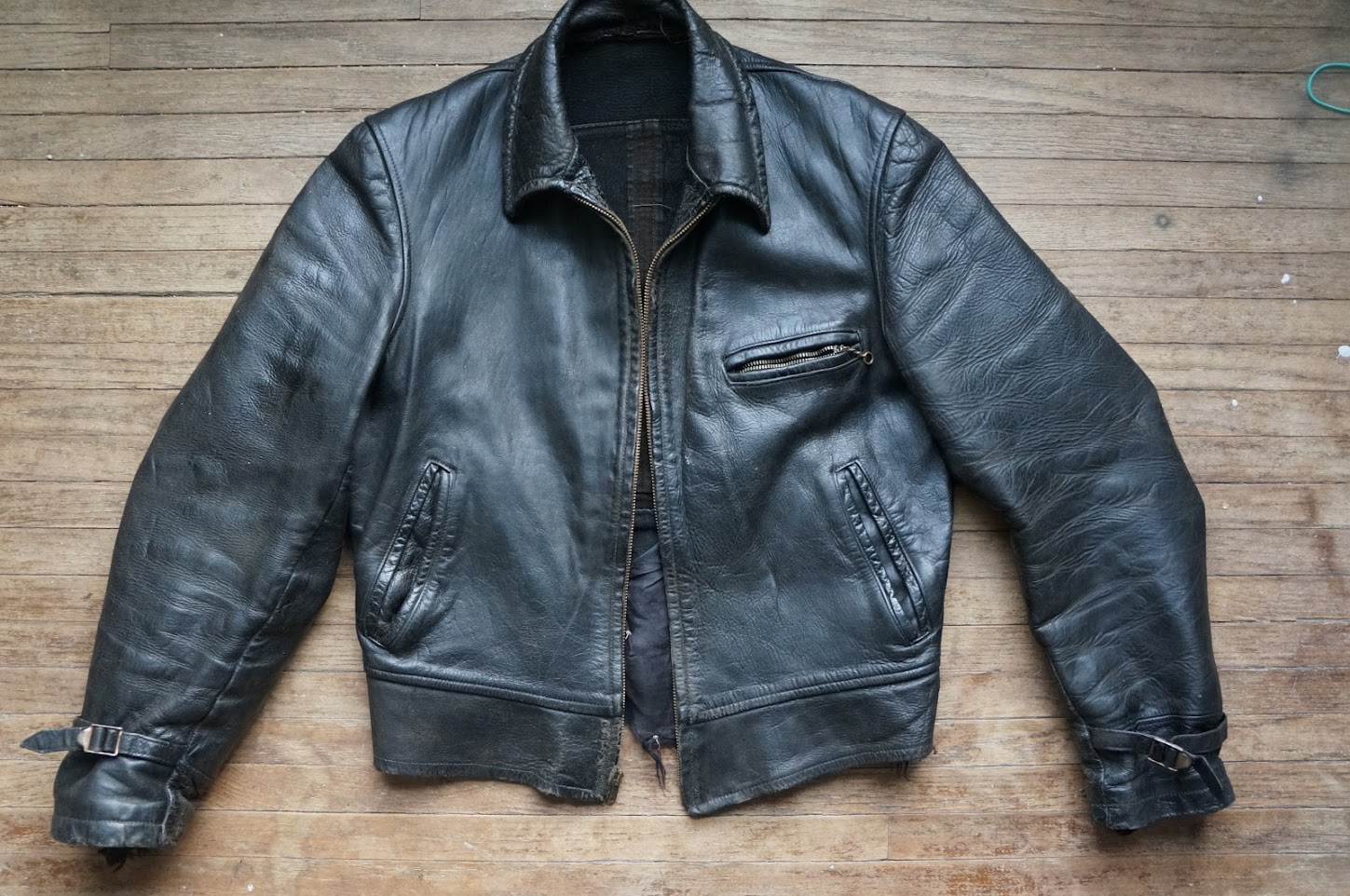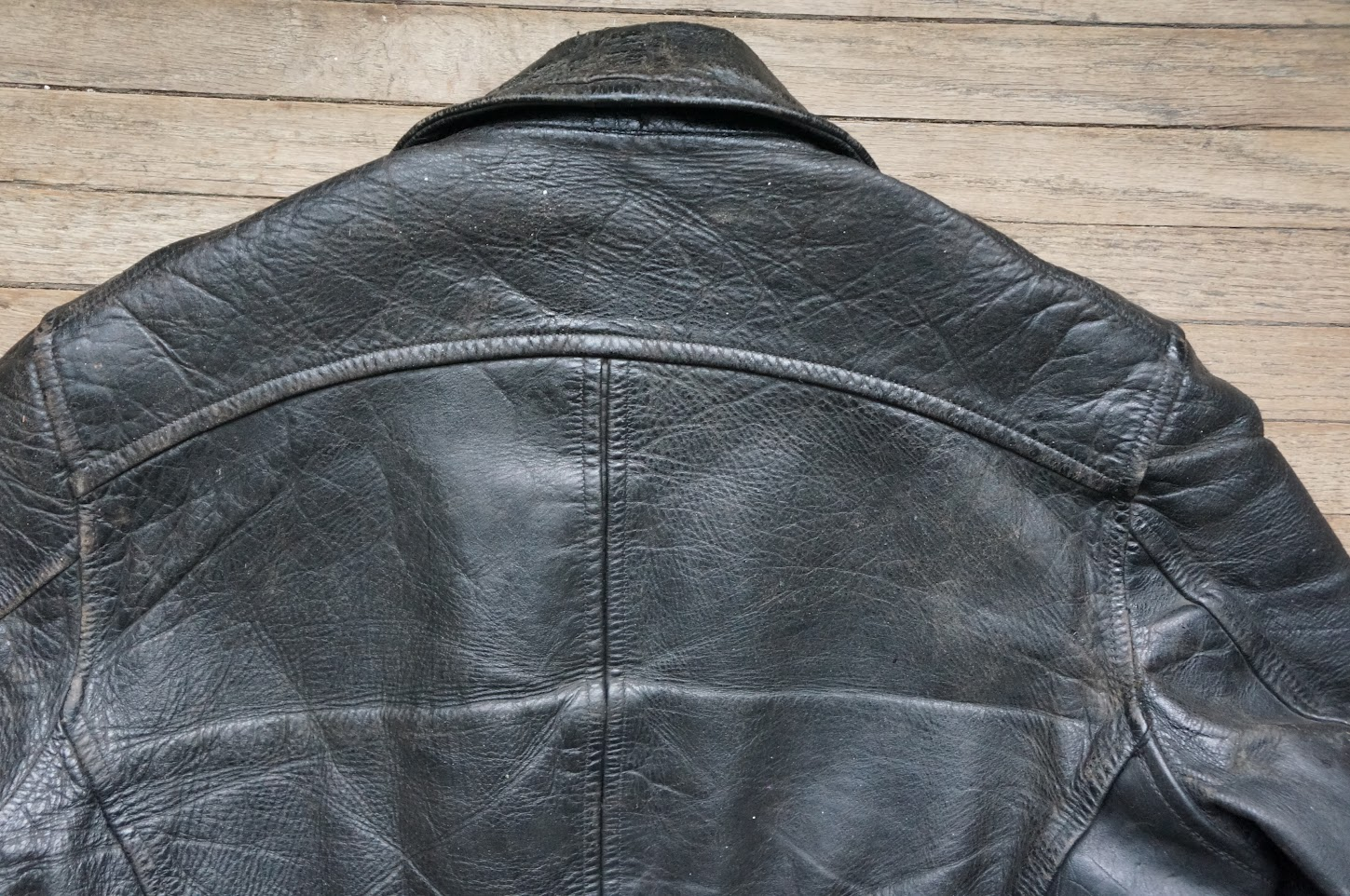 Way too small for me I stuffed it and put it in the closet. He was familiar with the jacket and the back story. I sent him an album of pictures since he was a curious sort. I ask him what he was looking for and what sizes worked.
I didn't have much but this guy I just bought. Beautiful leather, great interior, 1935 Talon Zipper, but too small for most wearers. The Cuffs and zipper made it a great fit for my collection if not me.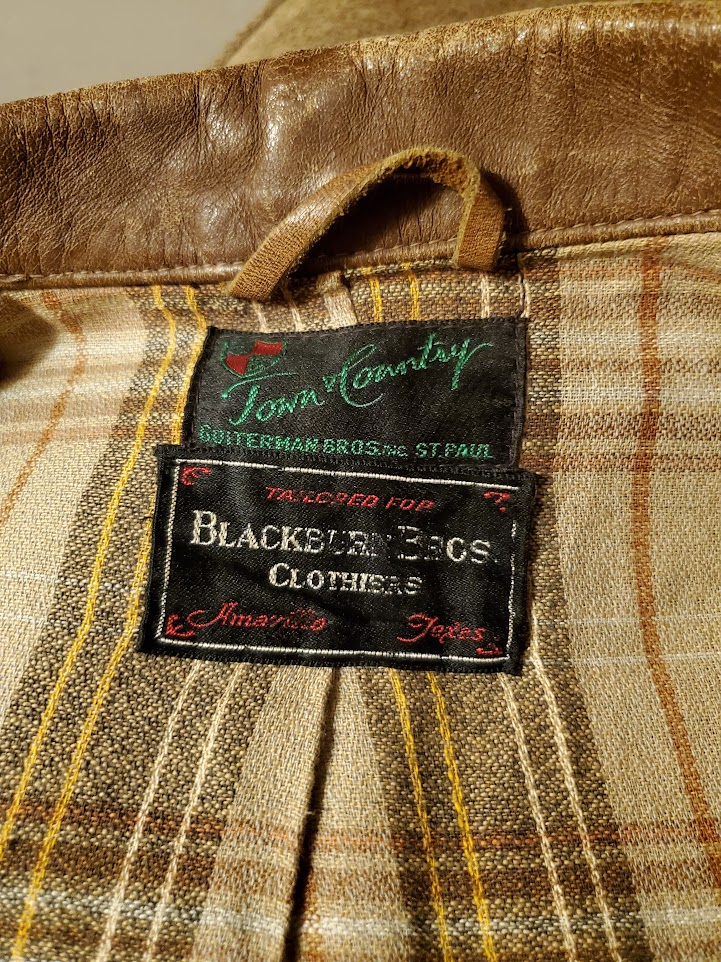 One comment got my attention when I ask what he was looking for: Top Shelf! T
hat was exactly where he was going with his inquire. He knew what he wanted. He asked for a price on the Speedway. I thought; this guy is a serious educated buyer so I shot him a number for the Speedway and Town and Country. He accepted and the jackets went in the mail.
This whole time I don't know who I am working with!


I do all my instagram stuff on my phone and could not seen the picture of the buyer. I knew it was someone who knew me and knew what is what with vintage leather jackets. That is all I needed at the time, his money was good.
He gets the jackets and loves them! So I say, send me pics. I've never seen either jacket worn. Then I see his face!
@jeo
Then I realized his deep inventory of the finest jackets out there. He shared some pics of a new jacket.
I was pleased to work with such an educated buyer, one who knows his stuff and backs it up with the dough!
I've had another client come from nowhere and go to the top shelf. If he is listening; I've got a couple of more in your size.
By being able to wear the jackets he gave each a new life! I was amazed to actually see these two jackets being worn. I realized how cool and rare they are and how they are supposed to fit.
Thanks to
@jeo
!
Hopefully he can tell a bit of his side of the story!