Tried to find a suitable thread for this but couldn't find one that was right… so starting a new one for posting vintage movie theater items such as posters, one sheets, programs, tickets, lobby cards and other vintage promotional items or even actual vintage theater equipment!
(Feel free to consider anything from the latter part of the 20th century vintage as well!)
This would have been a common sight in windows on a Main Street, Anytown USA in the 1930s and 40's.
I acquired this original 1942 theater lobby card with the schedule of films for the Mayfair Movie Theater in Bridgton, Maine (Measures a nice large 17 " x 28 " printed on heavy card stock)
Carol Lombard had just died in an airplane crash January 16, 1942 (two weeks prior to this theater's scheduled showing of the 1937 film
True Confessions
.)
Most likely the theater wanted to pay tribute and capitalize on the news of her death.
I don't know how much lead time would have been needed to acquire a film and have promotions printed and delivered but I can just imagine the theater owner scrambling and ordering his assistant to call the film distributor for a "Carol Lombard picture."
"Get the distributor on the Ameche and tell 'em to whip up a Carol Lombard picture and have it delivered in a jiffy!"
" Which Picture would you like to show sir?"
"Just tell 'em to send whatever is up for grabs and to shake a leg! Then wire the printer in Philadelphia with our schedule as soon as word arrives!"
(-Royal Printing Co. in Philadelphia, PA. )
I'm sure he would have preferred something more recent but this was the best he could get at short notice considering every movie house in America probably wanted to show a Carol Lombard movie as soon as could be arranged.
Lombard's funeral was held on Jan. 21, 1942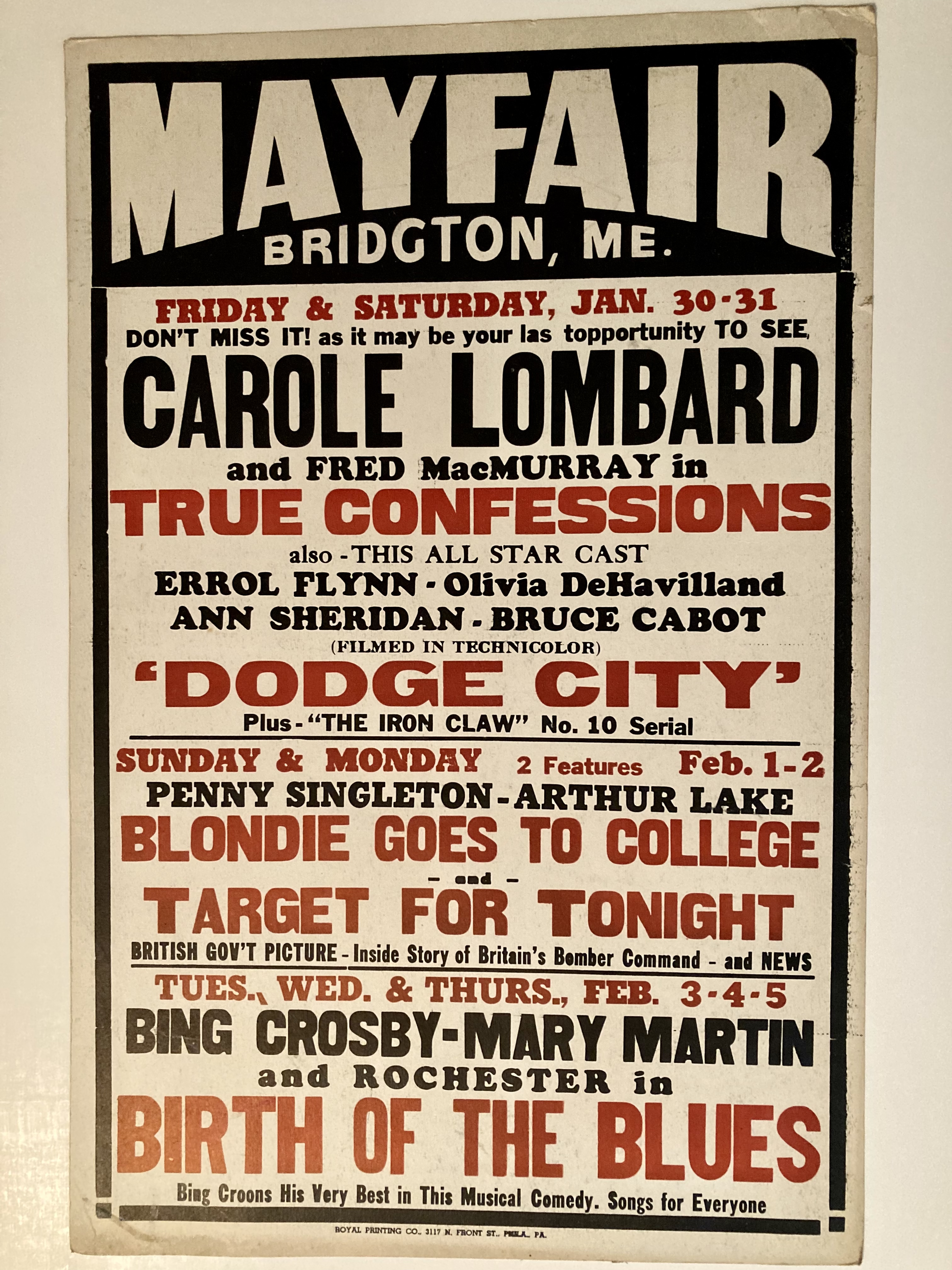 You can see a typographical error as the movable Lead linoType for the press had moved during operation creating the words "las topportunity"
I found a photo of another copy of this same printing online that shows the type that was accurate leading me to believe this as evidence that the lead type letter "t" to have slid over. Curious as to how many printings were ordered and how many had the error. Adds more character and a bit of a story on its own!
The newest feature in the lineup is 1942's Blondie Goes to College . The dates listed for showings confirm the lobby card dates to 1942.
-True Confessions 1937
-Dodge City 1939
-Blondie Goes to College 1942
-Target for Tonight
1941 (RAF Bomber Command)
-Birth of the Blues 1941
-The Iron Claw #10 serial (The Curse of the Cave)
(The Iron Claw (1941) was a 15 part
serial
released by
Columbia Pictures
.)
here is the other print posted online with the correct spelling of "last opportunity "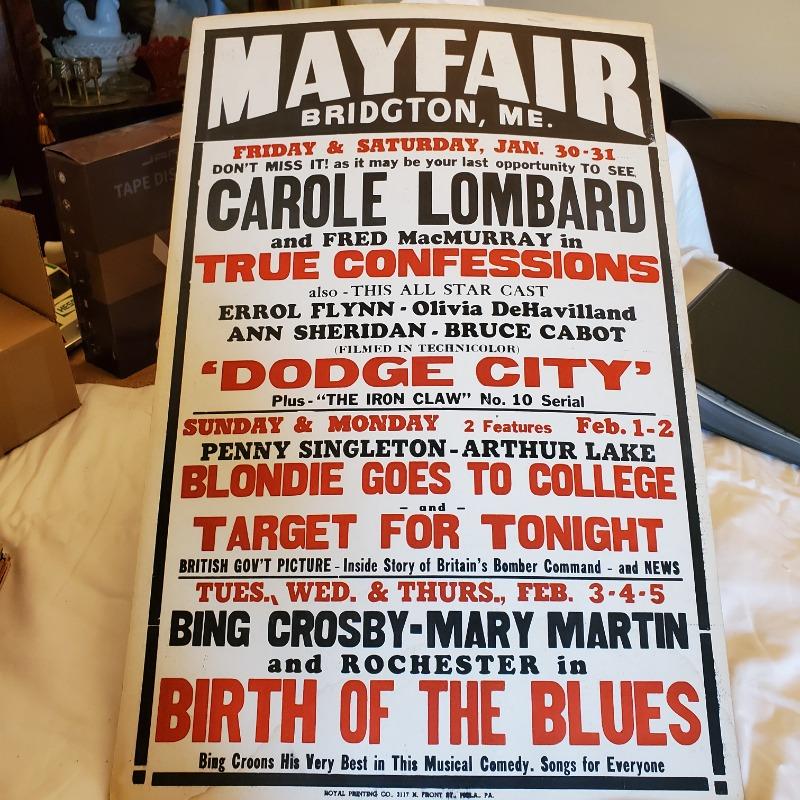 one day ill have it properly framed but in the meantime this donor will do to protect it and get it on my wall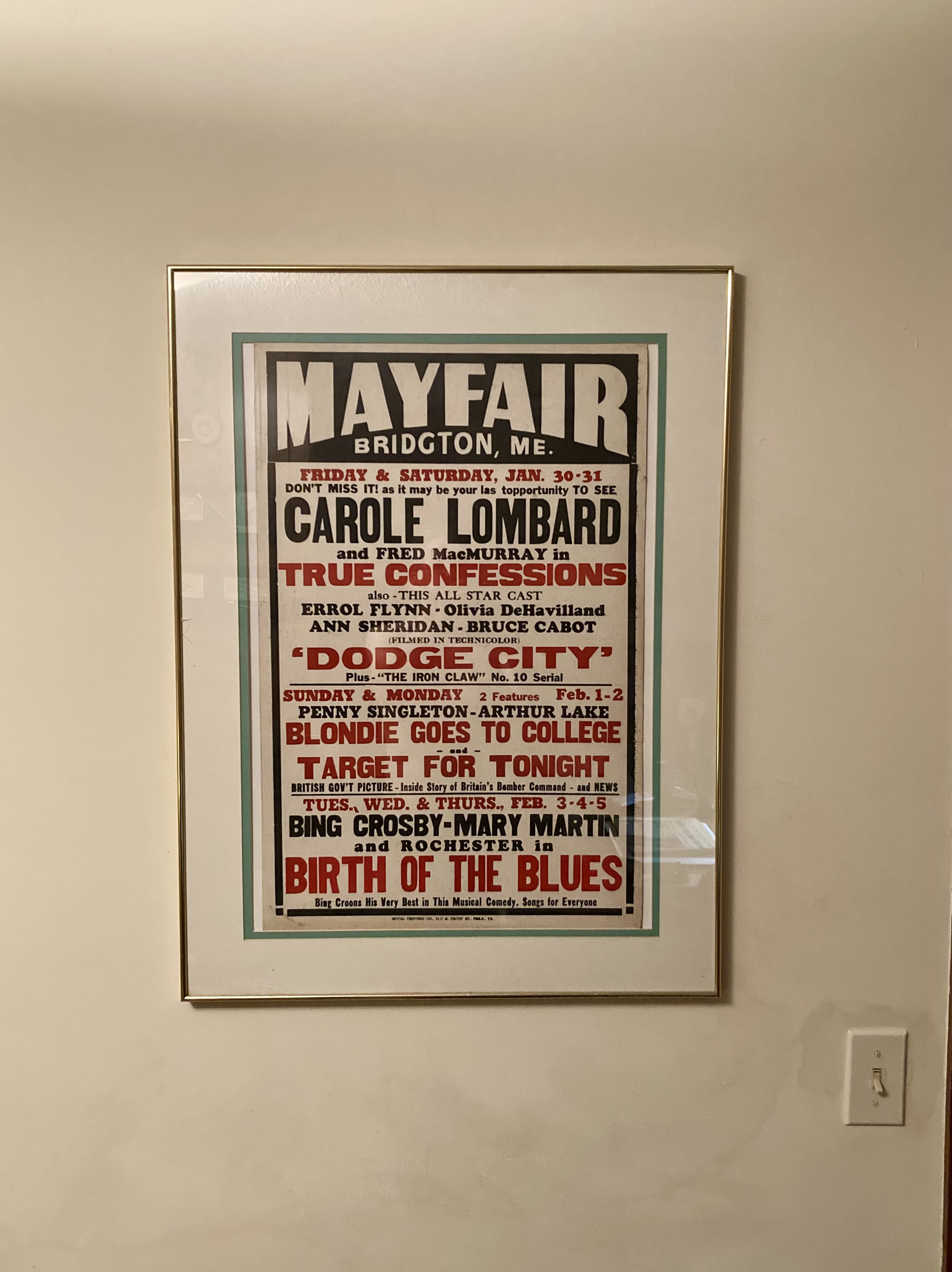 Last edited: