Not Officially Vintage, Yet Conservative and Distinctive:
The Edward Suit from Walker Slater
Since I started developing my own apparel style at the age of 15, I've been seeking the Holy Grail of suits. It took me another 15 years to find it.
In the matter of shirts, no firm really can beat Charles Tyrwhitt. It might be true that shirts made of really precious fabric are those that are ironed most intricately. Indeed, I know hardly any shirt to be ironed more difficultly than my Piccadilly collar shirt from Hawkins & Shepherd worth £90. Most of Charles Tyrwhitt's shirts are non-iron, and with a price tag well below €70, the durability, and the next-to-skin comfort, quickly arises the question how to define "precious fabric."
Another well-known haberdasher is Dalvey from Scotland, a firm from which I used to possess three shirts – a good bargain at €33 for each, bought in the sales discount section. What about the quality? The shirts were not only difficult to iron; they also had the buttons so close to the edge that one could easily see my belly between the buttons; the fabric quickly lost its softness with every wash, and the buttons were so flat that they lost their stiffness and broke into pieces. More often than once.
To summarize, regarding shirts, Charles Tyrwhitt still is the Holy Grail to me.
Now let's talk about suits.
To me, as a regular customer to Charles Tyrwhitt, it was obvious to try also some suits from Jermyn Street, London. I bought three of them, at prices between €150 and €240 for each. Only one of them satisfied me and is still in use. Another one had a trouser that wore through at the crotch after just half a year. And the third one's trouser was literally destroyed in tatters just by sitting down on a sofa.
The big downside when buying suits on-line is to find the right fit. While in the brick-and-mortar stores you have to be really lightweight to fit into a slim-fit suit, Charles Tyrwhitt's definition of slim-fit relates to much more ample sizings.
And here's the point: Many Gentlemen out there don't dare to acquire suits on-line as long as each firm has its own definition of Classic Fit, Modern Fit, Regular Fit, Slim Fit, Extra Slim Fit, Super Slim Fit, and many other denominations that put the decision of the right sizing in peril. Well, that's the free market. But do we really need a Socialist Haberdasher to be sure everything fits?
Au contraire !
There's an invention that allows you to ask before you buy. It's cool. It's useful. It's free. It's called
e-mail
. The problem is that only a few haberdashers include it in their front offices. For whatever reason. One of them is Walker Slater, operating from Edinburgh, Scotland. And so I took time by the forelock and demanded help in choosing what's suit-able for me.
But let's start from scratch.
As soon as you enter the realms of Walker Slater's home page, you will find yourself in a Cockaigne of Gentlemen's fashion. It might be subconsciously due to my visit to Scotland at the age of three that I instantly fall in love with all of those beautiful Tweed suits. They trigger a Want-to-have reflex that can't even be outrivalled by Apple's new iMac. Yet, it's somewhat confusing to see the collection of suit divisions all named after men's given names, which obviously refer to the suits' fits, just without any kind of real information which belly fits into which make.
But, you guess it, there's this cool thing called
e-mail.
And, alas! the staff from Walker Slater are aspiring towards helping the customers in a way I have never ever experienced from any other sales firm, whether committed to fashion or not. So I quickly learnt that I should choose the Edward model since I wanted to partake of a suit that would not negatively interfere with my BMI of 26.
The Preliminary Checklist
Since I wanted to get the best suit a moderate amount of money can buy, I went for the Edward Charcoal Herringbone suit made of a blend of 95% Merino Wool and 5% Cashmere. After being advised towards the right sizes by the friendly staff via e-mail, I put the jacket, the trousers, the waistcoat, and the recommended belt into my shopping basket, and after adding Priority Delivery via DHL (including all of these nasty Brexit-induced additional costs) I was advised to pay a total of €710.79. (Actually, even 9 euros more were charged from my credit card, which I guess were due to my bank's inhumane conversion rates.) Wow! Actually, this is by far the most expensive suit I've ever bought, so the straightedge of expectations is reasonably high.
The first big surprise: The staff in Edinburgh were so attentive to contact me of their own accord before dispatch just to make sure I chose the right trouser size. The second big surprise: According to DHL, the suit was picked up in Edinburgh on Wednesday at 3.26 p. m. And Thursday at 10.44 a. m., guess what – the delivery man rang at my door! This is miraculously quick … but a performance being paid for handsomely. At a price of over 50 euros just for shipping and handling, I almost could have bought a personal EasyJet ticket to Britain as well.
I couldn't wait to unbox the High-Born, Worshipful and Mesmerizing Cardboard Box and finally get the suit in hands. Everything was neat and tidy, also an apparel bag was included. However, I looked for a hanger in vain. I think at a price of over 700 euros, I could have expected one. Upon acquisition of a €500 duffle coat from Ladage & Oelke in Hamburg, Germany, adding a free wooden hanger went without saying.
The fabric of the suit is the best and softest my hands ever touched, that's safe to say.
The Trousers
First, let's talk about the trousers. They are extremely comfortable to wear, including at the crotch and the bottom. What I noted is that the leg circumference is wider than what I would have expected, making it a good buy for Vintage-looking apparel connaisseurs. To my surprise, the trouser does not feature a loop to fix the belt buckle pin centric, but you can't have your cake and eat it. The trouser pockets are really deep, provide ample space, and make a stable impression, so I believe you can wear this trousers for years until you see happening what has happened to me wearing a cheap trouser not so long ago: That your purse missing from your pocket was relocated in your trouser leg. More funny to hear than to experience it oneself.
Now, to the waistcoat.
The Waistcoat
Do you know these adjusters at the backs of waistcoats that are infamous for being tied difficultly? Well, these times are over now. The Edward waistcoat's back ribbon features a fixture that can be handled even with an IQ below 130.
I ordered size 46L (with the L standing for "long"), but to my surprise, the length of the button tab just scratches along being long enough. This means, albeit having bought the "long" version of the waistcoat, and albeit I'm not overwhelmingly tall, the length scrapes along being perfect; that one has a minimal view on your belt buckle, or your tie's tip, or, ideally, both, as long as the waistcoat's last button is kept open – the way a waistcoat should be worn. On the other hand, the waistcoat features "swallowtail"-wise tips on the front pointing down towards your knees, which looks somewhat strange considering one can catch a glimpse of your tie tip, as mentioned afore.
The Edward waistcoat features a notched lapel, making it an outstanding impression when worn separately. The only disappointment: The five buttons suspiciously look like being made from plastic. At a price of £105, I think I could have deserved horn buttons.
And now—rataplan!—the most important piece: The jacket!
The Jacket
Unlike most business suit jackets out there, the Edward jacket features double vents portside and starbord abaft, which in combination with the soft and breathable Cashmere fabric make it cool in what Scots consider warm weather – and warm during the cooler days. On the product photos on Walker Slater's home page, the fabric looks almost plain, but be assured; I can confirm that in reality, the herringbone pattern is unobtrusively visible once you get close enough, making it a restrained great alternative to pinstripe suits.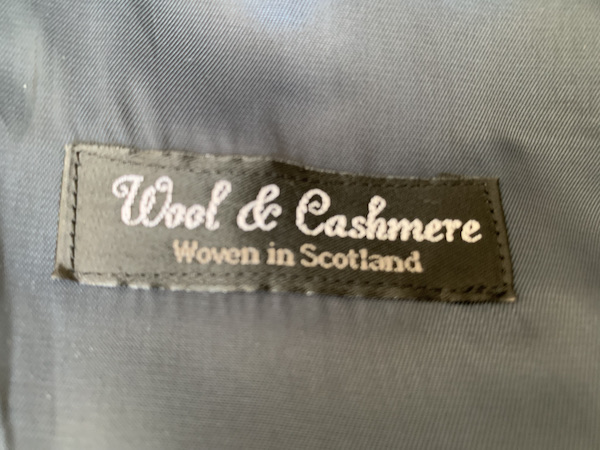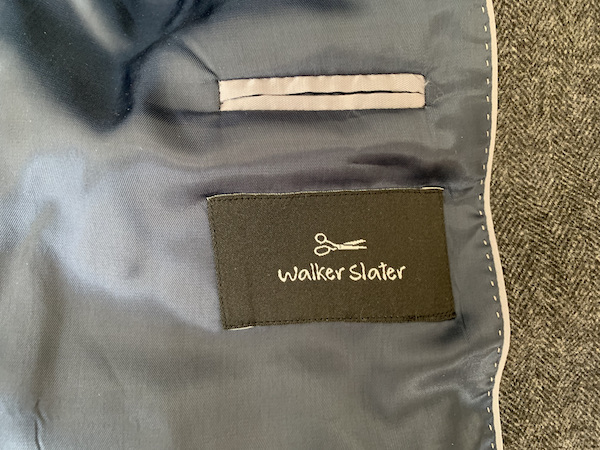 Except of the right-hand side inside pocket, all of the pockets were stitched up upon arrival and had to be opened by my alterations tailor. The same applies for the button hole on the lapel that invites you to pimp your suit up with a bouttonniere.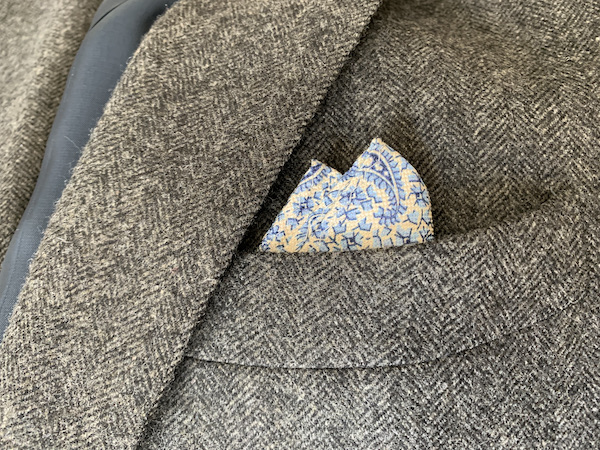 Great news for vintage suit connaisseurs: the notched lapel is elegantly wide. When people do disagree with wearing these newfangled ultra slim-fit jackets, colored in chemical-looking Niagara blue and equipped with ultra-narrow lapels (which I actually do do misprize), they will make a refreshing find of timeless elegance in this jacket, along with me. However, considering this jacket has a price tag of £315, I would have expected to get a jacket with unbuttonable cuffs, which I didn't. That's the only downside.
Summary
The Edward suit from Walker Slater is by far the best suit I've ever worn, and it features a cut and lovely details that will certainly satisfy vintage connaisseurs. I don't dare to say it's the best suit money can buy since I have never tried on one of these in-crowd suits with four-digit price tags; but I can assure you, although it was everything but cheap, I don't regret only one euro I spent for the Edward. In combination with the friendly staff that patiently guides and assists you to your perfect choice, I'm certain my next suit will again be made in Edinburgh, Scotland.