("4-F, huh," sneers Sally. "Figgehs." "Yeh," nods Joe. "I mean, he mus' be a real physical wreck. Afteh awl, t'Awrmy took ya brutteh." Hmph," snorts Sally. "Mickey an' Errol Flynn go in a room t'getteh, on'y one of'm's comin' out." "Mickey'd get awl 'is money too." "Yep!" affirms Sally. "Nut'n." "What?" "Oh, sawry, ya awrways say 'what' when I say sump'n like t'at 'bout ya brutteh. Y'took me by s'prise." "I'm fulla s'prises," declares Sally.)
Allied airmen, including Hollanders bent on revenge, climaxed a week of intensified activity against the Japanese in their northwestern island front door to Australia by sinking or damaging six enemy ships. A report from the headquarters of General Douglas MacArthur indicated that a week of daily raids climaxed Friday with the heaviest Allied attacks in the area since the fall of Java. A large force of B-24 Liberators raided Japanese-held Ambon Harbor, 625 miles north of Darwin, at Friday noon, and sank or seriously damaged a 10,000-ton Japanese cargo ship and two 5,000-ton transports. The Liberators not only left the 10,000-ton vessel burning from end to end, but also shot down five, and possibly six intercepting Japanese fighter planes without loss to themselves.
In Italy, Premier Benito Mussolini has ordered all able-bodied civilian men and women into war factories. All men between the ages of 14 and 70, and all women between the ages of 14 and 60 fall under the emergency decree, according to Rome radio reports monitored in London. The order is similar to one promulgated in Germany last week.
Meanwhile, reports from Swedish diplomatic sources report a shakeup in Mussolini's cabinet has its origin in a push by Count Galeazzo Ciano, who is Mussolini's son in law, Count Dino Grandi, a longtime leader in the Fascist Party, and Marshal Pietro Bagdolio to convince Mussolini to withdraw from political life in order to "pave the way for peace." Ciano and Grandi were ousted from Mussolini's cabinet, along with seven other ministers, and the Swedish reports indicate this action was taken after Germany learned of the Cabinet insurgence and threatened to place Italy under immediate military occupation. British observers suggest the cabinet shakeup points to further instability in the Mussolini regime, but the German press characterized the purge as "a move by Mussolini to strengthen the Italian war effort."
(Wow. The one person in 1940s America who has no ties whatsoever to Brooklyn.)
Borough President John Cashmore today released a letter to Adolf Hitler warning of destruction to be rained upon his country by the people of Brooklyn. "The people of Brooklyn realize," states the letter, "that you understand only the language of force. Therefore they have asked me to send you a message in that language. Thirty bombers, purchased by the residents of this borough, will visit you in Berlin soon -- and often. They will pour destruction into the heart of Germany, and give your people a taste of the misery you have spread thruout the world. The message we send you, Mr. Hitler, is a promise -- a promise that we Americans will continue to buy bombers and strike with vengeful blows until you surrender unconditionally." The Kings County War Savings Staff promised that Mr. Cashmore's letter will be hand-delivered to Hitler by tying it to a bomb to be dropped over the Nazi capital.
The demand for women skilled in the technical side of radio is increasing steadily, with the Melville Aeronautical Radio School in Manhattan determined to help fill that demand. Courses to train women as radio operators and technicians are being offered by the school, and graduates will be placed with airlines needing women to operate radio communications stations serving their planes. One such graduate is 25-year-old Joyce Mack of Flushing, who gave up a career as a stage dancer to take up a radio key.
Employees of the Sperry Gyroscope Company are learning to square dance -- in classes taught by none other than Dodger right fielder Dixie Walker, who, in his capacity as Sperry's recreation director, is promoting the classes as one way to achieve his goal to encourage all Sperry workers to spend at least one free night a week engaged in healthful exercise. The classes, held every Thursday night at the Bedford YMCA, are popular, with over 300 Sperry workers enrolled. "I enjoy doing the square dance with the young people," beams Dixie. "It is the best way for relaxing the nerves and makes them fit for their hard tasks."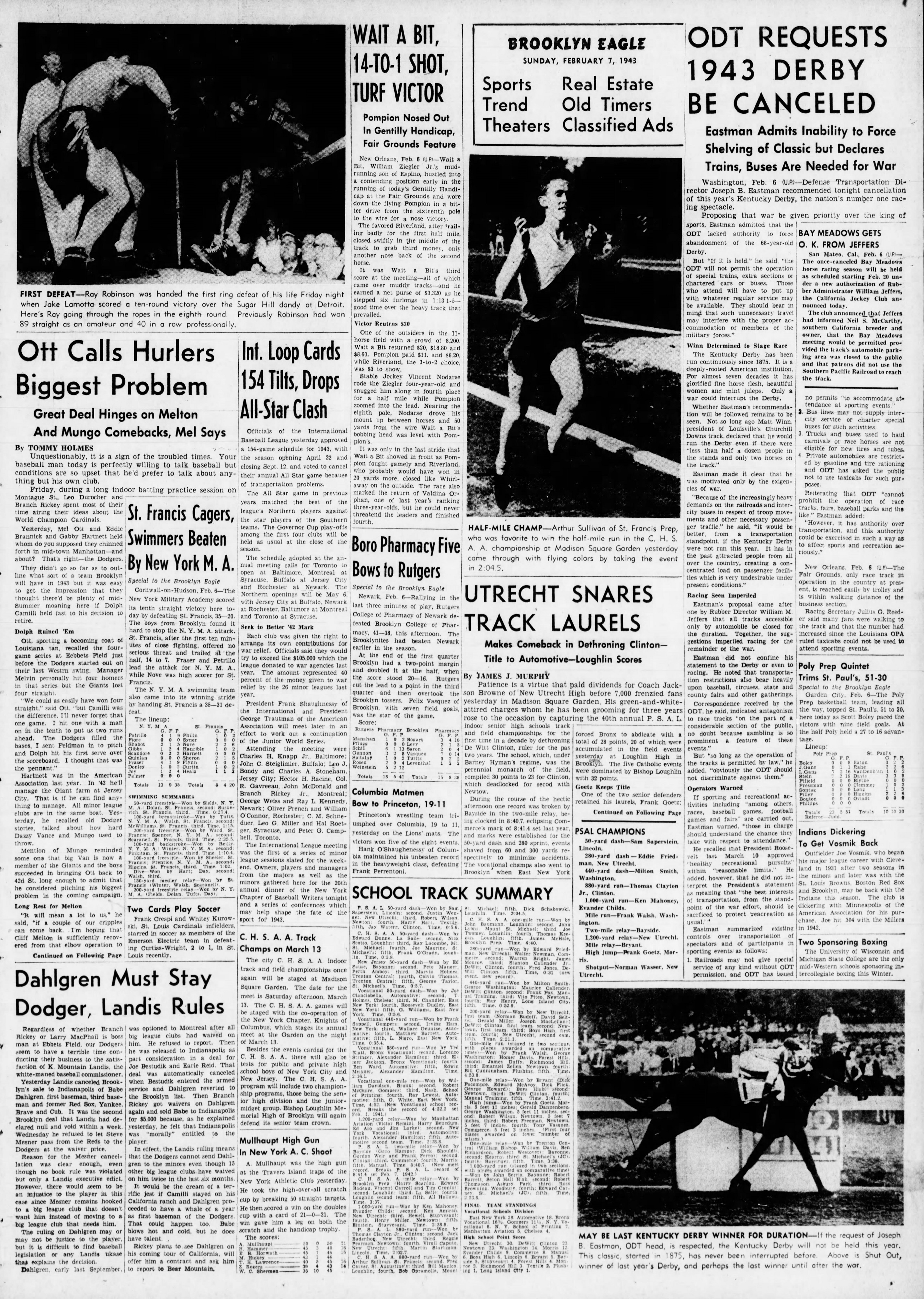 (Mungo? Why hasn't he been drafted into the Commandos?)
Old Timer John P. Pfalzgraff remembers the old days in the Tenth Ward, when men were men, and no one went to bed with colds. And there was no such thing as these mild winters we get nowadays. "Snow began to fly around election time," he recalls, "and continued without interruption until the middle of March the next year!"
(Best name for a Supreme Court justice ever: Wiley Blount Rutledge. You see that painted on a door, and you know you're somewhere!)
Young Nanette Fabray this week took over the role of Antiope, the Amazon princess in Rodgers and Hart's hit musical "By Jupiter!," now running at the Shubert Theatre. To take a top spot in one of the town's biggest current hits may seem a daunting task after arriving on Broadway two years ago as a virtual unknown, but Miss Fabray says there's nothing to it. She's been a professional since the age of three, when she began a nine-year career in vaudeville. After an adolescent interlude in radio, she toyed with the idea of becoming a doctor, but a drama scholarship paid for by director Max Reinhardt caused her to return enthusiastically to the life of the stage. Miss Fabray displays a broad range of skills in her new role, not limited to singing and dancing. She is also an expert swordswoman, which she attributes to the fencing lessons her mother made her take as a child. "She thought it was good for my dancing," explains Nanette. "I'm pretty good!" Co-star Ronald Graham, who plays opposite Miss Fabray as Theseus, concurs. "She scares me to death," he declares, "every time she comes at me with that sword!"
(Well, that's a relief. Red wasn't looking forward to getting it back.)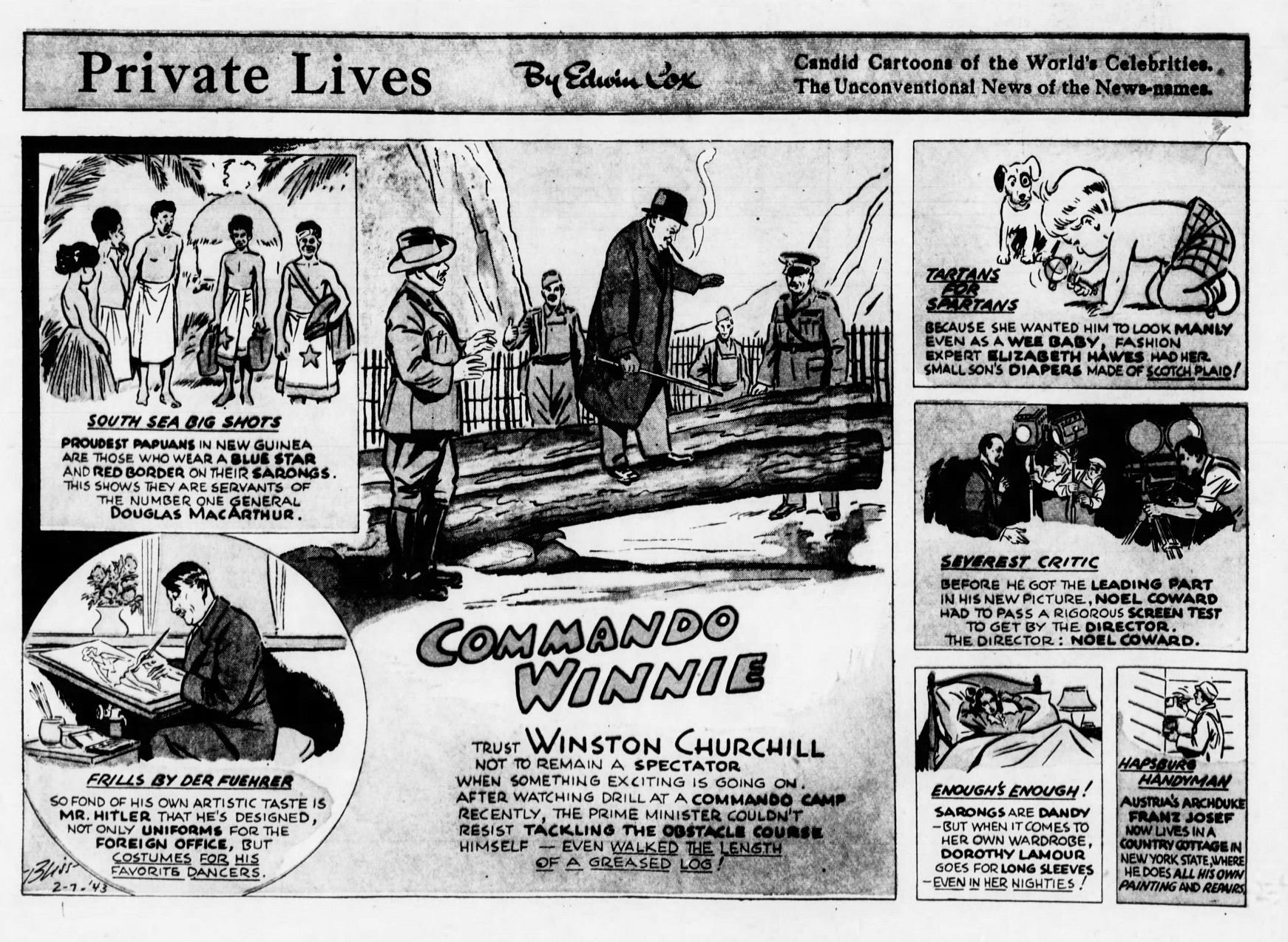 (Elizabeth Hawes! One of my favorite people in 1943 makes the comic-section big time!)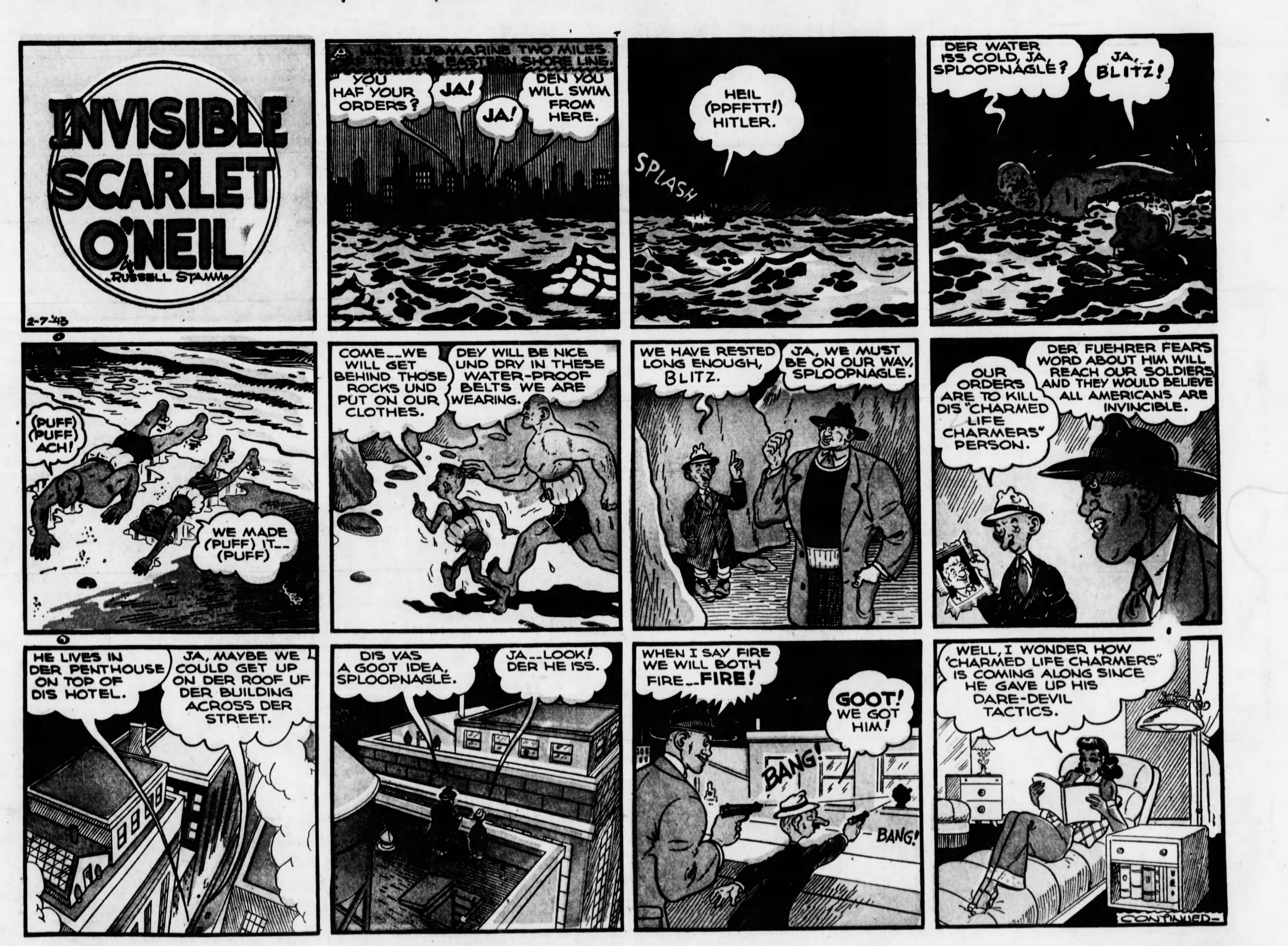 (Sploopnagle? Expect a letter tomorrow from Colonel Stoopnagle's lawyers.)
(EEEEEEEEEEEEEEEEEEEEEEEK!)
(Sorry Bill, Mary has no time for Sunday comedy relief anymore. And Dan, you better realize right now that "don't let it happen again" isn't going to cut it. YOU'RE NOT TALKING TO IRWIN!)
(I recently adopted a new cat who had a kinked tail when she was brought into the shelter -- and then half of it fell off. With a story like that, I mean, how *couldn't* I adopt her?)