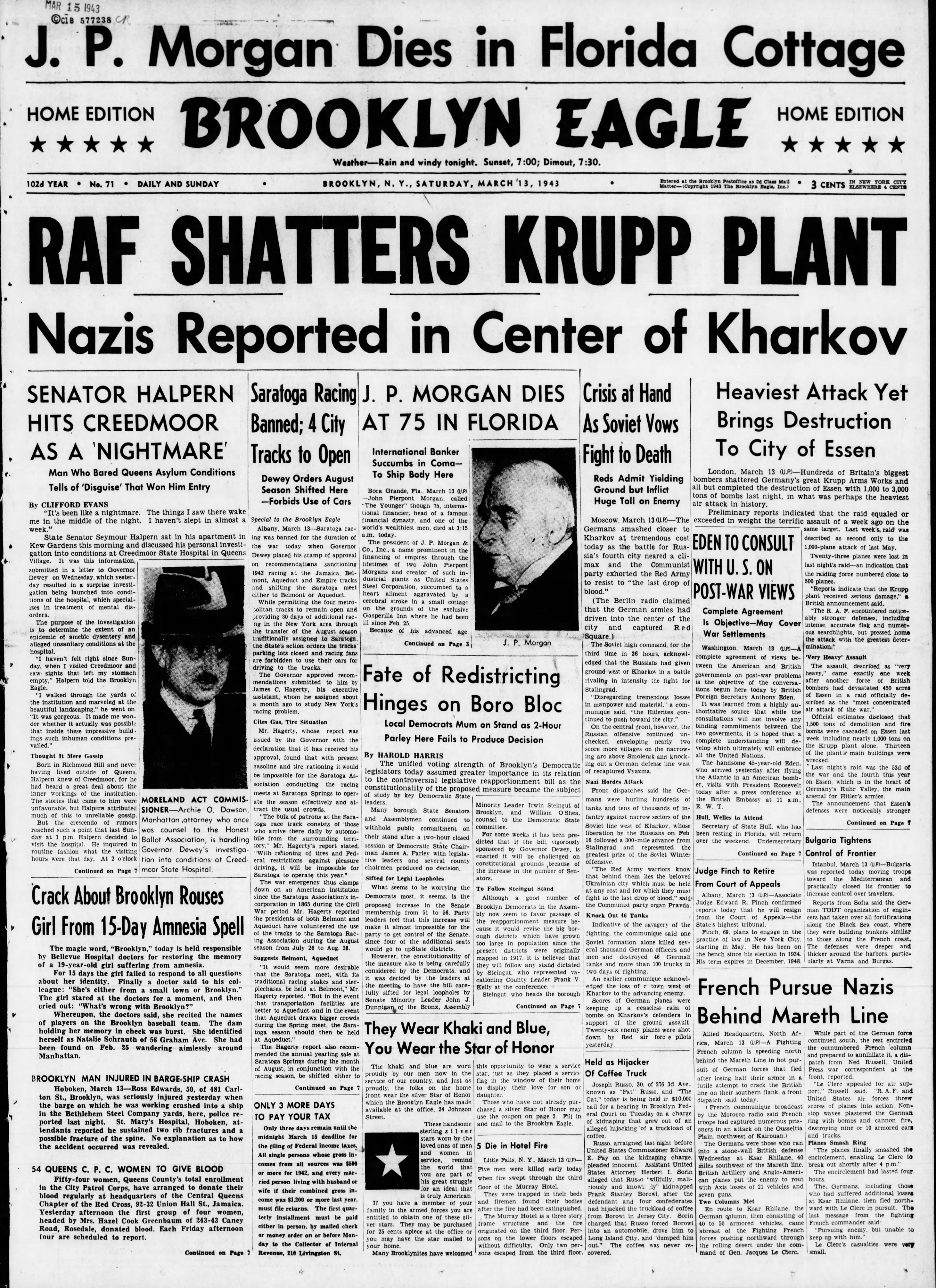 ("Graham Aveneh!" snorts Sally. "Williamsboig! Well, 'atsa smawl town awright." "WHAT?" spurts Joe. "Nut'n." "Least it ain't Pigtown," murmurs Joe, as Sally whistles a bright tune.)
Residents of Babylon, L. I. are petitioning the Office of Price Administration to relax its prohibition on the use of gasoline for recreational motor boats, arguing that the order "works a grave injustice" against local amateur fishermen who augment their family food supplies with their catches. Members of the Babylon War Price and Rationing Board have petitioned OPA headquarters in Washington for a change in the regulations, arguing that if enforced as written they will have a "destructive" effect on the local food supply. "All in all," local officials argue, "hundreds of thousands of pounds of food fish are taken from the Great Salt Bay, contiguous to the territory served by the board, each season." The petition goes on to assert that local ration board members "can conceive of no greater fallacy than to legislate our people out of the privilege of obtaining so valuable natural foods at this time when all processed foods are necessarily restricted." The board further argues that an entire local industry, in which many people are employed, has grown up around the servicing and maintenance of private boats and their welfare, too, is being damaged by the regulations.
At least 75 retail grocers in the city knew that their prices for butter, eggs, and meat were in violation of OPA ceilings, and if they didn't know they found it out for sure when they were summoned to appear before the regional chief of the OPA's local food section in a hearing at the Manhattan offices of the Department of Markets. The grocers had all been cited by OPA inspectors for various violations of the ceiling price regulations. "In one shop," related an OPA agent, "we found a proprietor who had posted 'OPA CEILINGS' alongside 'OUR PRICES,' which ranged from 5 to 10 cents higher." The agent concluded that "there is general ignorance" of the price ceiling regulations.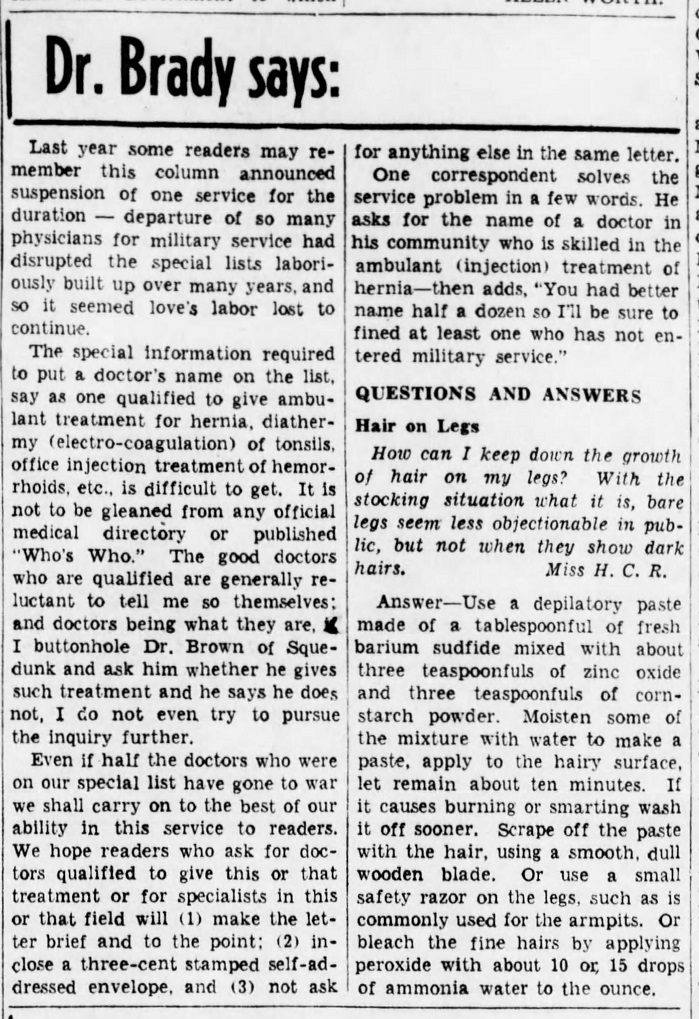 ("Dear Dr. Brady: How do I treat third-degree chemical burns? PS -- My legs are still hairy.")
The Eagle Editorialist deplores the recent ruling by Kings County Judge Louis Goldstein in the New Utrecht High School embezzlement case, under which defendant and former teacher Max Cohen will not serve a single day in jail. The EE points out that, in the case of Cohen's accused accomplice, former New Utrecht principal Dr. Maurice E. Rogalin, Judge Peter Brancato declared that Cohen's story that he had taken the money from a student fund only because Dr. Rogalin "made him do it" was "perjurious and beyond belief." But Judge Goldstein, in suspending sentence on Cohen providing he makes restitution, seems to be at odds with Judge Brancato, who concluded that Cohen was a skilled enough liar to fool everyone, and instead seems to place "some credence in Cohen's sincerity." "In the meantime, of course, the crime is just as serious now as it was when it was committed, and no one is going to serve a day in jail for it."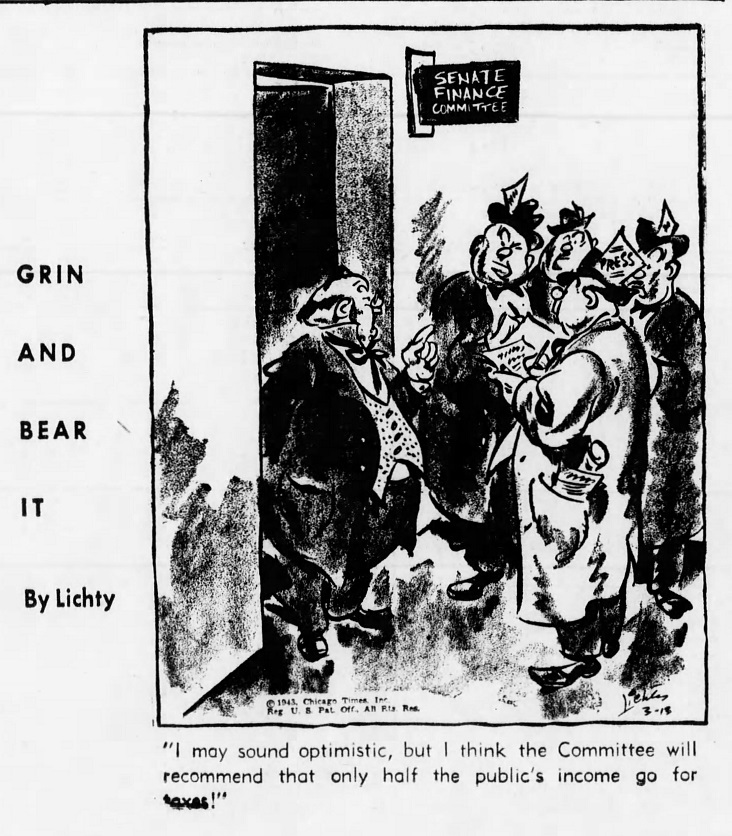 ("Bonds and taxes, bonds and taxes, that's the way to beat the Axis!")
Major E. P. Delmarse of Bellport writes in to say that it's high time members of the State Assembly and Senate "stop playing around with the shopworn 5-cent subway fare" and pass legislation allowing the city to increase that fare as needed so that the riding public is forced to pay the cost of operating and maintaining the system so that the burden is lifted from the back of city taxpayers. The Major argues that the only beneficiaries of the five-cent fare are commuters who don't pay city taxes, but pay their nickel to ride the subway.
Mayor LaGuardia remains confined to his home with a "serious streptococcus throat infection," and will likely be unable to come to his office tomorrow for his regular weekly radio broadcast over WNYC. It is possible, however, that arrangements may be made to broadcast from the Mayor's residence. Dr. Edward M. Berckener, Commissioner of Hospitals, who is attending the Mayor says that he "is a very sick man, but the condition is not dangerous." Dr. Berckener speculated that the Mayor contracted the illness "because he is in a run down condition from overwork."
Internal Revenue offices in Brooklyn, Queens, and Long Island will remain open tonight and tomorrow night as taxpayers rush for the Monday midnight deadline for the filing of income tax returns. Today more than 36,000 persons crowded into the First District tax offices in Downtown Brooklyn, most of them seeking advice on the proper way to fill out their tax forms. Internal Revenue field agents were also sent out to provide assistance to employees at important Long Island war plants, including the Sperry Gyroscope facility at Lake Success and the Republic Aviation Corporation at Farmingdale, where war workers were said to be "paying their taxes with a smile."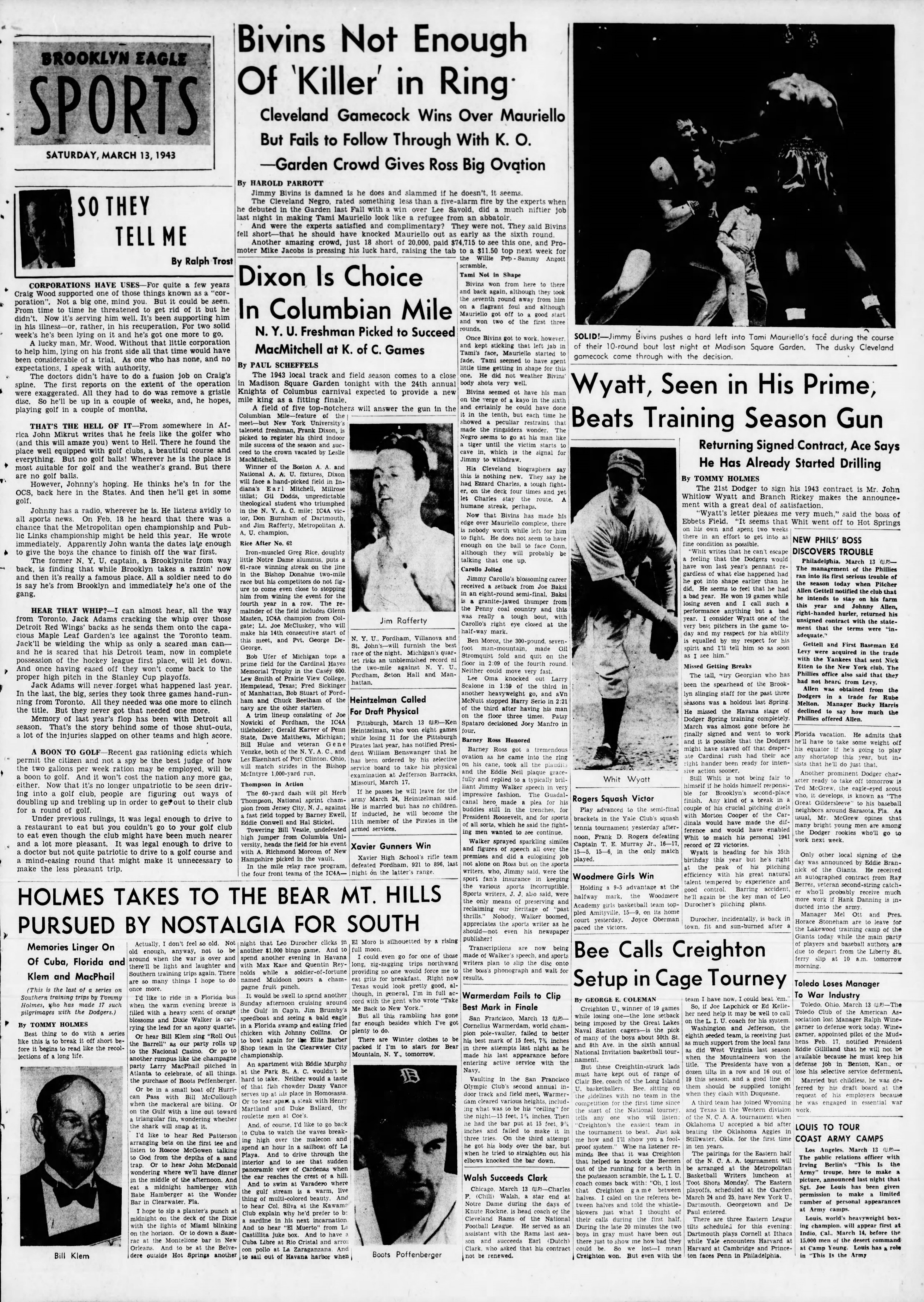 (Whitlow is 35????? Where does the time go??? And Tommy -- what about Babe Phelps screaming and wailing and holding up the plane to Havana by refusing to get on?)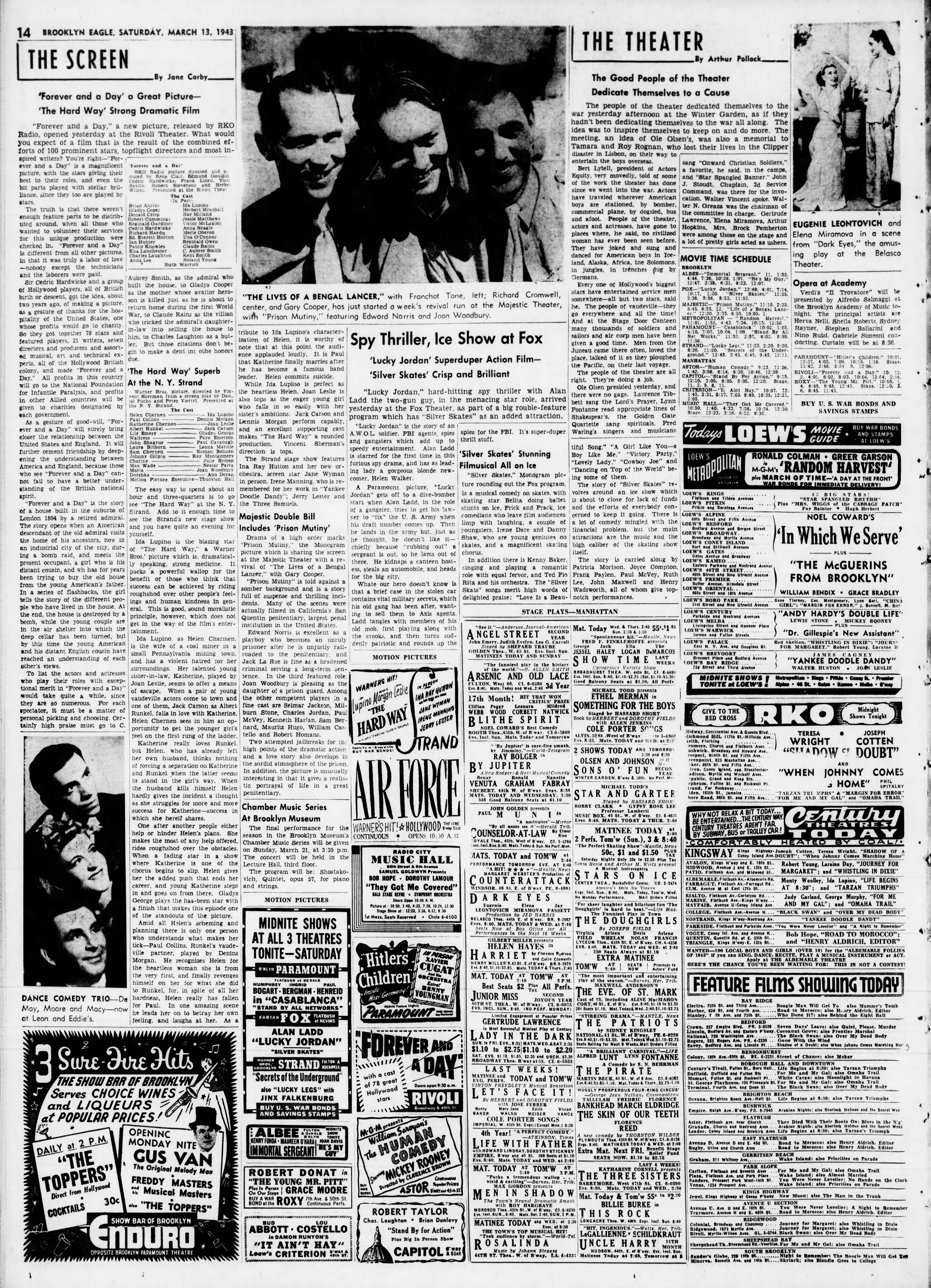 (Edward Everett Horton? Bob Cummings? Rene Clair? They're sorta stretching the definition of "Britishness," but what the heck, it's for a good cause.)
("THOUGHT I DIDN'T CHECK YOUR REFERENCES, HUH?")

("Alka Seltzer? Thank gawd, I'm already getting a hangover.")

("Drat! I thought that was a gum machine!")

(Is Tracy moonlighting as an OPA agent now? I bet he bought the Regional Administrator a nice suitcase for his birthday.)

("Besides, they'll never get away -- they shortchanged him!")