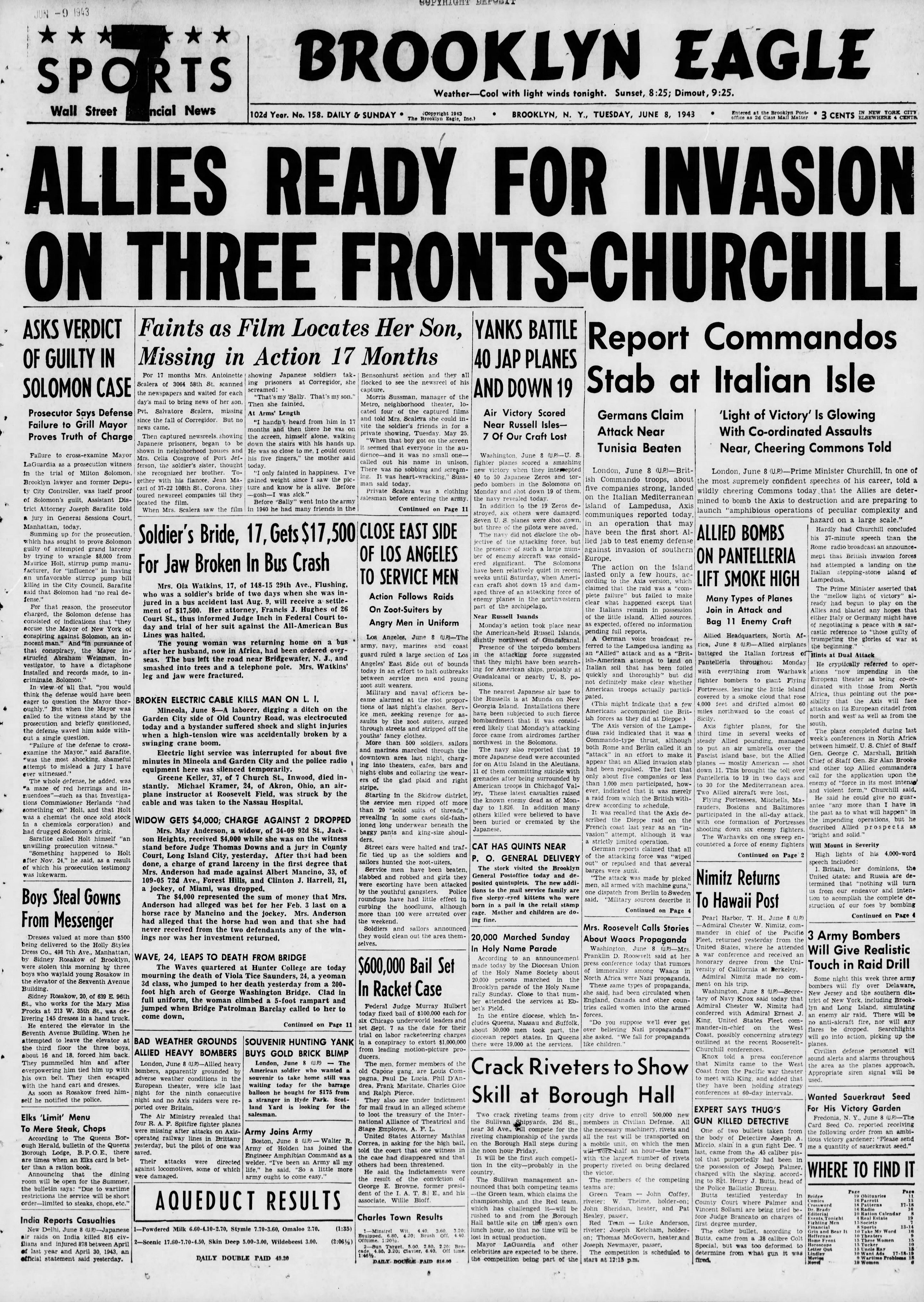 ("See now, Stell," declares Joe to Stella the Cat, who sits on the windowsill regarding him coolly thru half-closed eyes, "t'at's what happ'ns if y'ain't caehf'l. Y'otta be t'ankful t'at ain' you. I mean, raisin' kids, owr ev'n one kid, is real woik. I mean, lissen heeh." Joe pushes aside the newspaper and picks up a pamphlet on the table before him. "See t'is?" he continues. 'Infant Caeh,' it says onneah. 'Published by t' U. S. Depawrtment a' Labeh Children's Bureau.' See t'at? Depawrtm'nt a' Labeh! Who knows moeh 'bout babies 'n'ney do? Huh?" Stella blinks inscrutably as Joe opens the pamphlet. "Lissen heeh t'what it says. It says heeh t'at 'bladdeh an' bowel trainin' is a key pawrt'a ya child's characteh buildin'.' Y'see? An' it says 'youeh chil' will begin t'loin t'at he is a pawrt'a t'woil biggeh t'en t'at of his own desiehs.' An'nat's right, ain' it." Joe puts down the pamphlet and glares at Leonora, who is standing with her back turned away from the little wooden chair with the panda on the back. "DO'WANNA!" she insists, with a meaningful glare at her father. "Aw, c'mon, honey," pleads Joe. "We gotta go in five minutes! An' you gotta go before we'c'n go, awright? Lookit," he directs, bending down to look his daughter in the eye. "Ain' nut'n wrawng wit'tis chaieh. An' you need ta -- hey, whassat onna floeh?" Joe reaches over and picks up the small shiny object lying just under the stove. "Huh," he huhs. "A key. Oh, I know what t'is is, t'is is t'mailbox key! Ya ma musta drawped it. Hey, I'll tell ya what. You sit on'na chaieh t'eah, an'nen onna way down we'll check t' mailbox! Huh? Won'nat be fun?" "Uhh oh," replies Leonora.)
Queens residents, who were somewhat cheered on Sunday by Mayor LaGuardia's pledge that bus service in that borough will be kept as near normal as possible, today found themselves on the short end of another war-inspired economy move, as the Board of Transportation announced plans to sharply curtail subway service on the Queens Boulevard IND routes within a month. The annual saving is projected to exceed $500,000 annually, although the Board stressed that no dollar value can be placed on the value of conserving equipment that cannot be replaced during wartime. Lines to see services cut include the E or 8th Avenue expresses that run to 169th Street in Jamaica, the F, or 6th Avenye expresses running to Parsons Boulevard in Jamaica, and the GG crosstown Brooklyn-Queens locals connecting downtown Brooklyn to Forest Hills. The regular ten-minute headway on these lines from midnight to 1 AM will be increased to twelve minutes, and from 1 AM to 430 AM the existing 12 minute headway will be increased to 15 minutes. Headways on these lines during all other non-rush-hour periods will be increased from 1 minute to 3 minutes, or from 5 minutes to 6 minutes, depending on present schedules, but, the Board stressed, present schedules during the daily rush hour period from 4:30 AM to 9 AM will not be changed. The changes will take effect on July 4th. It is estimated that approximately 1,000,000 train-miles per year will be saved under the new schedules, and it is indicated that further adjustments may be expected on lines where capacity loads are not presently being carried.
Brooklyn and Queens butchers who kept their doors closed yesterday due to the lack of meat supply faced a difficult task today as they went in search of stock for waiting customers. The U. S. Department of Agriculture warned that meat deliveries to the city will be "very light" over the rest of the week. It is becoming a custom for local butchers to observe "Blue Mondays" by keeping their shops closed, and this was especially noticeable in Bay Ridge, Ridgewood, and Jackson Heights, where no shops were noted to be open. The New York State Association of Retail Meat Dealers indicated today that it does not endorse "Blue Monday" closings, but it appears that the trend for Monday closing seems to be spreading eastward into Nassau County. Among the stores that were open yesterday, several offered buffalo meat for sale in place of beef, but a survey disclosed that there are so few bison available on the hoof that the use of that meat will do little to ease the cattle shortage. It is estimated that only about 5000 buffalo are alive in the United States today.
Meanwhile, leaders of the retail fish industry warned of an impending serious shortage of seafood next winter, because the draft has decimated the ranks of experienced commercial fishermen. Arthur Coller, legal counsel for the Fish Fillet Dealers Association, announced today that he has sent letters of protest of the wholesale drafting of fishermen to President Roosevelt, Governor Dewey, Mayor LaGuardia, and the Selective Service Administration.
Fourteen men will rule the far-flung French colonial empire until France itself is liberated. The final organization of the French Committee for National Liberation, to be operated under the principles of the Third French Republic, was announced last night, with six of the ministers chosen from among followers of General Charles de Gaulle, and five of the ministers aligned with General Henri Honore Giraud, who will serve alongside Gen. de Gaulle as co-chairmen of the committee. One minister was known to be "neutral." The new Committee, to be recognized as the legitimate government of France by the Allies, will be empowered to direct the French war effort in all its phases, exercise French sovereignty in all territories outside enemy power, and to conclude treaties and agreements with all foreign powers.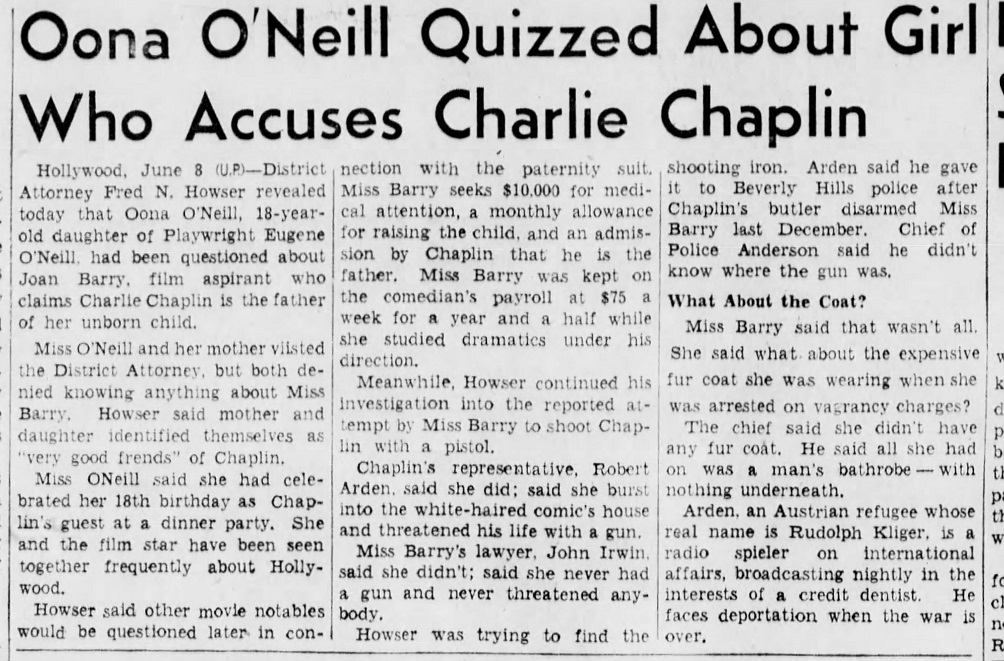 (Robert Arden was a prominent figure in local Los Angeles radio, but this is the first I've heard of him being Charlie Chaplin's "representative." And why does he face deportation? Don't leave us hanging!!!)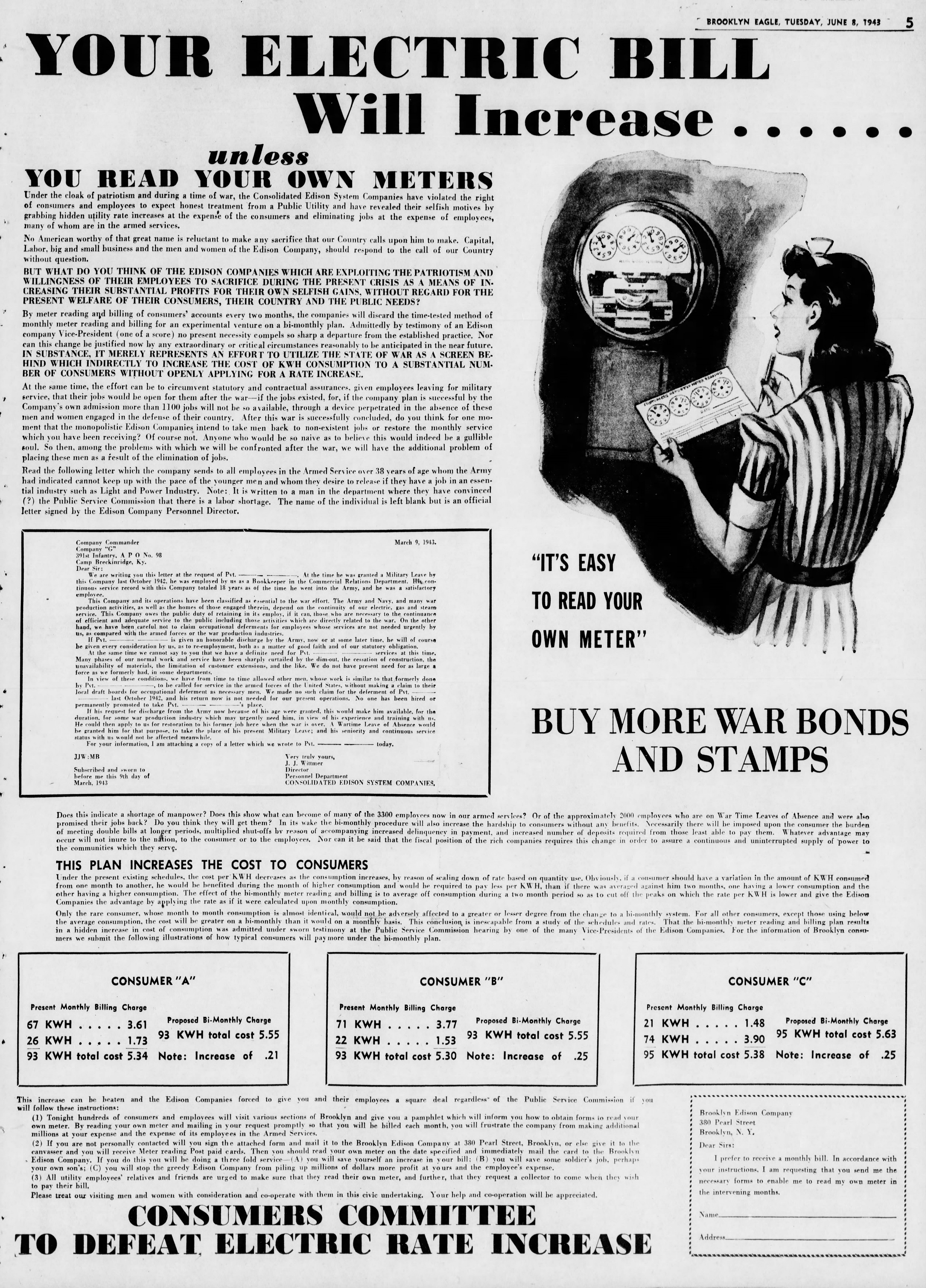 (Putting the "Con" in "Con-Ed.")
The nutritional menace that is the "coffee and doughnut" breakfast will be attacked this week by the Nutrition Committee of the Fort Greene-Bedford District Health Committee, which is sending forth a mobile kitchen to help plan wholesome and hearty morning meals for families of war workers. The mobile kitchen, set up in the back of a truck, will be operated by the American Women Volunteer Service Motor Corps, and is fully-equipped for demonstrations in breakfast planning and preparation by Miss Emma Feeney of the Home Economics Department at Pratt University, and Miss Dorothy Jones, Director of Nutrition for the Brooklyn Red Cross. The recommended breakfast menu promoted by the program consists of a citrus fruit, a whole-grain cereal -- cooked if possible, and served with plenty of milk, eggs, if desired, and coffee if you have it. Miss Helen Hutton, field secretary of the Fort Greene-Bedford District Health Committee, denounced the doughnut-and-coffee breakfast as having "absolutely no vitamin value whatever, nothing but fat and immediate energy."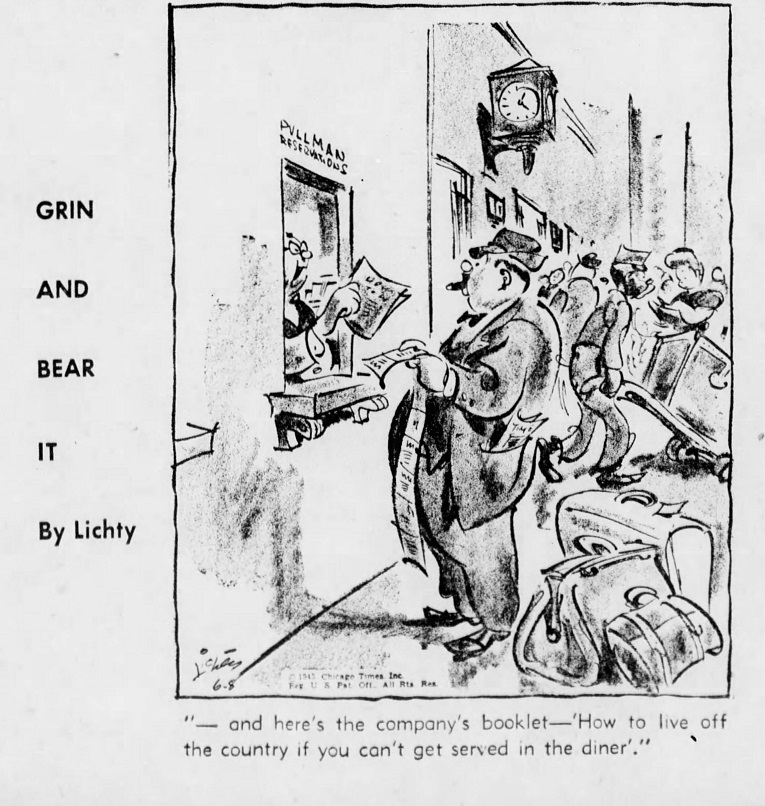 (AND REMEMBER -- NO DOUGHNUTS!)
Twenty thousand persons attending a Negro freedom rally at Madison Square Garden last night pledged their support for unconditional surrender to the United Nations by all Axis powers, and for the immediate opening of a second front in Europe. Prominent speakers urged the end of all economic and social discrimination against Negro Americans, and condemned the evils of segregation, the poll tax, organized anti-Negro, anti-labor, and pro-Fascist groups, along with "disruptors" such as Rep. Martin Dies and United Mine Workers president John L. Lewis. In a message to the rally read from the platform, 1940 Republican presidential nominee Wendell L. Willkie declared that the war has "performed a valuable service" by bringing into focus "the economic, social, and racial imperialisms we have practiced within our own borders for years." Along with the speakers, Paul Robeson headed a cast of 200 in a performance of "For This We Fight," which portrayed in dramatic form the contributions of the Negro to the progress of the United States and history.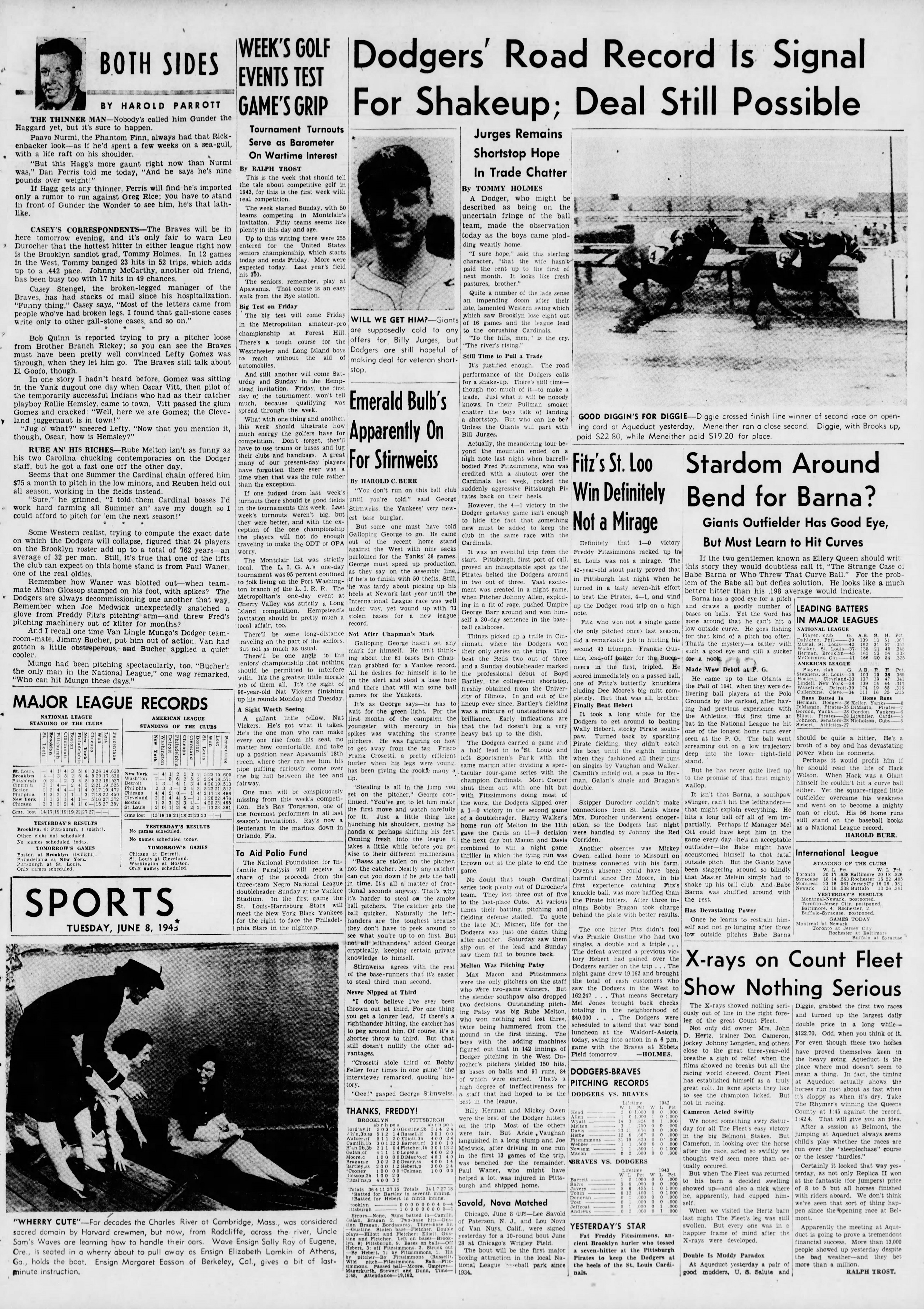 ("Joiges?" snorts Alice, poking at a dish of chocolate ice cream. "Who needs Joiges, anyway? An' hey -- SAL! Lookit'tis! Petey din' play las' night! Y'know what'tat means?? T'eah's a deal brewin', I tell ya! Ev'ryt'ing is fawlin' inta place!" "What's aall this now?" inquires Ma Sweeney, stirring up a Coca-Cola for Sally. "Oh, we been..." begins Alice, but she is swiftly cut off. "Nut'n, Ma," Sally interjects, with a sharp shake of her head. "Jus' basebawl tawk, nut'n serious. Um, did Leonora do anyt'ing funny today?" "Ahhh," chuckles Ma, "awl she did was go aaan and ann aboot sommthin' her papa found in the mailbox." Sally blanches, and coughs up a bubble thru her soda straw. "In faact, Joseph left it heer farr ye." Ma reaches under the counter, produces a rolled and wrinkled brown envelope and passes it to her daughter." "T'anks," groans Sally, slipping the envelope into her overall pocket. "C'mon!" enthuses Alice. "Op'n it!" "We betteh get goin'," Sally hastens. "C'mon, Leonora." "Op'nit!" commands Leonora. "Op'nit!!")

(Tom's not very bright, is he?)

(Everybody in 1943 knows Morse code.)

("His hands are busy under that newspaper.")

(Some kids in my neighborhood once built a raft out of old wood and scraps salvaged from the junkyard, and tied it to the town pier. It was a popular attraction for much of that summer until it broke loose in a storm, was declared a hazard to navigation, and was sunk by the Coast Guard. I'M JUST SAYIN', KIDS.)

(Classic Jo would NEVER PUT UP WITH THIS.)