Super Moderator
Bartender
The history of Mackinaw coats.
Mackinaw fabric, as well as mackinaw coats, trace their name back to blankets used in the fur trade by the Mackinaw Fur Company, headquartered at Fort Mackinac. As with the point blankets made by the Hudson's Bay Company, Mackinaw blankets were made in an array of bright colors and garish patterns. Originally favored by native Americans and fur traders in the area, the coats gained near immediate acceptance among lumberjacks in that area's logging industry. Whether cut from Mackinaw blankets, Hudson's Bay Blankets, or from Pendleton Blankets, these coats shared several important features. In a time when men in cities wore overcoats nearly exclusively in cold weather, these coats were cut short, generally with a length of 35 or 36 inches, to allow for freedom of movement. The short cut allowed for extremely heavyweight, warm fabric without the weight associated with a long coat. The bright colors and loud patterns of the blankets favored among these loggers soon found their way throughout the country, first as souvenirs, later as part of nationwide marketing.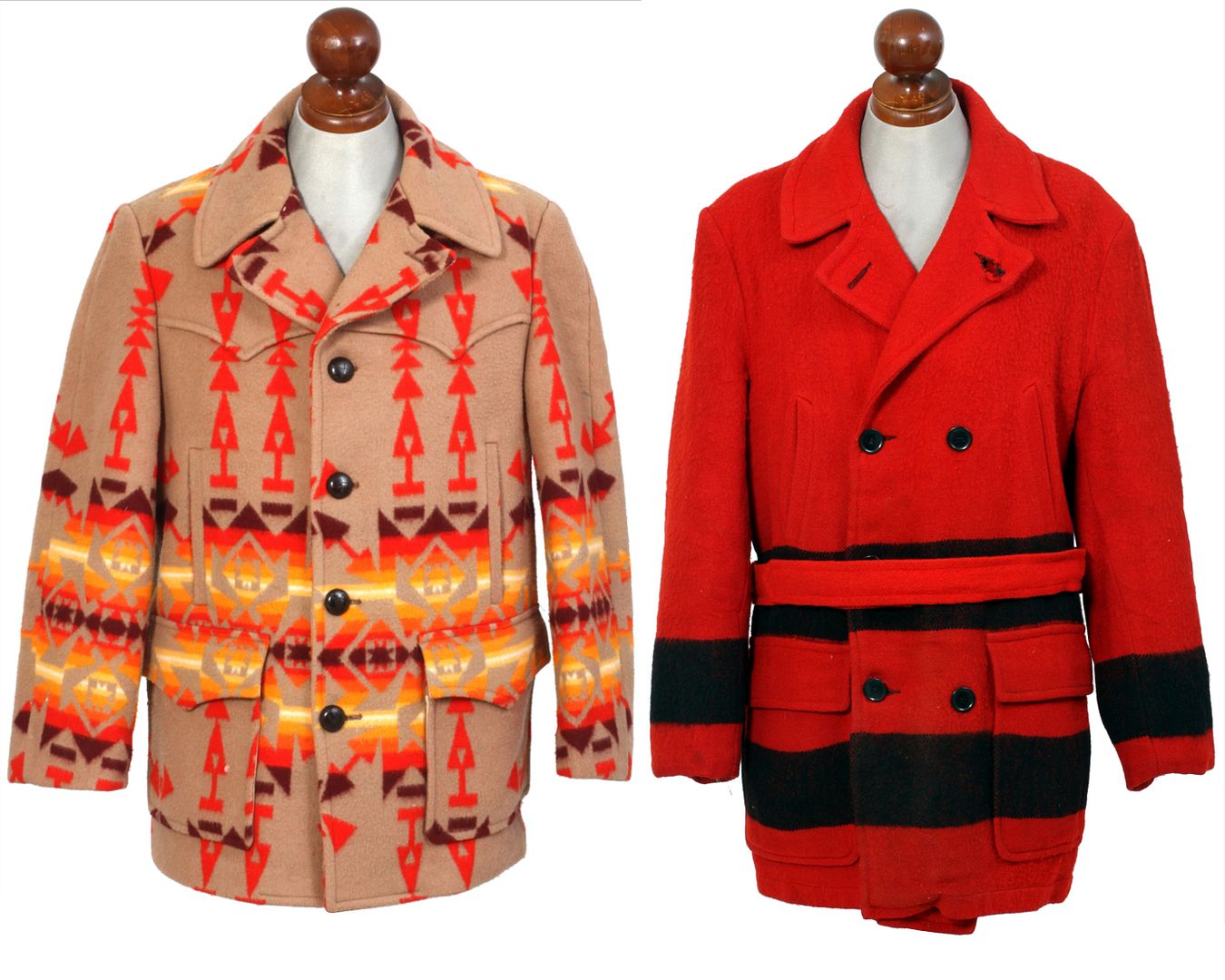 Examples of other fabric styles worn by early lumbermen. Left: Pendleton. Right: Variant of Hudson's Bay Company point blanket. Lumberjacks of the turn of the century period also favored sheeplined canvas "box coats", which would come to be known, post-war, as mackinaws as well.
Though lumberjacks were primarily of French-Canadian or Scottish-Canadian ancestry, mackinaw cloth owes its origins to Norwegian immigrants. The original cloth was homepun from wool from northern sheep. The early fabric was relatively coarse, and heavyweight, around 40oz. After it was woven, was "stumpfed", or danced upon with soap and water with wooden shoes, usually accompanied by music and celebration. This process felted the fabric, shrinking it dramatically, and making it thicker, denser, warmer, and resistant to rain and further shrinkage. Commercially produced mackinaw cloth later mimicked this process mechanically. After weaving, the fabric was shrunk and felted (the stumpfing or fulling process) , then napped to give it a thick and fluffy texture, further increasing its insulation value.
Mackinaw Cloth available from Patrick-Duluth.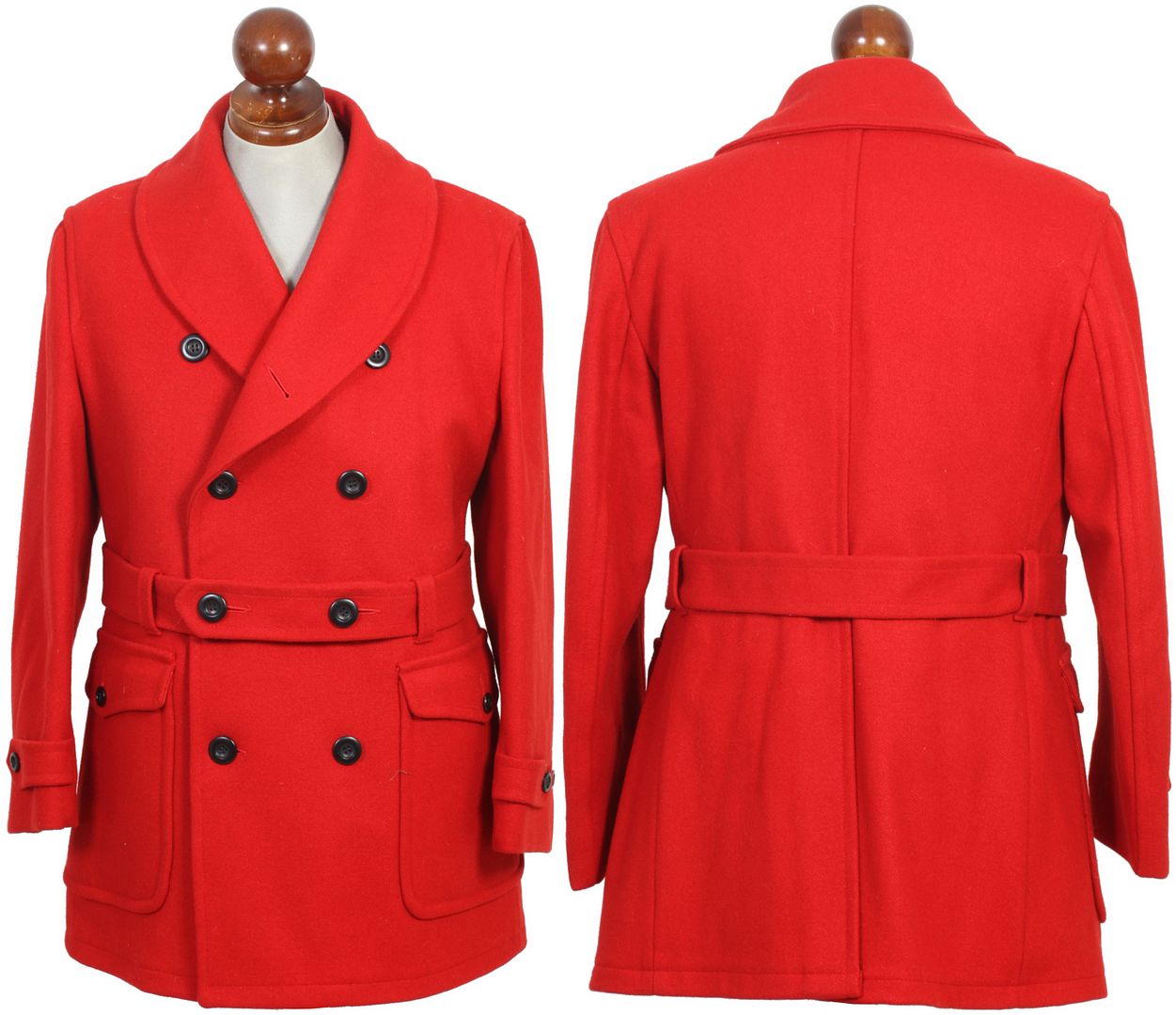 Mackinaw coat in scarlet wool.
The F.A. Patrick Company, proprietors of the Patrick-Duluth Woolen Mills of Duluth, Minnesota were responsible for taking the Mackinaw coat out of lumber camps of western Canada and introducing them to students, workmen and athletes across the United States. Early on, the Patrick Company were jobbers, making dry goods, primarily for clients in the Northwest of the United States in Canada. In 1901, Patrick began buying fabric from a Scandinavian mackinaw cloth factory in Fosston, Minnesota. In 1906, seeing potential, Patrick bought that factory and began making their own Mackinaw cloth, eventually becoming one of its leading producers. The fabric and the coats made from it were popular with miners, fur trappers, lumberjacks and hunters.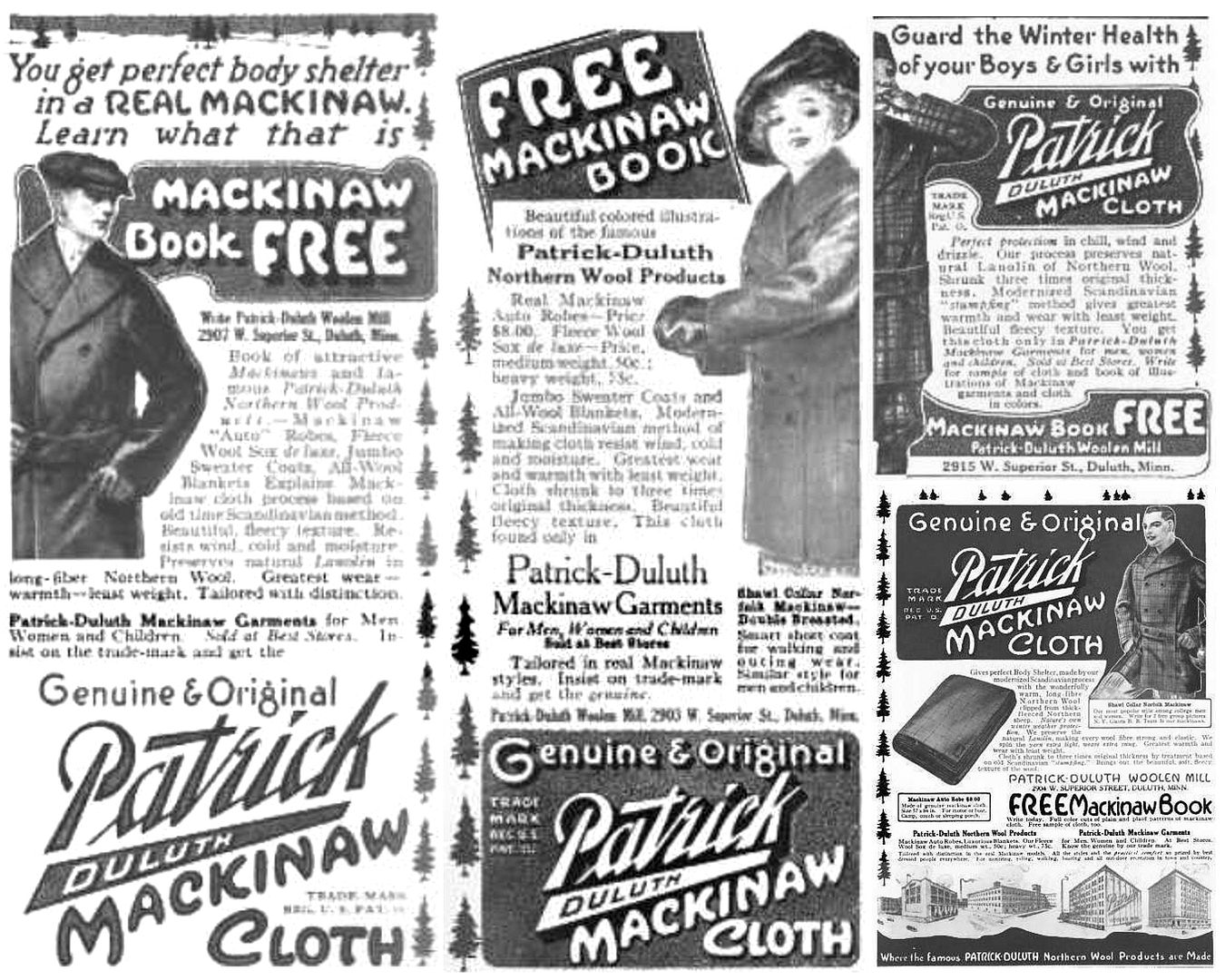 Patrick Coats- 1912
In 1912, Patrick launched a new, refined mackinaw design. It was double breasted, belted and sported a collar described in the ads of the period as a "nansen" collar. Though the term also existed then, we now refer to this style as a shawl collar. The coat was 35" long and was available in 24 and 32 oz wool mackinaw cloth, in a wide variety of colors. Salesman Harry Harrington began to pitch the Patrick Mackinaw to clothiers in college towns. "It was not long after that that mackinaws became a fad with students generally, and as the college student invariably sets the styles for young men's clothing, it quickly spread over the whole country". The early mackinaw trend was marketed in a similar way to the current workwear trend, trading on the rugged associations of the workers for whom the garment was originally designed. The mackinaw fad boomed, and shortly, a number of other manufacturers sprung onto the scene, producing mackinaws of varying quality from a variety of cloths. Large quantities of Patrick mackinaws were sold through such high end stores as Brooks Brothers, Rogers Peet, Wannamaker, Abercrombie and Fitch, Brokaw Brothers, and A. Raymond.
It is around this 1912-1913 period where the name "Mackinaw" begins to be more associated with the short, double breasted, shawl collar style, and less with the mackinaw cloth material from which it was made. The fad lasted about a year and a half. Patrick could not keep up with the growing demand caused by the collegiate fad, and the fabric quality of some competitors led to its downfall.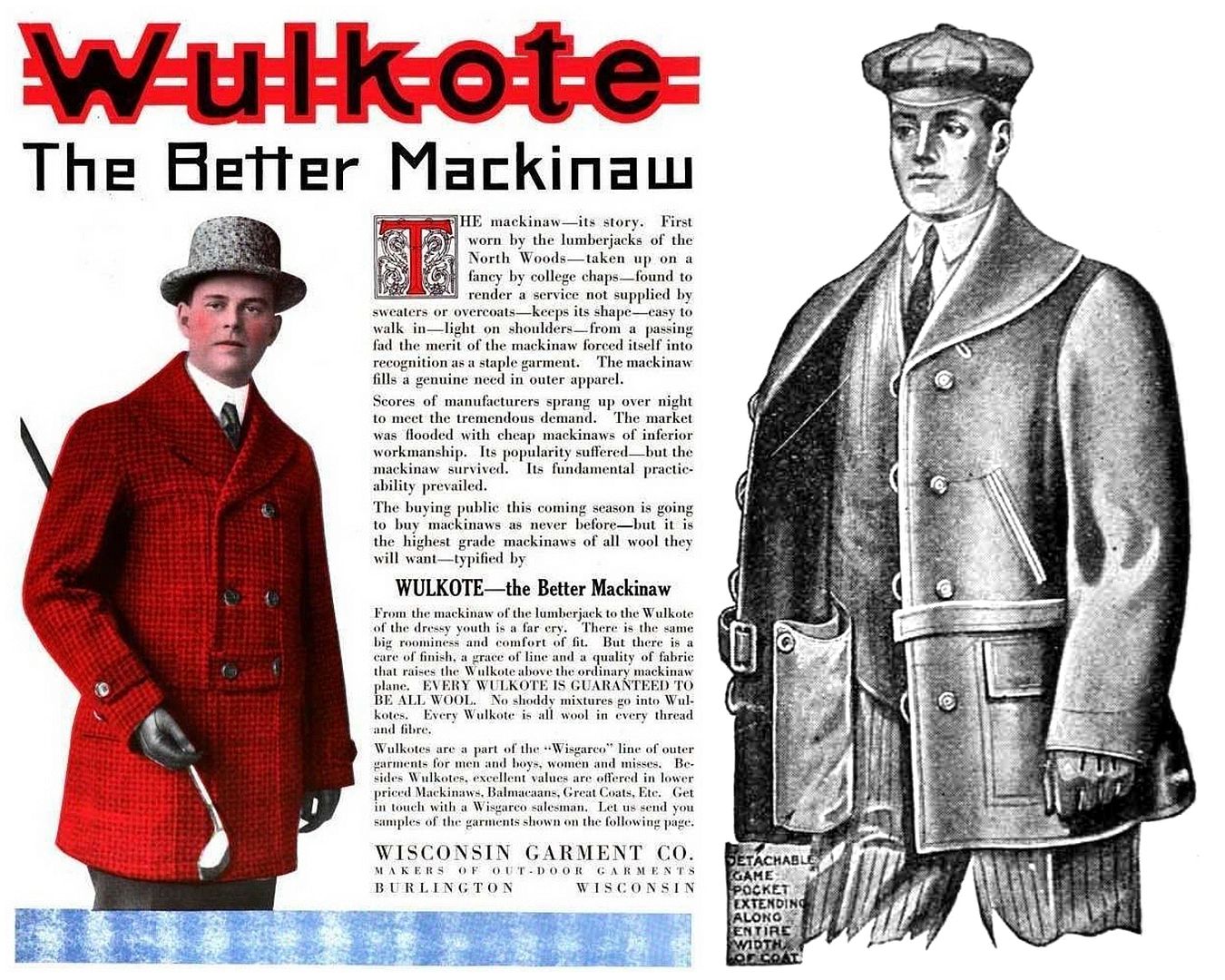 Coats from other makers. L: 1915 Wulkote by the Wisconsin Garment Company (later WisGarCo). R: 1912 by Tilton Bros, Chicago
Seeing the end of the craze, Patrick-Duluth re-branded its mackinaw once again, refining its pattern and marketing it to farmers, children, hunters and outdoorsmen, workers, and sportsmen. Its durability, warmth, low price compared to comparable overcoats or sheeplined coats, made it an easy sell to these markets. Alongside sheeplined canvas coats, Patrick Mackinaws became the de-facto winter coat of railroad employees. To further expand the market, patterns were made for men and women, boys and girls. Patrick intensified their national advertising, placing ads in the Saturday Evening Post, Country Gentleman, Farm Journal, Woman's World, American Boy, Youth's Companion, Boy's Life, and many more. The name of the product was shortened from "Patrick-Duluth Woolen Mill Mackinaw" to simply "Patrick", in a bid to make their brand name the generic trade name on the market, thereby foiling the business of competitors. Their slogan "Bigger than Weather" was penned by Elbert Hubbard. Ads were illustrated by Peter Newell and Clare Briggs. In the years between 1911 and 1914, Patrick had quadrupled its production, expanding from their two story mill to a six story mill on Duluth habror, a garment factory in Duluth, and knitting and spinning mills in Mankato, MN.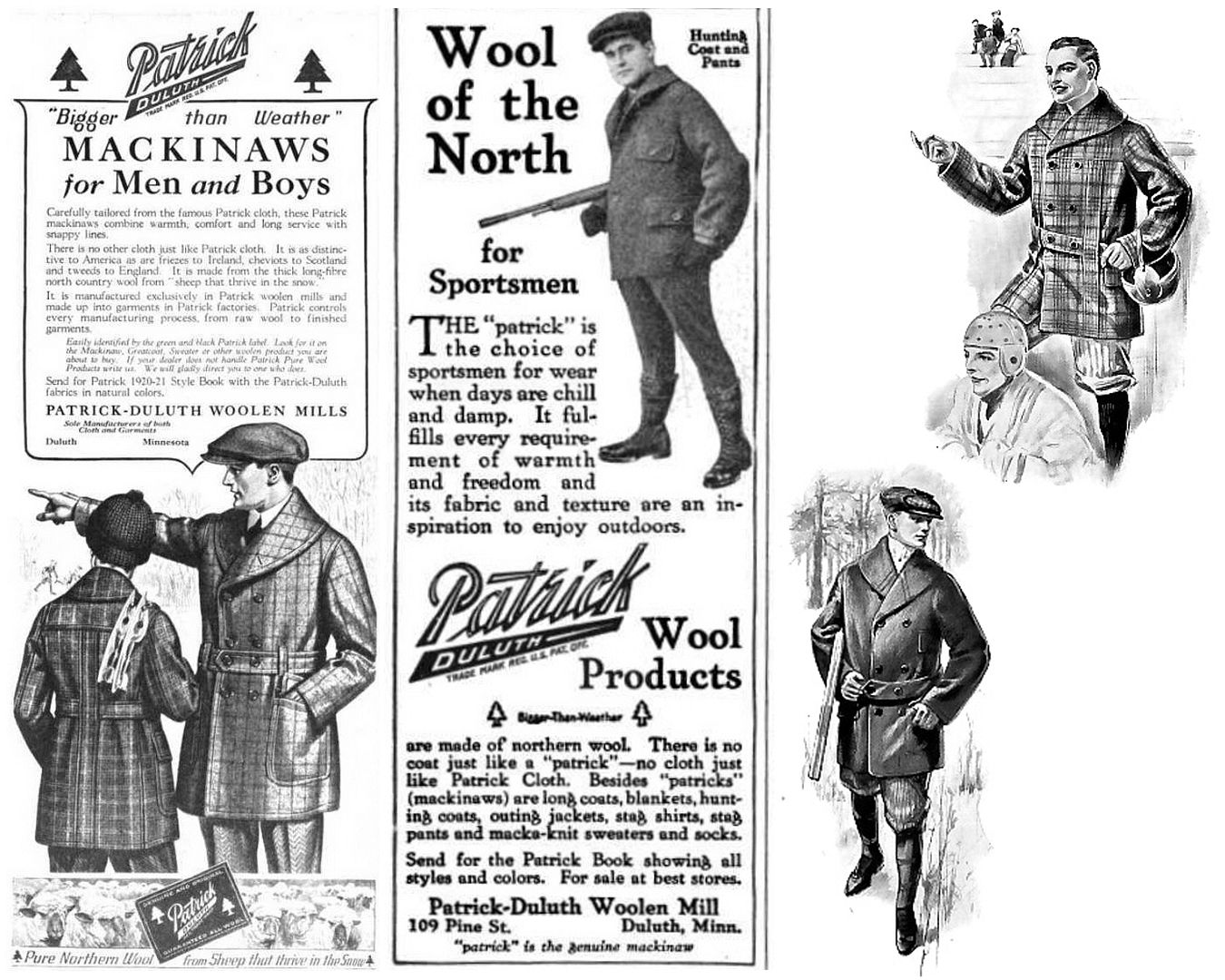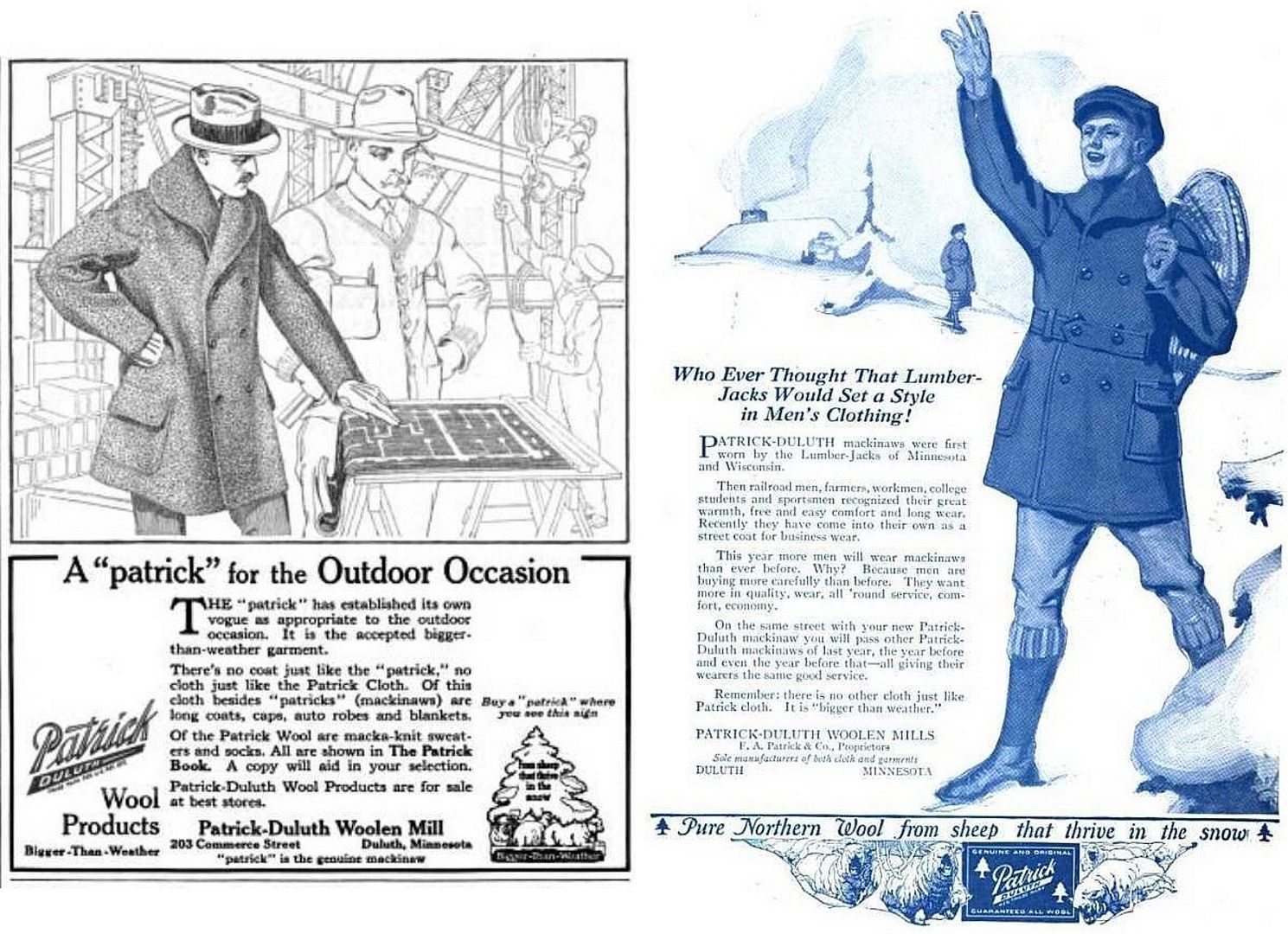 Patrick mackinaws were worn and endorsed by the New York Giants, the Chicago Cubs, and the White Sox
Patrick also secured the contract to be the official coat of the Boy Scouts.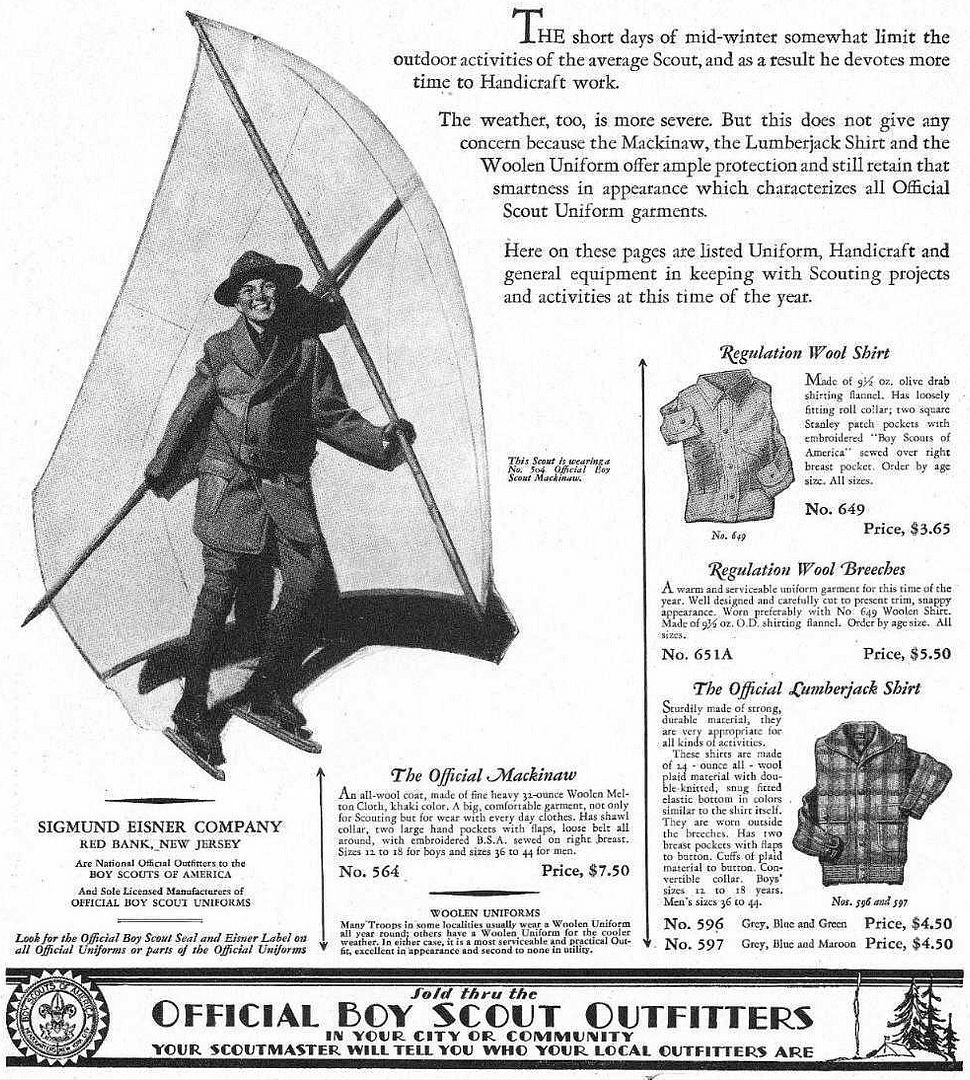 Last edited: