Here's another Chopper fit and impressions thread. While I was measuring and posting about my Sheene in another thread, UPS arrived with this hunk of leather.
I was going to order from TB but they're out of stock for 12 or more weeks which puts me right in the middle of riding season.
I'm never sure when my last riding season will be due to my age and health issues so wanted to pull the trigger ASAP as I've had a hankering for one of these for a while.
Vanson just happened to have a TB reject in their nearly new pile. It's a brand new size 42 with a very small, now corrected construction issue. If I didn't know it was there I wouldn't have noticed it, and hence an appropriate healthy discount.
Like many I toggle between 42 and 44 so needed some measurements to nail this one down and always worrying about my monkey arms.
After a week of trying to get the dude that answers the phone on weekdays to provide some measurements ("the jacket was far away in storage, difficult to get to") I called on a Sat and got Kim to provide me with what I needed (oddly the jacket wasn't far away in storage after all). Unfortunately the nape of neck to sleeve length she provided of 36.5 is about an inch longer than what I measure on arrival and sure enough, I'm light on length... story of my life!!
So here is what I measure it at:
*Shoulders - 20"
*P2P - 22.5"
*Length - 27"
*Sleeves - 26" straight down
*Nape of neck to end of sleeves - 35.5" (the guy that answers the phone on weekdays says it's a very difficult measure unless one is experienced)
*Hem - 21" outside of buckles with one more hole to let out.
My first experience with comp weight of any kind. This is more matte than shiny. Smells almost petroleum like. I'm never sure if the sleeve end gussets are a true representation of the thickness but I measure 1.3-1.4mm with my digital calipers if that means anything and my cheap ass luggage scale indicates 6.5lbs. UPS said 8lbs. Somewhere in between I'd say.
Won't have a chance to get on the bike for a bit because we're off camping tomorrow for a week. And on the bike is what this jacket is made for.
Fit impressions are it's damn near perfect except for my sleeve length. I'm resigned to always being short on length unless I go custom, and even then it's a crap shoot (hello 5*), so I've kinda learned to live with it. I wear gauntlets on the bike so it's not like anyone will shout out as I'm riding down the road "hey sucker you're an inch shy on length"!
Special thanks to
@JMax
for advice and recommendations!!
Comments welcome!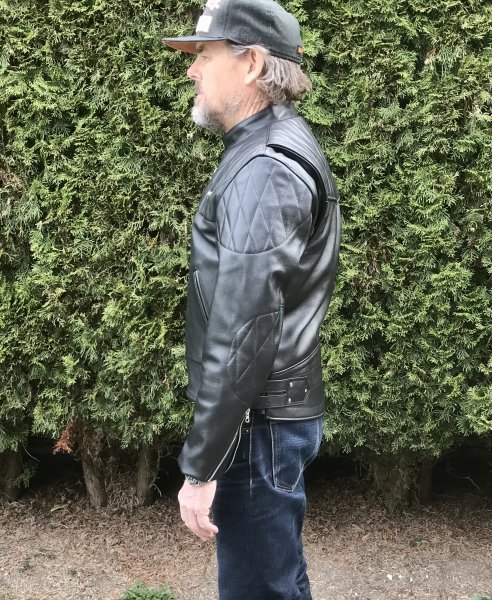 Last edited: