My Mail is Forwarded Here
Banana Republic safari jacket, light cotton, size 42. I'm never going to wear this so hopefully it can go to a good home. It's used, I don't know how old, but it's in excellent shape other than a few marks on the collar (normal with this sort of warm weather jacket). I've laundered and pressed it. The colour is a dark tan or very light brown (the photo of it hanging up is most accurate in terms of colour). Measurements below; don't be alarmed by the large chest measurement, these types of jackets are supposed to be loose and the belt snugs it up.
chest (armpit to armpit) = 26.5"
length (neck seam to hem, at back) = 30"
sleeve (dress shirt measurement) = 35"
sleeve (sleevehead to cuff) = 25"
sleeve (armpit to cuff) = 21"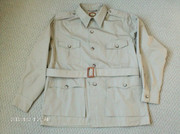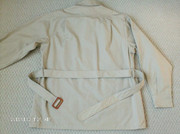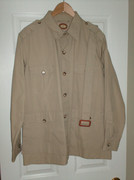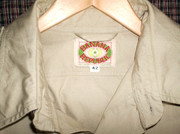 Price is USD $75.00 shipping included to continental USA.
Canadian members who are interested I can reduce the price a bit to reflect the lower cost of domestic shipping.
NOTE: We just had a postal strike in Canada so mail is delayed. If you want this, it would be best to ship after Christmas.
----------------------