Hi all,
Some discussions about Chinese leather jackets over another thread have motivated me to open up this thread. I am from China. TFL is already filled up with all kinds of fun and useful information about leather jackets, and I would like to add more Chinese flavor to this community by sharing some of my thoughts and observations about Chinese retro leather jacket community and introducing some Chinese retro leather jacket brands which my friends and I have handled.
Before I start I would like to specially mention
@nevergoneyc
as he is our Chinese leather jacket expert among my friends. Some contents below are inspired by him. He has multiple blogs about leather jackets, boots, amekaji garments on different social media platform. I think the easiest access to his blog for you will be:
www.chen-ge.com
.
Let's start: generally speaking, I think Chinese retro/heritage leather jacket makers are still in quite early stage, or let's say, a growing period.
Leather jacket has always been an expensive item in China since long time ago. My father actually bought a leather jacket when he just started to work (1990s) as a symbol of economical independence which almost cost him a month salary. It is a rough out bomber jacket made by an old factory in Shanghai, and it is now hanging in my closet. I am almost 30 kgs heavier than my father but the jacket is still quite loose on me! That time oversize fit must be something trendy. Since the genuine love of leather jackets from my father's even my grandfather's generation, quite many Chinese people think leather jackets are out-dated, out-fashioned item. This is of course not in line with the opinions of the Chinese amekaji community.
Chinese amekaji/heritage clothing market and community are deeply inspired by Japan. Just like Steve McQueen for many Western and Japanese heritage clothing lovers, a forever fashion icon for Chinese amekaji community is Kimura Takuya, a talented Japanese actor and lover of Amekaji (Japanese prounounciation for "American Casual") culture. Some garments Kimura has wore in his TV series and in his daily life have become the classical items in Chinese Amekaji market. Examples include Red Wing 875, Red Wing 9111, Full Count jeans, Bape sheep leather down jacket, Levi's vintage jeans, Rolex Explorer I, Chrome Hearts wallet chain, Goro's silver accesories and etc.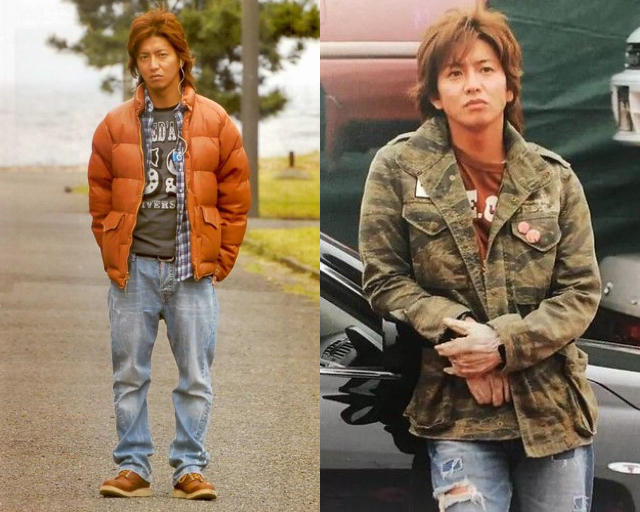 Photo of Kimura Takuya
Deeply inspired by Japanese heritage community, it is no surprise that Chinese retro leather jacket lovers also look up to Japanese brands. One funny thing is that some Western brands TFL Outerwear forum always talk about, like Himel Bros and Lost Worlds, are very very less known of. Some people even think Vanson is from Japan - because they see Vanson appearing on Lightening's Inazuma festival. Freewheelers, the Real McCoy's and Toys McCoy's are most mentioned as top 3 high-end leather jacket brands. The grail jackets for many Chinese amekaji hobbists include FW's Mulholland; RM's Buco J100, J24 and A2 jackets; and TM's A2 jacket with back painting or the V. Hilts spec (Chinese hobbists call it "The Great Escape jacket"). Other than this 3 brands, Rainbow Country, Tenjin Works, Fine Creek Leathers, Four Speed Leathers and some other Japanese brands are also pretty popular. Schott could be the most popular Western brand. Also Eastman is trendy in recent years but only their military line, not their ELMC line.
Just like many new comers in other industries, Chinese retro/heritage leather jackets started their road by copy, or let's put it in another way, reproduce famous or popular jackets. I do think the line is somewhat shady, just like what Addict Clothes and Fine Creek Leathers are doing at this moment. However, currently to trigger the buyer's interest and win their search rankings, most of Chinese jacket makers name directly from the reference model. "Mulholland" has become the name of this certain style of 1930s straight zip rider jacket among the community. If you search "Mulholland" in Taobao, a bunch of FW Mulholland look-alikes (sometimes minorly modificated) made by different leather makers popped out. They don't even bother to track down the history origin... simply call it Mulholland jacket. And many of the retro leather jacket makers compete who can produce a more similar version compare to FW Mulholland. Clients of these jackets also valuate the jacket according to the similarity level to FW Mulholland. Like I said in the other thread, one maker borrows my friend's FW Mulholland and send it to Korean pattern makers to study how to make a 100% similar pattern. So at this point time I think Chinese leather jacket makers are actually doing similar things as many heritage clothing makers - reproduce as accurate as the original copy. But the difference is the reference model, is this a historical model or a model which is currently still in production? This is such a big topic to discuss, not restrited to Chinese leather jackets and I am looking forward to hearing your opinions.
Ok, now let's put our eyes on the actual products. I think the general advantage of Chinese made leather jackets are good price and pretty well made because many of them are made in mature factories and the machines are more recently updated. The leather and hardware selection are usually quite straight forward: you pay what you get. Thats why I would divide the Chinese made leather jackets into two tiers, simply below 450 USD and above 450 USD. 450USD seems to be a common threshold when they start to use relatively better leathers.
Below 450 USD you will find many Chinese leather jackets brands. Some famous ones include 刺度 (Cidu), 品出东山 (Dongshan) and Simons. Most of them use either inferior leathers or leathers from unknown tanneries. Of course I'm not saying that you will get only bad leather from unknown tanneries, just less security are guaranteed. Some typical feedbacks include plastic feelings, strange smells or unfavorable selection of the leather parts, for example the loose belly part. We also see some brands are picking up, such as 品出东山 (Dongshan) starting to use Horween leathers and invested quite some energy on patterns. A Dongshan jacket using Horween leathers usally most cost you around 420 USD. Oh, I forgot to mention that Dongshan is the OEM of Full Count leather jackets. It's also worth to mention that some makers in this tier can be sometimes surprisingly creative. Some of their designs are actually pretty innovative and beautiful. You might be able to find some gems among this product range.
Above 450 USD you can find relatively better Chinese leather jackets. Some typical brands in this level include for example GUOFO, Risk Rider, 武装战线 (Armed Front), HDK, 滨海环球 (Huanqiu). I will put a short note on each brand according to what I have heard or know about them:
Guofo: offer made to measure service and famous Japanese tannery leathers such as shinki leather and tochigi leather.
@nevergoneyc
has compared Guofo Mulholland and FW ones and find the stitching quality are on the comparable level. A made-to-measure shinki leather jacket cost you 8000 rmb = ~1240 USD. The style are mainly civilian lines such as sports jacket, cafe racer, car coat and some miliary models like A1 and A2.
Risk Rider: the owner has a big manufacturing facility in Haining - the city which is famous for leather products production in China. They probably have the best reputation among these brands because other than leather jackets they also make other high quality amekaji garments. They also offer made to measure and shinki option, but to me the most interesting feature is that you can source your own leather and ask them to make a jacket for you. They will only charge you the labor cost and hardware - you pay what you get, right? A shinki mtm jacket costs around 850 dollars.
Armed Front: heavy motorcycle jacket producer. Fully custom option and made to measure. Usually use extra heavy and thick cowhide. Usually cost around 700 usd.
HDK: lots of items are copy of FW and other Japanese brands products, not only leather jackets but also other stuff like wool A1 jacket, Aviator trousers. They have both lower price line and higher end line. High end line includes horween option. I mention this brand because recently they developed two jackets using Kudu leather, which are interesting and my first time hearing about kudu leather jacket.
@nevergoneyc
has acquired one and let's see how they age. The CFS kudu cross zip jacket costs 700 usd.
Huanqiu: mainly focus on the military jacket reproductions. Also offer repair and maintenance services. Some friends of mine had their A2 wool ribbon changed in Huanqiu and the price and quality is quite satisfying. A goatskin A2 jacket using Waldes zippers costs you 600 USD.
The paragraph above are my thoughts and observations so far regarding Chinese retro/heritage leather jackets. In my opinion Chinese leather jacket makers still have long way to go but certain aspects have already shined. In my opinion if you don't care about brand, don't care about originality, only care the actual leather, products and the stitching quality you are paying for, Chinese leather jackets can be a good choice for you. I do think in the near future there will be some Chinese leather jacket makers rising in the western world, just like Flame Panda in boots territory.
That's it for now. I will try to post some pictures about some Chinese leather jackets later in the thread. Feel free to post your questions and your thoughts or experience about Chinese leather jackets.
Cheers,
Z
Edit: typo
Last edited: