It's been about two years since I discovered heavy wool shirts, and by now I have a pretty good selection of them added to my wardrobe. When I was a kid, I couldn't stand wearing anything wool. Wool back then was always itchy on my skin, and I hated it. Somehow, either wool has gotten softer, or my skin has gotten less sensitive. Maybe because body hair helps put a buffer between the fabric and the skin that I didn't have when I was little? Anyway, I love wool now.
When it comes to CPO shirts, I prefer them without handwarmer pockets, making the ones I like to wear more pure shirts than shirt-jackets.
Gustin
Gustin is said to have ripped off the pattern for their CPO shirts from Engineered Garments. I really like the design, and the pocket on the sleeve makes them stand out from the rest. I'm not sure what I might put in that pocket, but it looks cool.
The older Gustin CPOs had 3 pocket front, with asymmetric breast pockets, and a second, lower pocket below the right breast. They've switched to two symmetric breast pockets, and I like that look much better. Gustin uses snaps instead of buttons. I'm not sure why, but my guess is that it's a lot cheaper to apply snaps on a garment than it is to sew button holes. The snaps they use are of high quality, and work well. I do see used Gustin CPO shirts with snap issues, so I guess it's best to be careful when unsnapping them, lest you end up busting the bottom half apart.
About a year ago, I was exploring their brand for the first time, and found their #6 multi-color wool CPO shirt on their website, and had to have one. The problem with that being, they last made a batch of them in 2016, and on the archive page for the campaign it said that this would be the last batch they could ever produce because they had bought up the last of the fabric from Pendleton. Gustin do small runs, producing only enough to cover the pre-orders, which makes it especially difficult to track down something if you missed out on it when it was offered. It became my grail CPO.
#6 Multi-Color Wool CPO | Gustin | CPO Jackets
www.weargustin.com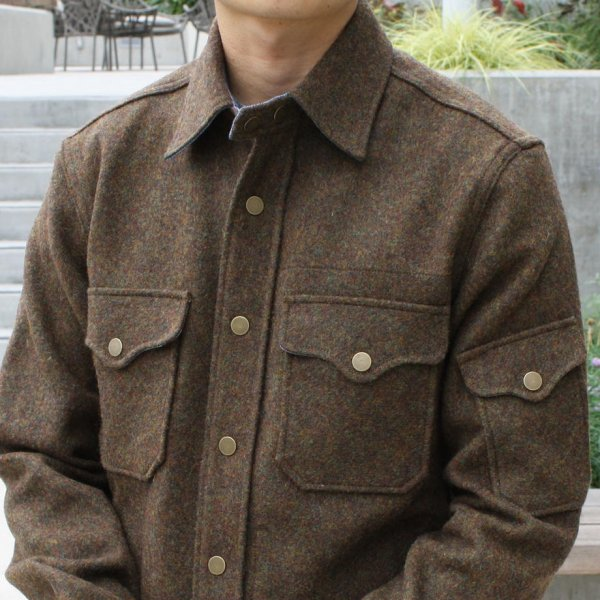 Around the time I started lusting after the #6, they ran a campaign for the #22 Italian Plush CPO, and two other fabrics, but the Italian Plush was the one that I found most appealing, so I ordered it. Receiving it, made me only want the #6 even more, because I loved it so much. It's also a great shirt to wear in colder weather.
#22 Italian Plush CPO | Gustin | CPO Jackets
www.weargustin.com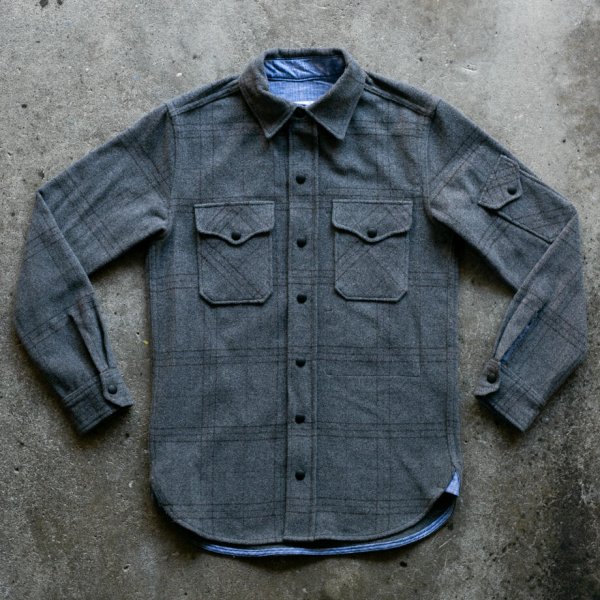 It seemed like it would be just about impossible to find a #6 multi-color Pendleton in the wild, but I set up some searches and hunted daily for one. There was one on eBay for a nice price, and I think it's still there, in size XS, which would be way too small for me, but it gave me hope while annoying me every time it popped up again in my searches. Finally, one showed up on Poshmark, in my size, four days ago, and I jumped on it.
It arrived today, and is now my favorite shirt, and probably will be for a while. The Pendleton wool has the feel of a military uniform, and the cut of the shirt, especially the pocket flaps gives it a classic look, evocative of the WWI era. It fits me very well, and the wool isn't coarse or itchy, and I just love it.
Gustin keeps making more of their CPO in different fabrics and colors, and I'll keep watching them to see if they do anything else that I like. They're around $175.
Taylor Stitch
Taylor Stitch make some really nice clothes, and what I like most about them is their fit, which for my body is just about perfect. I've picked up a bunch of their stuff in the last few years.
TS make a few wool shirts that fall into this category. The most CPO-like is their Mariner shirt. They also have the Leeward shirt and the Explorer shirt. These are all offered regularly, updated seasonally in different colors and fabrics, which makes it easier to buy a few of them.
The Maritime shirt is the heaviest and densest wool, which makes it my favorite to reach for. A few years ago, TS were making them out of super heavy 17 and 19oz fabric, but they have gone thinner in recent years, down to 15oz and 11oz. They're still warm and should be heavy enough, but I often prefer the heavier older ones in my closet. You can wear them as an outer layer, and if you're active and warm blooded they're all you need down into the upper 30s (F)/10s (C). They are cut a bit generously and especially if you size up you can layer under them a bit. In my exact size the fit is flattering. The style is classic, yet contemporary. The construction and materials are good, ranging from 100% wool to 80/20 wool-nylon blends.
My two favorite Maritime shirts are the Clifford Red, and the Heather Ash grey. Both are gorgeous and the heaviest I own at 17oz and 19oz.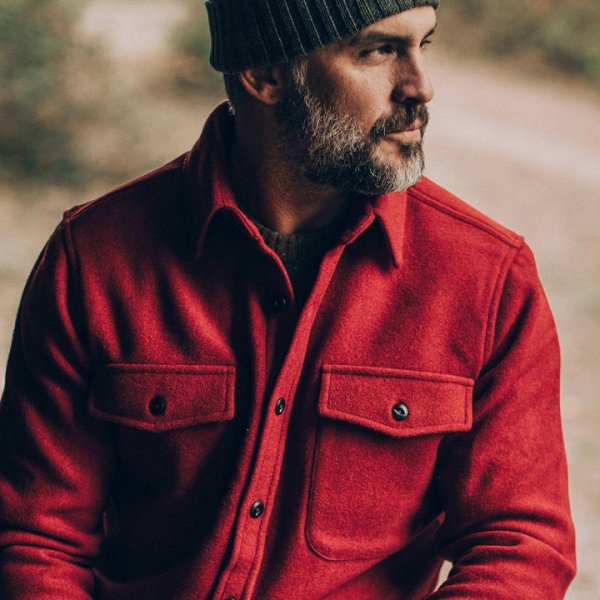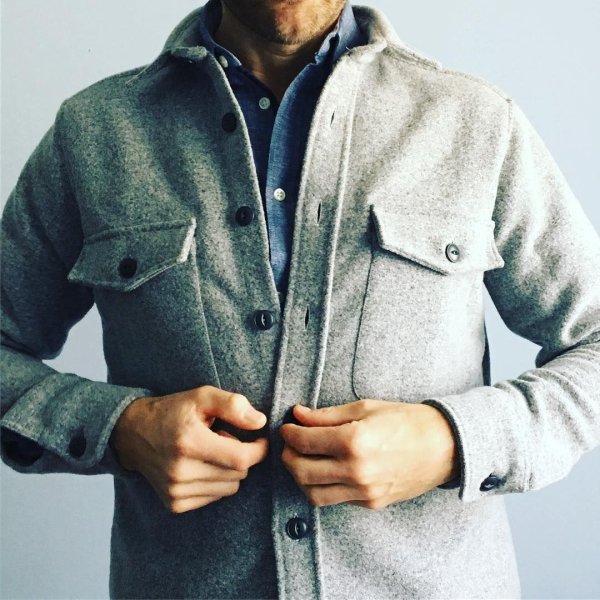 I have a couple others, also very good. It's always tempting to pick up another one.
TS Maritime shirts run about $188, but they often have sales and if you can get one during a closeout it's a no-brainer bargain that you shouldn't pass up on. While that's a lot to pay for a shirt, the value is there. If you pick one up used, they're an even better value. They're pretty hard to wear out.
The Explorer shirt and Leeward shirt are also good, not quite as heavy, but heavy, and still quite warm. The pattern is a bit different, more shirts than shirt-jacs. They're more like a heavy flannel.
Schott NYC
Schott make a CPO shirt as well, both lined and unlined. Their CPOs are made from 50% wool/50% polyester fabric, and they are not as heavy weight, but they are nice, warm, and look good. They also come in a huge variety of colors, making it a versatile choice, and it's nice to have a few different ones that you can rotate. They're less expensive than either TS or Gustin, at around $125 unlined/$155 lined. This makes them a good value, and a bargain, even if they're still not cheap. I prefer the unlined shirt over the lined one, but your mileage may vary. I size down in Schott sometimes, and size up other times, but with their CPO shirts I size down. Medium fits me perfectly, where I normally wear a Large.
Schott 7810
The quilted version is (was?) the 7115, but they don't seem to be offering it this year. They also have a faux sherpa lined version, which may have replaced it in their line.
Eat Dust
Out of Antwerp, Belgium, Eat Dust is a fashion boutique brand that makes some interesting stuff. Their fit tends to be both baggy and oversized, and often military-esque, but with something of an urban flavor to it. A lot of what they make isn't really my thing, but occasionally they come up with some stuff that I really like. It's all awfully expensive though, frankly a bit overpriced, and rarely discounted. If you don't want to look like a kid wearing dad's uniform, probably size down.
I picked up one of their Elba Wool Khaki shirts on closeout, for about 50% off their retail price (about $180 on sale) which was about as much as I would have wanted to spend on it. It's a good shirt, but quite a bit thinner material, more of an indoor shirt with good insulative value, than a heavyweight CPO.
Buy Eat Dust - CPO Shirt Elba Wool - Khaki from HepCat Store in Sweden. Fast worldwide shipping at fixed rates and safe payments with Pay Pal and credit card. The CPO shirt is Eat Dust interpretation on the classic one but with western details. It's a relax fit shirt that can be used as a...
www.hepcat.se
And I had to have another one, made in this fabric, which they called "shepherd's wool" -- although I can only find a photo of the cardigan version they also offered. Somehow the other garments from this collection in the same fabric appear to have been scrubbed from the internet. At $325, it was the most expensive of the CPO shirts that I've purchased, and it's not the heaviest, thickest, or most durable. But it might be the prettiest, and it's certainly distinctive.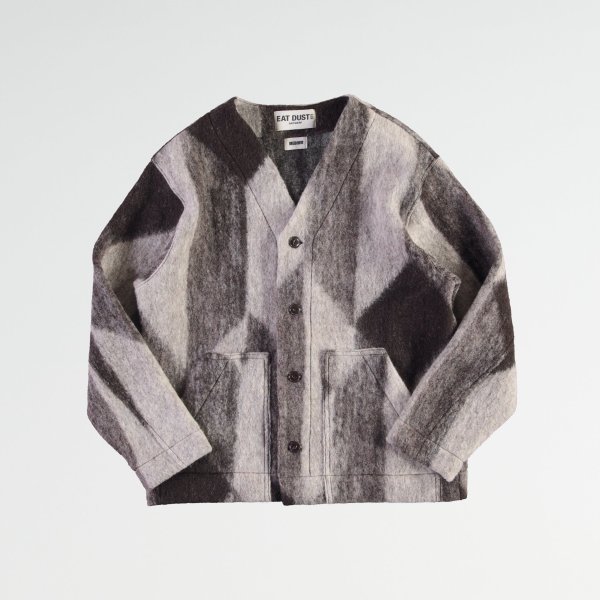 And this thumbnail from my order confirmation email, which I blew up from 160x160px.
It reminds me of a modern art painting, and dazzle paint ship camouflage, and I can't help but love how crazy it is. It's not a very dense wool, but has a lot of loft, so it's reasonably warm although it doesn't do so much against the wind.
Others
I haven't tried them all, and don't have the space, money, or need to. There's so many, just about everyone makes a CPO. Some clothing makers market shirts that they call CPO shirts, but are neither heavyweight, nor wool, and I'm not sure what makes them a CPO shirt, but I don't consider them to be "real" examples of the style.
Of the brands I haven't tried, the one that interests me most is Filson, who make some mackinaw wool shirts and jackets, and of their products the one that I'm most interested in is their
Northwest Wool shirt
, which isn't properly a CPO, but fills the same niche, albeit in a lighter weight 7.3oz. But they're another awfully expensive brand, and with as many good options as I already have in my closet, it's hard to justify getting anything else. I wouldn't say no to one as a gift, of course.
I still have yet to try an authentic vintage military issued CPO. I'm curious but it's not a pressing need.
What else is out there? Anything that I've missed?
Last edited: