Hi everyone!
For sale here is an Eastman A2 in a used, but very nice condition. This is the Eastman "House Style" A2, made in seal horsehide. It features mid-brown knits and a rust-red lining. On the left shoulder there is a professionally applied Army Air Forces decal.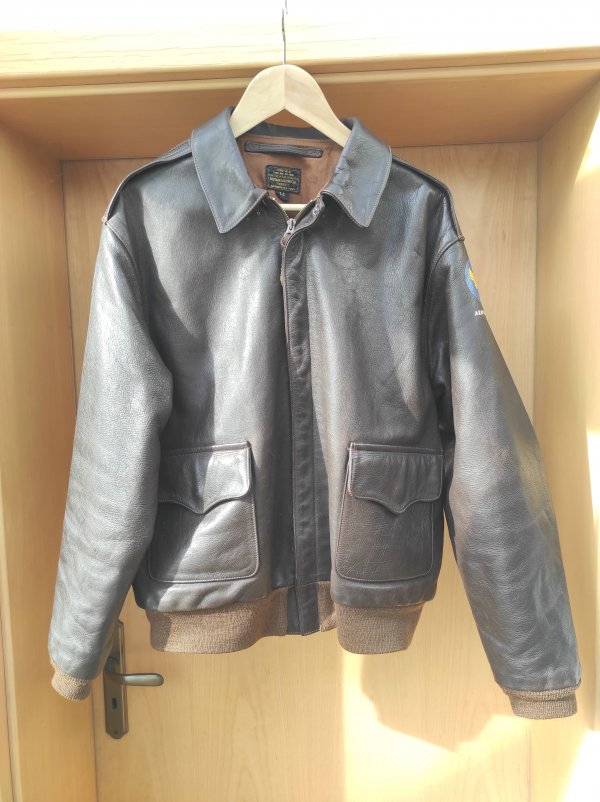 Measrurements:
Back lentgh:66 cm / 26,0"
Chest width:62 cm / 24,4"
Shoulder: 51 cm / 20,1"
Sleeve length:61 cm / 24,0"
The jacket is used, but in a very nice condition with the leather just starting to show first signs of wear on the typically exposed areas, revealing a nice reddish undertone. Knits and lining are in a perfect condition, without any holes or other damage.
Please note that this jacket is not made of Eastman´s current "Warhorse" leather, as this is the predecessor of the jacket they are selling today. Still, it is made of very nice horsehide, that has just started to develope a super nice vintage look. This model offers a more relaxed fit and comfortable armholes.
I bought this jacket a while ago from another user, but unfortunately it is a bit too wide for me, so there is no point in keeping it.
Price: 600 € plus shipping costs from Germany to wherever you like.