Warehouse & Co Japan Type I Japanese Selvedge Denim Jacket Deadstock Blue Sz 40
Warehouse & Co Japan Type I Japanese Selvedge Denim Jacket Deadstock Blue

Sz 40. £300 payment bank transfer
17+ years selling eBay Racer680
Postage free UK,
International postage can be discussed
Private message or email: karmaone@rocketmail.com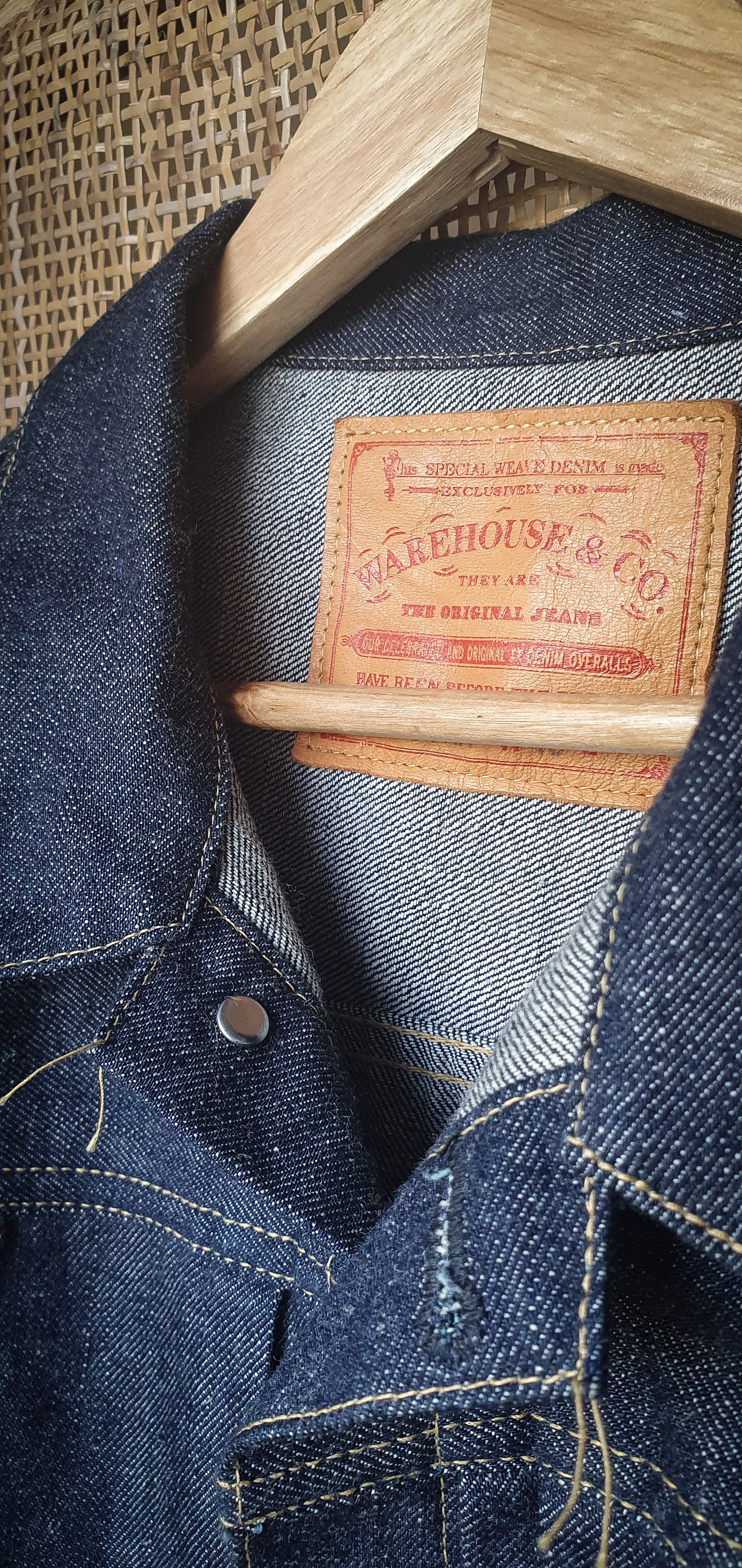 Armpit to armpit 22 inches

WAREHOUSE Dead Stock Blue "Lot.2000XX" DENIM JACKET 1946 Model]
It is "BLUE" created by "time". The interior of his general store, where time has It is "BLUE" created by "time".
The interior of his general store, where time has stopped, stands in the "DEAD STOCK BLUE" ghost town created by the American climate.
Accumulated time in the stagnant air as if people refused to enter.
Her old-stock denim clothing that has been waiting for her husband for a long time.
Stacked to be wrapped in a veil, they look new at first glance.
Such denims are secretly "aged" over time.
Indigo was dyed and woven long ago, and he was oxidized from the blue at that time to "dead stock blue".
He recreated the unique appearance of denim fabric, backed by the passage of time, using all the techniques he has accumulated over 25 years.
From leather labels, buttons, rivets to sewing threads to the sewing machine setup required for sewing, it is the pinnacle of label that has been created with all our heart and soul to the point where we can say "no more".
In this fall, which marks the 25th anniversary of 2020, what I would like to show you most is not something that is limited in quantity, but the "highest peak" that is based on the accumulated technology.
"What you are looking for is in WAREHOUSE." This is a word from a vintage dealer in the United States when the founder Shioya brothers went to the United States before launching the warehouse.
"DEAD STOCK BLUE" that is just right for that word At that time, he saw at WAREHOUSE, the shock that seemed to grab the soul ...
It is the highest peak that WAREHOUSE has reached over 25 years.
It is a setup model that is the same age as the "LOT1000XX".
The attractive details that seem to cut out the symbolic era of "WW2" called "1946" can be said to be a model that mixes the ruggedness and delicacy that existed only in this era.
According to the label concept of "dead stock", not only denim but all parts are also "oxidized" over time.
Especially in this denim jacket, the iron "lily pattern buckle" which is oxidized and has a dull look is impressive.
The silhouette is an authentic style similar to the DD series DD-2001XX NEW DENIM (1946 MODEL).
There is a moderate amount of space in the width of the body and armholes, and it can be matched to any style such as T-shirts and sweatshirts.


Last edited: