Hi guys,
a half a year ago I started a thread about finding the perfect "do it all jacket", I was looking for a casual rather clean jacket that could be worn with a t-shirt and jeans but that should also be able to be dressed up with a nice shirt and a pair of chinos.
That's the old post:
https://www.thefedoralounge.com/threads/first-post-looking-for-advice-for-a-do-it-all-jacket-aero-premier-highwayman-belmondo-style.99446/
I got the idea from watching Jean-Paul Belmondo wearing a pretty cool somewhat Highwayman-style jacket in Peur sur la ville (1976). Pretty cool movie btw!
Many of you guys suggested going for an Aero Sheene because I already love my Aero CR. That seemed like a good choice and thank you guys for your input! But I got caught up in the process of chosing the "right" leather, "right"colour, "perfect" lining and so on. I'd never be perfectly pleased so when I had to take my finals I lost sight of the project.
So a week ago I got bored and started browsing around the bay (never ever do that, you gonna start wanting to buy stuff!). I found this black Lewis Leathers Corsair No. 60 in 42 that has nearly the same measurements as my custem CR. Was it luck, was it destiny?
I don't know but I really fell in love with this jacket. It reminds me of the old Luftwaffe jackets (in fact, the Corsair has been used as Luftwaffe jacket in "Battle for Britain"). Until this moment I didn't even know I "needed" a Luftwaffe styled jacket but boy, I wanted it. I do like the Eastman Hartmann jackets too but I prefer the cleaner look of the Corsair (except for the tag but I can live with that)
About the jacket. It's a black cowhide Corsair No. 60, standard size. I won't review this jacket except the fact that I think it is very well made because Carlos did some awesome reviews about his LL jackets and my lack of experience in reviews. LL cowhide is noticeable lighter than FQHH but it doesn't feel flimsy like some lighter goathides. Like I said, it's pretty close to being perfect imho.
Is there something not to like?
Well, there obviously always is, there is no perfect jacket I can tell you with even my little bit of experience.
Would I order a jacket with the tag? Probably not. Do I care? Not really.
Would I mind the jacket being a bit longer? No, I'd even ask for another inch in the back if I was buying the jacket from Lewis. Does it bother me?
Nope, not enough to matter. Usually I wear my jackets with 1,5inches longer backs but I think a Corsair is a short jacket anyway (especially the German Luftwaffe Pilots were wearing very short jackets) and it's not awkwardly short, so I'm fine. Since I'm wearing rather low waist 501 levis, there's always the option to go for higher waisted jeans, if the length ever bothers me.
I'd be glad to hear your opinion on the fit of the jacket and thank you for your precious advice in the act of finding my "do it all" jacket!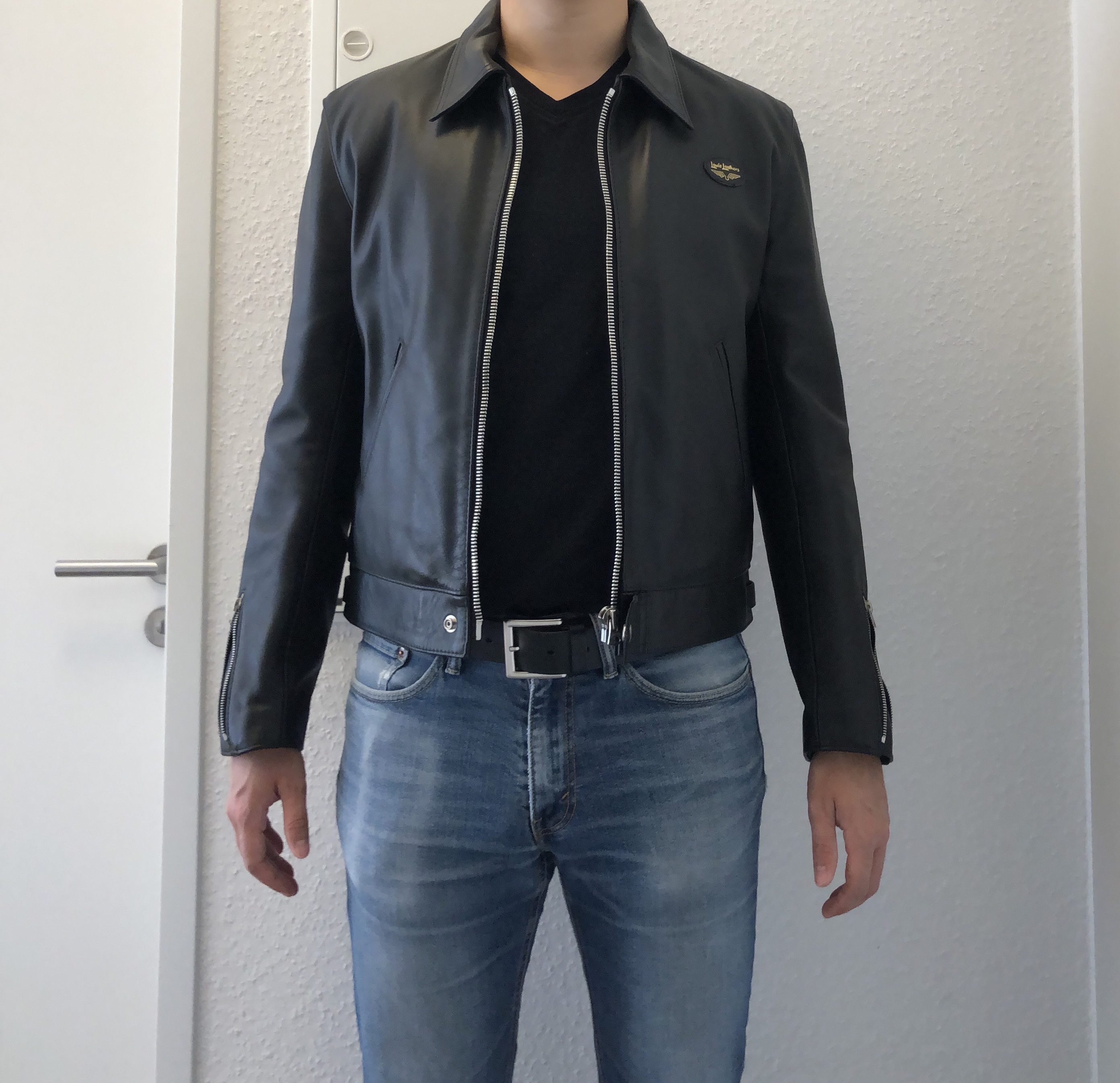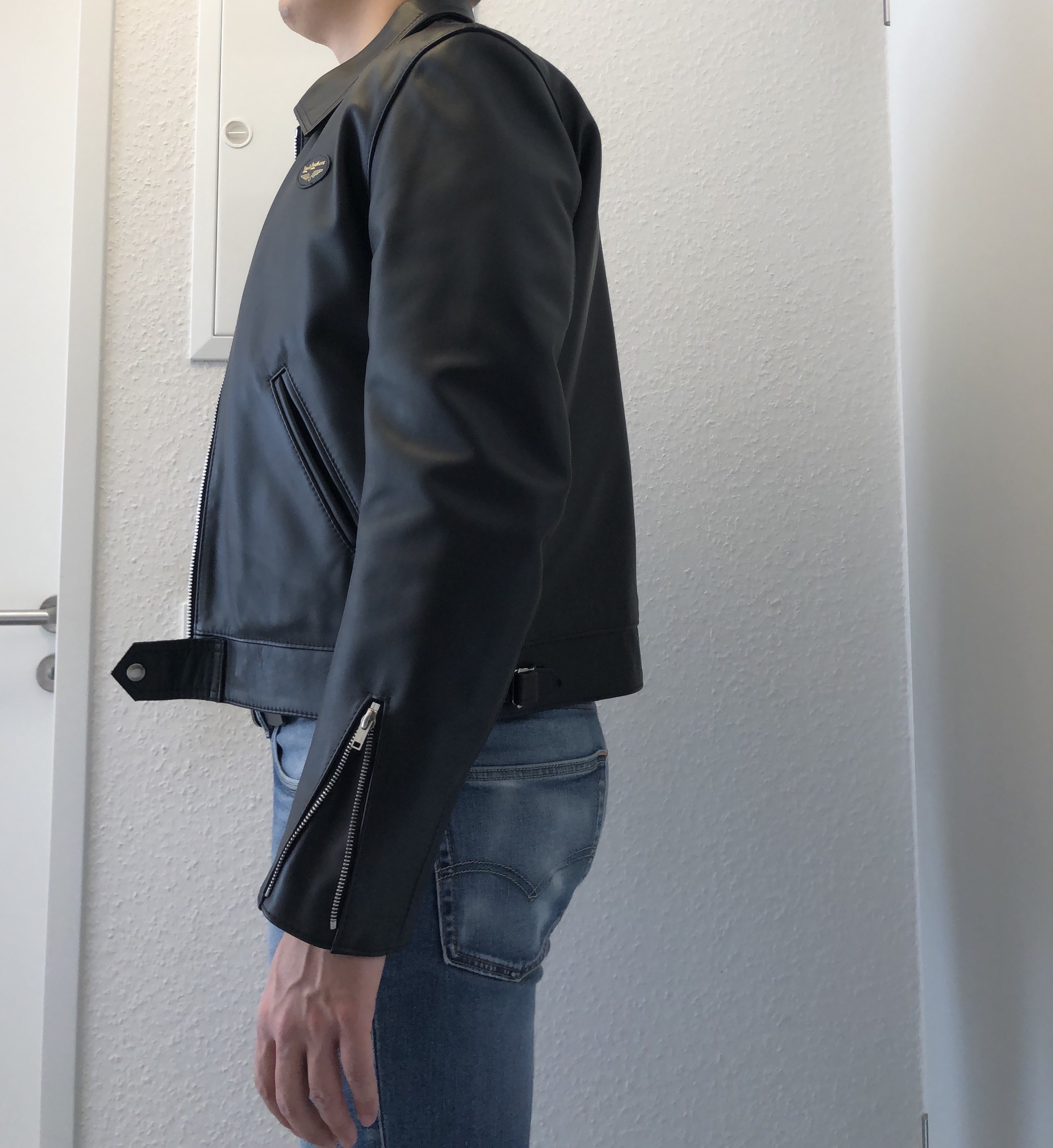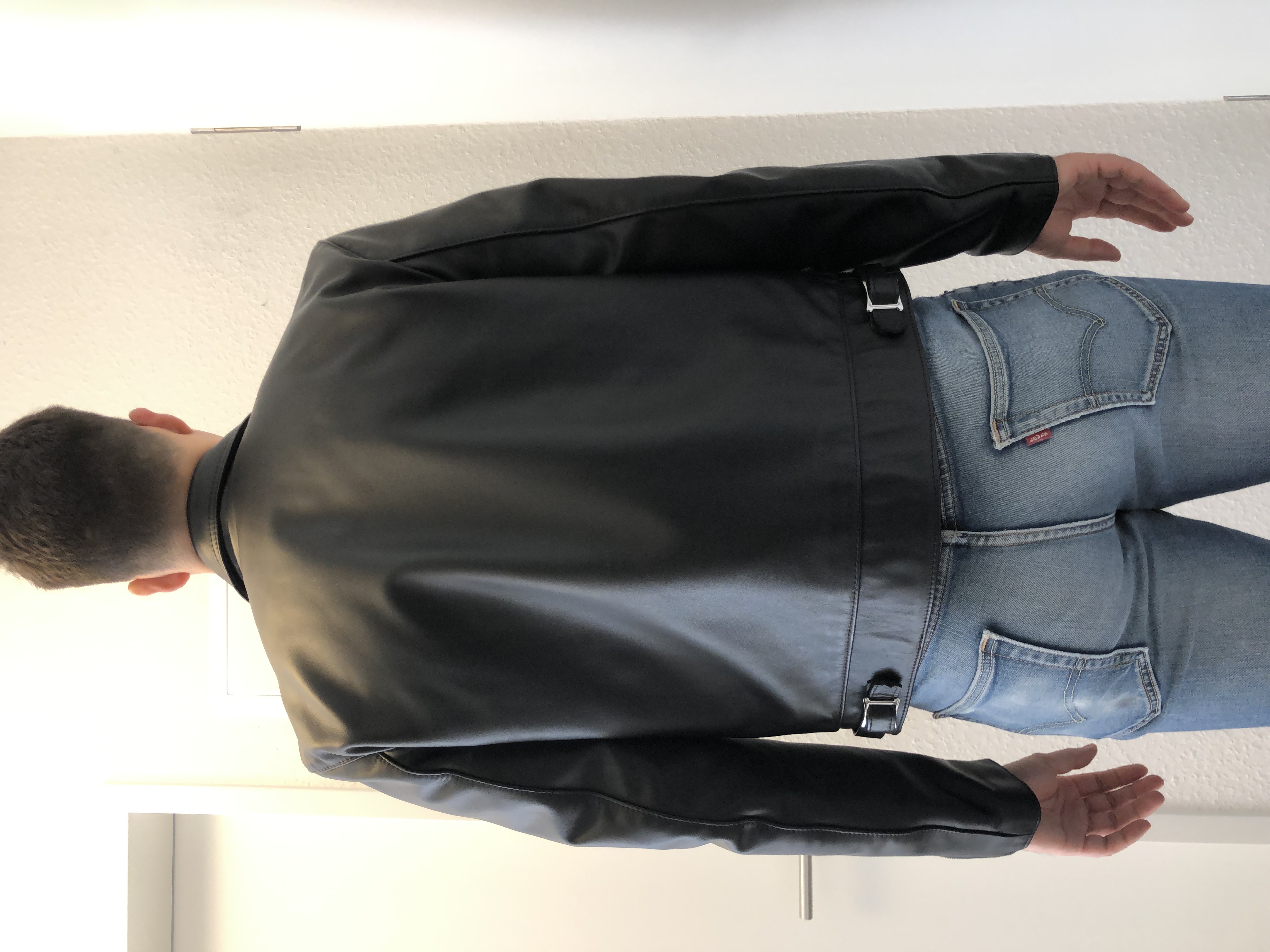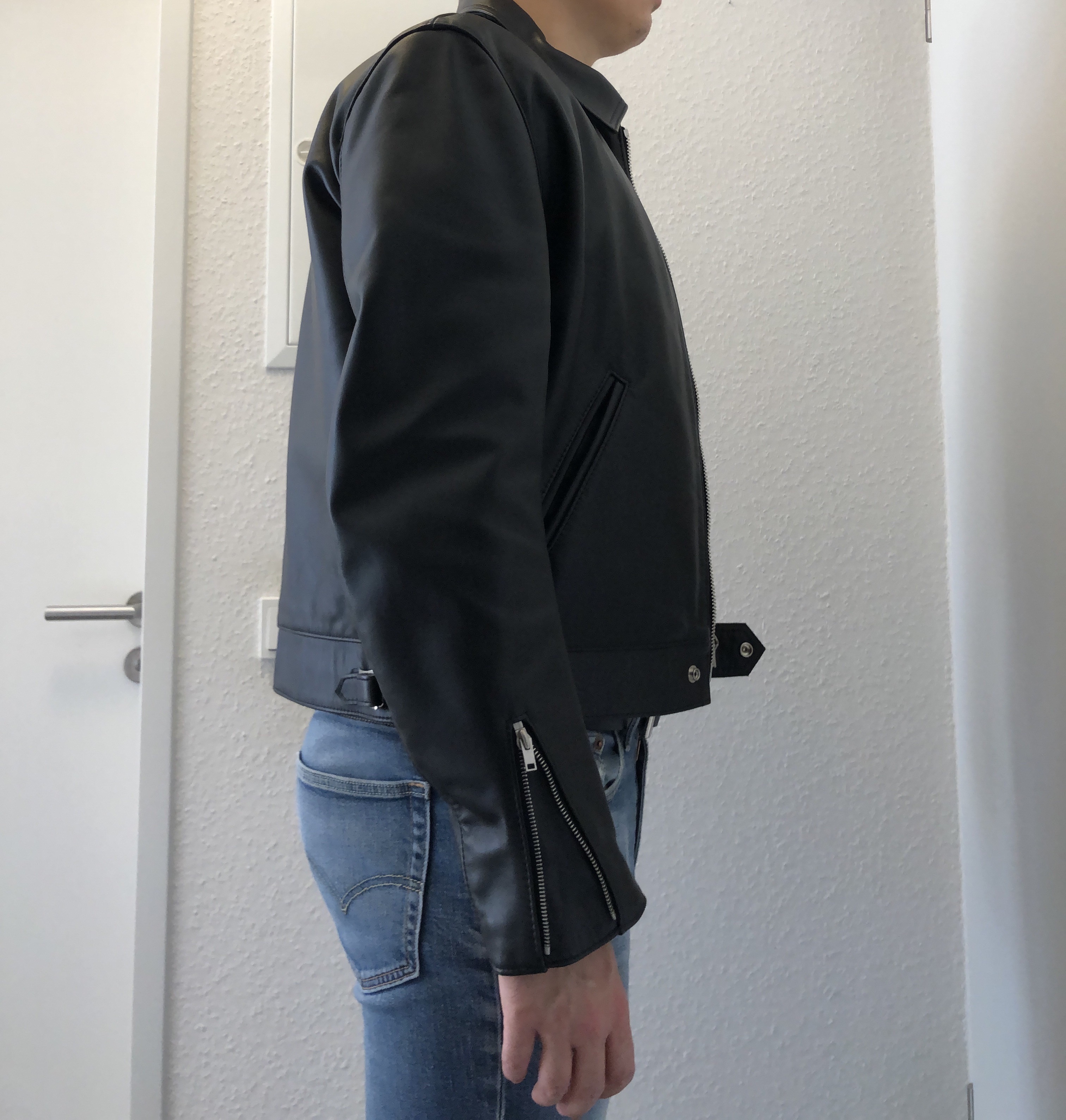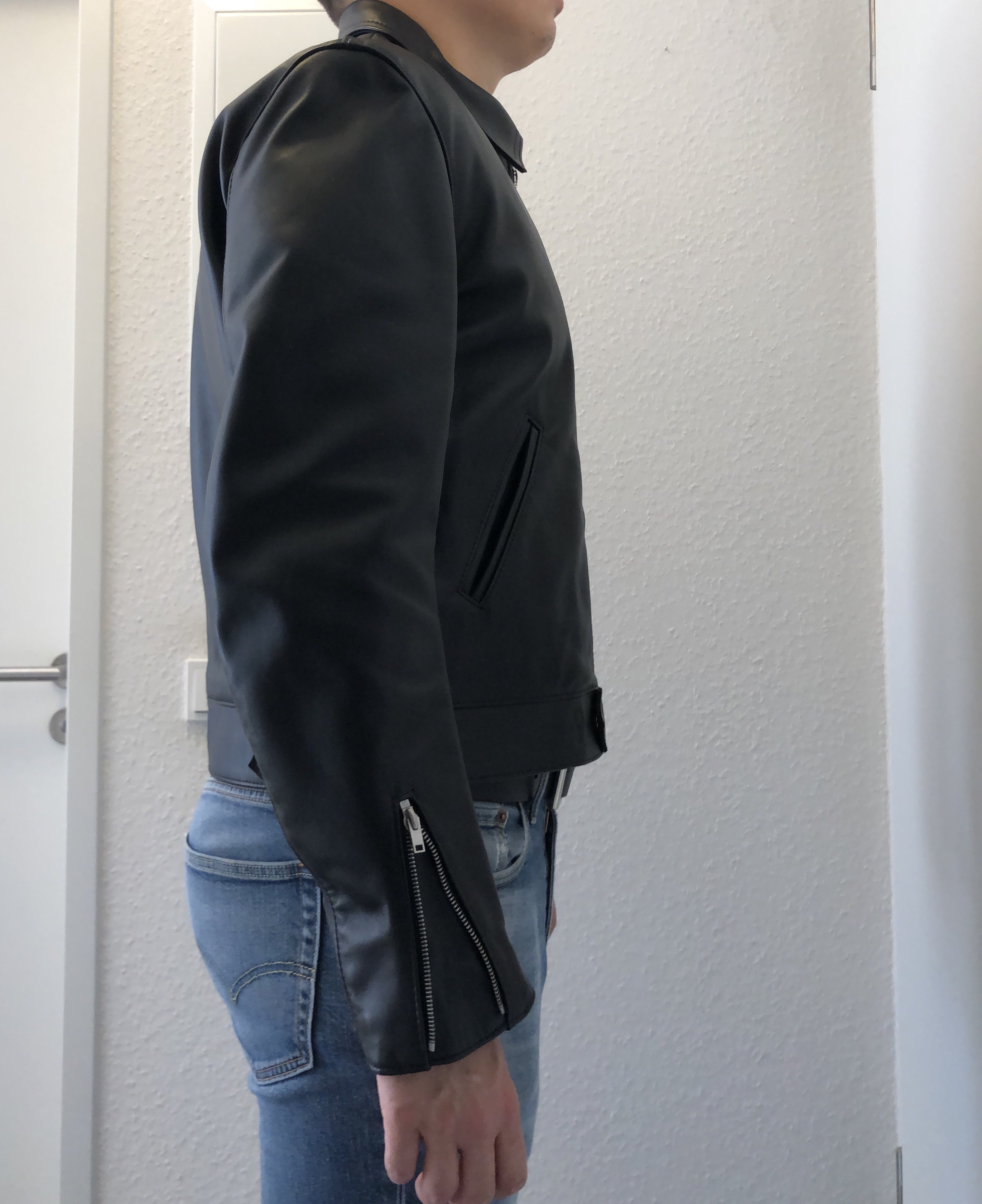 P.S
I added the Belmondo pictures from the original post because I still think it's a pretty cool jacket!