​
For sale is this amazing vintage Cal Leather Police Motorcycle Jacket - Men's Size 36 (measurements below) in excellent condition.

Cal-Leather began making leather products in Ventura, California in 1927 as "Star Glove & Leather". By the 1940s, the company was making jackets under the "Cal-Leather" label for motorcycle riders. Cal-Leather quickly gained a reputation among riders as a highly dependable apparel company and was commissioned by the LAPD in the 1940s to develop and produce the official LAPD jacket for their motorcycle force. Other law enforcement agencies throughout the country followed suit, as did the outlaws they were going after.

Cal-Leather has become an extremely collectible and valued brand in the vintage leather jacket community, as their jackets are known for their timeless style and sophistication, which encompass both classic and contemporary elements. Their vintage jackets are well known for their commitment to quality, attention to detail, and amazing quality, in regards to both leather and hardware.

Many Cal-Leather jackets made in the mid-20th century were produced for private labels or law enforcement agencies and do not have a label. In this instance, this amazing jacket is one such case, where the label belongs to a now defunct San Francisco retailer "Leather Forever". In accurately identifying a true Cal-Leather jacket, many identifying features can be utilized. Such identifiers include, but are not limited to: mouton-lined sleeve cuffs; stitching details throughout the jacket, mainly in the back, belt loop areas, and across from the main zipper to the pocket area; lapel, epaulette, and gusset placement and design; 'drop down' feature of the bottom of the jacket in the back; smooth satin lined black interior; snap buttons both inside and outside the jacket (which were originally used for a detachable mouton collar); consistency of the leather hide; handwritten size tag in blue ink within the inside pocket; and more. This jacket exhibits all of these features and more, and is without a doubt a true Cal-Leather motorcycle jacket. In fact, it is actually quite unique in that it features both shoulder epaulettes as well as shoulder gussets, a feature that is not all that commonly found on Cal-Leather jackets.

This jacket is excellent vintage condition. The jet-black leather is in great condition, stitching is tight and sound, the comfortable liner is excellent, the zipper and hardware works without fault. All original parts, including the original brass heavy-duty Talon main zipper, Serval sleeve zippers, sleeve pocket circular pulls, even the leather adjustable laces are almost certainly original. The jacket is heavy duty and has a great slim fit design, and is comfortable to wear. I'm only selling this remarkable piece and it's slightly too small for me. Act now for this amazing piece of American history in outstanding vintage condition.

Asking price is $375 shipped (Paypal Friends and Family) in the continental U.S. The jacket will be quickly shipped via USPS priority (insured and with adult signature required). I am happy to provide additional photos or answer any questions you may have. I have bought and sold jackets via this forum.

Marked as size 36R, measurements are as follows:

Armpit to armpit: 19.9"
Shoulder to shoulder: 18"
Bottom hem (uncinched): 16.5"
Sleeve length (taken outside along curve): 23"
Length from bottom of collar down: 23.5"

Please allow a small degree of inaccuracy due to human error.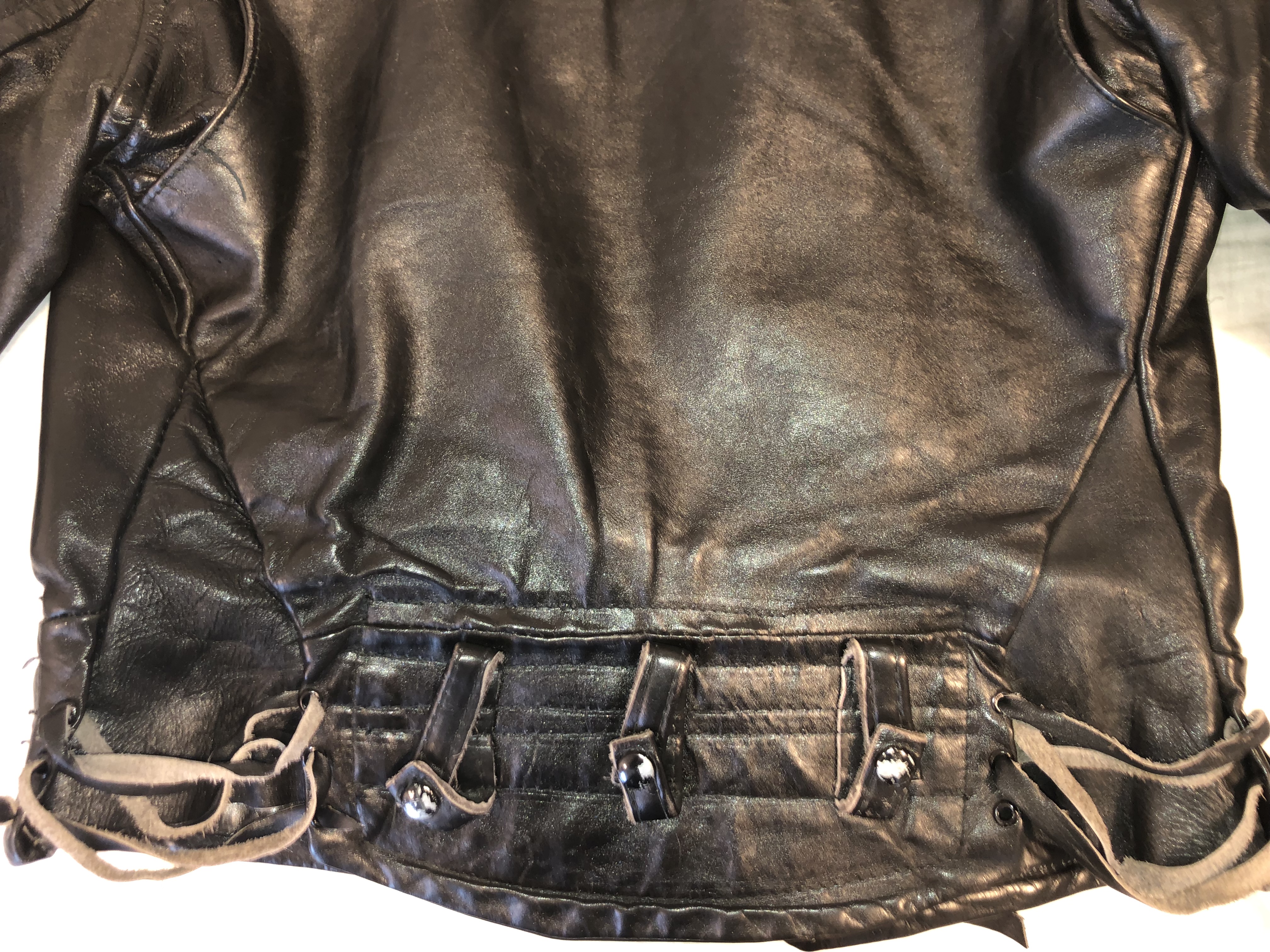 Last edited: