I have been thinking for a while now about this comparison. I never thought I could make it materialize, as by all appearances the options to purchase one of the two jackets here was extinct. Then, it suddenly materialized, almost unexpectedly.
As has been discussed in another thread, the Vanson-sourced Cycle King jacket was a short run commissioned by the Harley Museum in Milwaukee, WI. It has a D-pocket, a full-round belt, stitched down top loops, decorative studs on the zipper pulls, #10 nickel main sipper, and #5 nickel zips on sleeves and pockets, all Vanson branded. The liner is a Woolrich Rob Roy red/black plaid. This jacket is Steerhide with a waxy finish as the photos show. The jacket listed here is a Size Large. It is not offered in numeric sizes.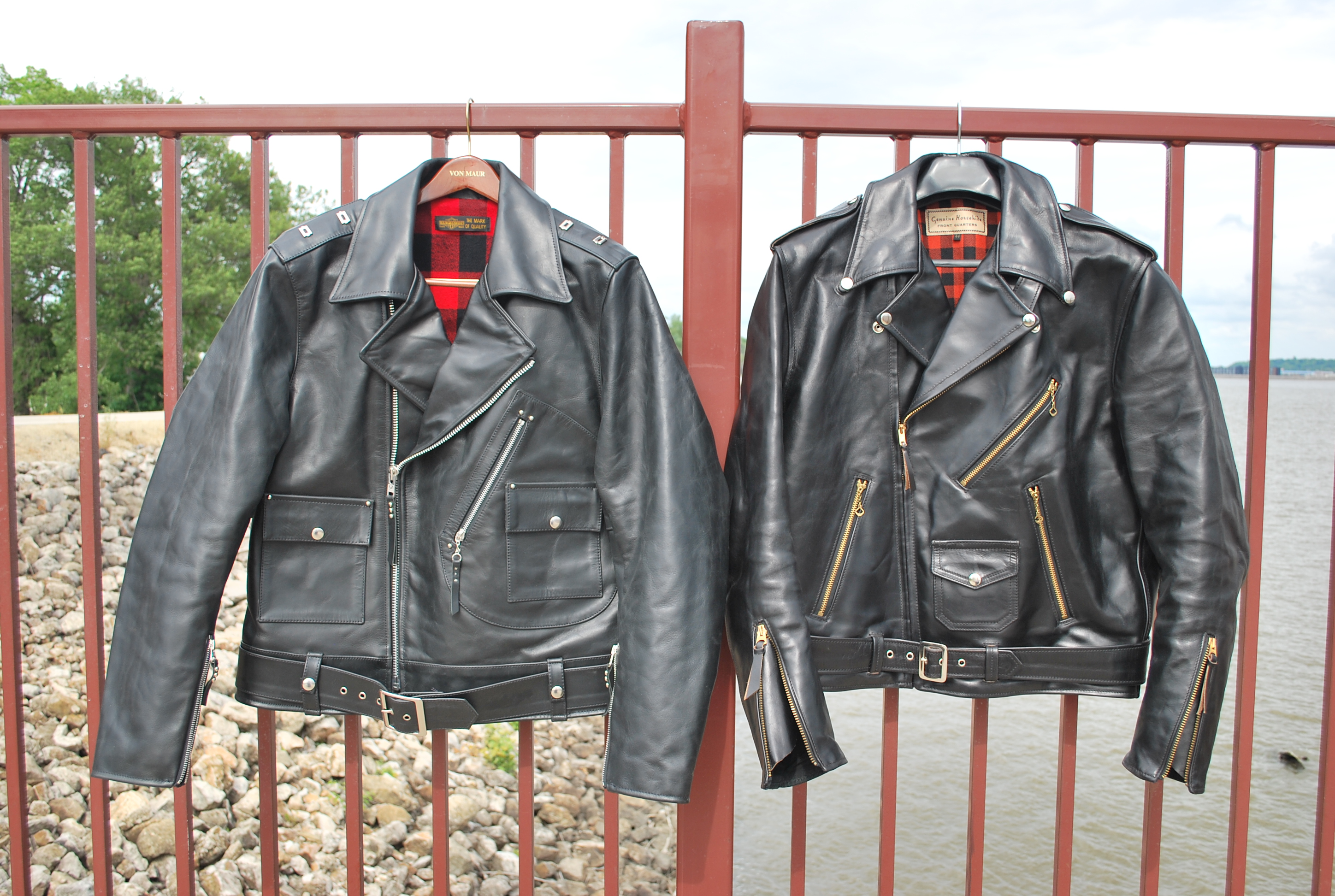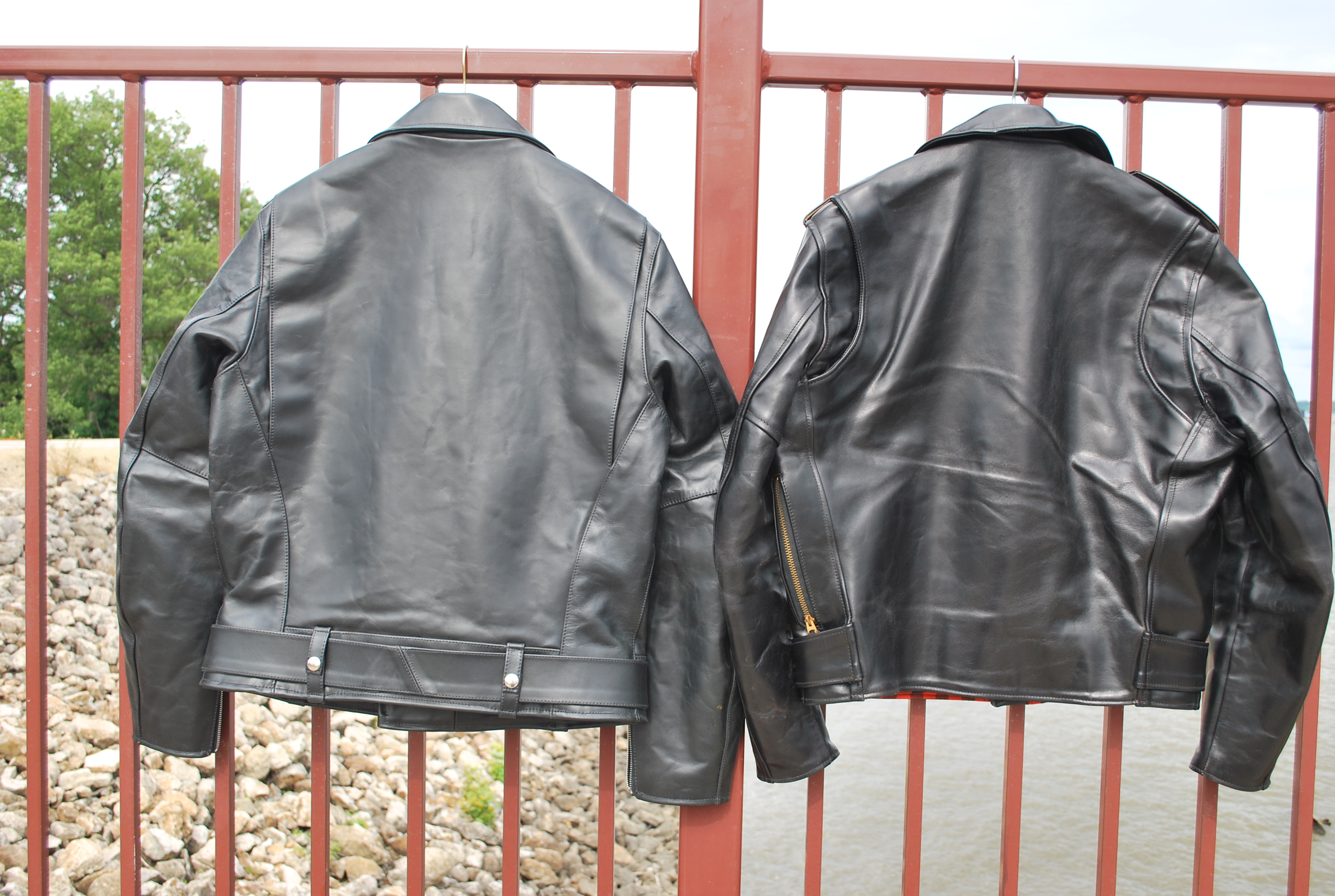 ** Background brought to you by the Mississippi River
Fit details – This is a boxy, straight-cut jacket that does not have much physical taper. The jacket may relax some as it starts to break in; it has only been worn an hour or so at this point. Also the sleeves in this model are indeed large – they almost look wide enough to install armor into them. Had this all been known, I could have considered sizing down to a Medium, however I doubt the sleeve & back length would have been sufficient going that route.
Dimensions for a Size Large:
- Shoulders – 19"/48cm
- Pit to Pit – 23.25"/59cm
- Waist – 21.5"/54.6cm
- Sleeve (Straight) 25.5"/64.8cm
- Sleeve width (3" from Shoulder)
- Back – 25.25"/64cm
To me this is surprising – I had to measure it again to be sure. How could 1.5" less Pit to Pit feel boxier to me? (Compare to IR dimensions below)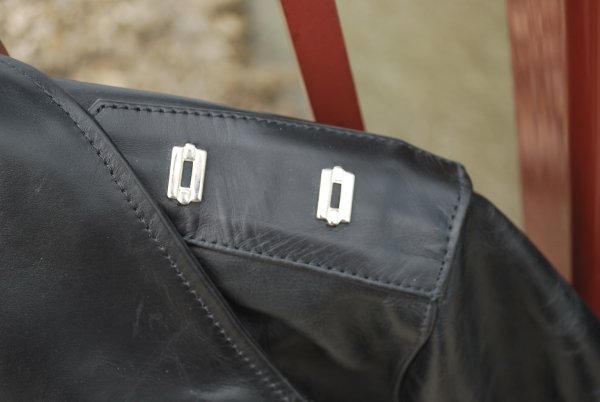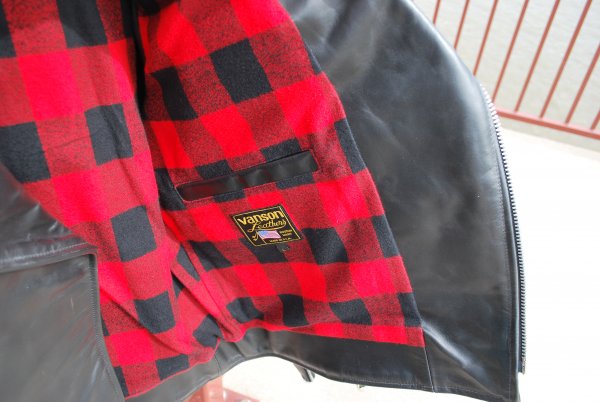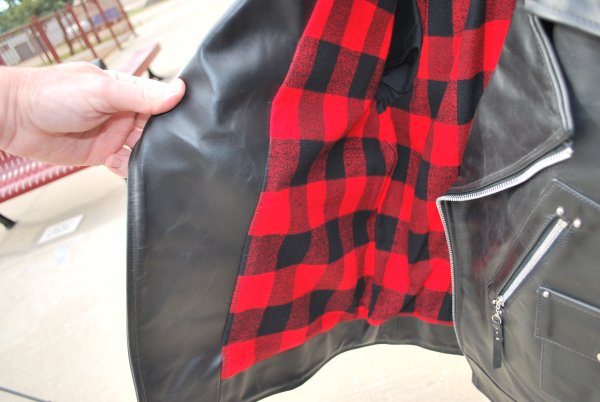 The Aero Indian Ranger is more familiar to this forum. Mine arrived in mid April in Horween FQHH, and it has probably seen about 10 hours of wearing time at this point. It is a modified size 44, with the waist taken in a bit from normal stock width. This jacket, due to the alterations Carrie at Thurston Brothers recommended, fits me better in several ways from the Vanson – Cycle King as the fit photos show (in second post). As noted in prior posts, this jacket features:
- Rob Rob Lightweight Red/Black tartan lining.
- Mixed hardware (all #5 brass for zippers)
- Full nickel snaps with backing snap-down ability
- Front-half belt that tapers ever so slightly to the middle
- One interior pocket with no closure
Dimensions for a Size "44"
- Shoulders – 19.5"/49.5cm
- Pit to Pit – 25"63.5cm
- Waist – 21.5"/54.6cm
- Sleeve (Straight) 25.5"/64.8cm
- Back – 25.5"/64.8cm
So which one do I like better? Well, it is hard to say. They are both unique in their own special ways. I am very thankful and humbled to own both of these at the same time. I do not have the ability to have dozens of jackets of any similar caliber, so it is quite a neat experience to own these two great jackets and get them broken in over the next few years.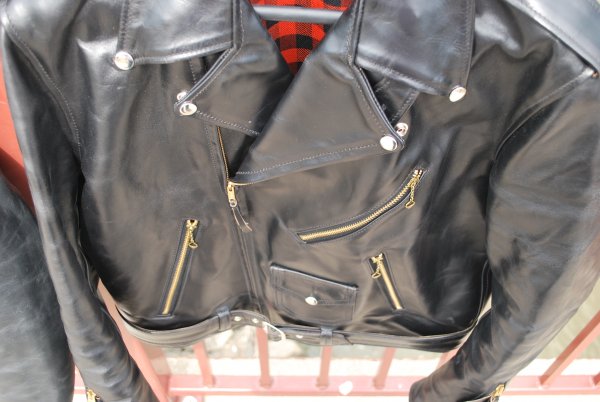 From a fit perspective, I prefer the Aero, it's much closer to an "ideal" fit on me and would be better with one more layer on underneath as the fit photos will show. For some reason, the Front Quarter Horse Hide on this jacket is some of the nicest I have handled; it is just glossy enough and very slick/smooth to the touch. It already is showing a bit of tea core, but I do not mean to hurry the break-in on this jacket. I actually really like it being basic black with the red and black lining and mixed hardware of bright brass and plated nickel (or plated brass in the case of the belt buckle.) interestingly the #5 brass Talon reproduction main zipper has a nice, solid feel and the chin-link style pocket pull zippers just look so very detailed.
The Vanson is on the larger size for me. However, as the leather itself starts to break in, I believe it will settle down and be a very versatile, rugged jacket that has some interesting details. The #10 zipper is a plus, it is sturdy and handy to use, and looks great on this pattern. The leather itself is rather flat presently, however it is already taking shape – the waxy feel is evident and it looks like grain is beginning to pop out. I am hoping this will develop into a great jacket as time and use occur.