I'm on a business trip to New Jersey, and took a day prior to go into New York City, for shopping and sight seeing. It's been probably 15 years since I last visited NYC. Living in Alaska, I also have limited access at home to fine stores of ANY kind, so it's trips like these that I take the opportunity to see the "good stuff" of the commercial world. This time, I especially was looking for good men's semi-formal hats.
BIG thanks to all those here that gave me some good NYC shopping tips!
I had a GREAT day. I thought I overslept, but ran down to check out at the hotel and discovered that I was a couple hours early on the time change, so I started at a good time.
Caught a train across the river into NYC, started by walking Broadway, stopping in at the NYC Hard Rock cafe downtown, Times square, Ed Sullivan theater, etc. I'm a huge Hard Rock Cafe fan, so it was nice to go back to that cafe location again.
Then I went to a couple hat stores, starting with Worth & Worth, then the Hat Corner, which is a little hole-in-the-wall shop, REALLY nice owner. Got a couple hats on GREAT sales. (one for $10!) The 2nd shop was by the World Trade Center site, so I stopped there. I have to admit--this REALLY got to me, since this is the first time I've been back to NYC since the 2001 terrorist attack.
Was hungry, so I went to the new Hard Rock Cafe in the new Yankee Stadium. I think this is the 152nd Hard Rock Cafe location I've been to in the world, and the last Hard Rock I hadn't visited yet in all of the US/Canada. In the picture, this is the first hat that I bought for the day, wearing it through the rest of the day around NYC. I got a couple looks, wearing the hat, and several comments. (all complimentary) I don't think New Yorkers are shocked about much that they see--there's some crazy stuff on the street. People just don't seem to wear nice hats anymore, that's all.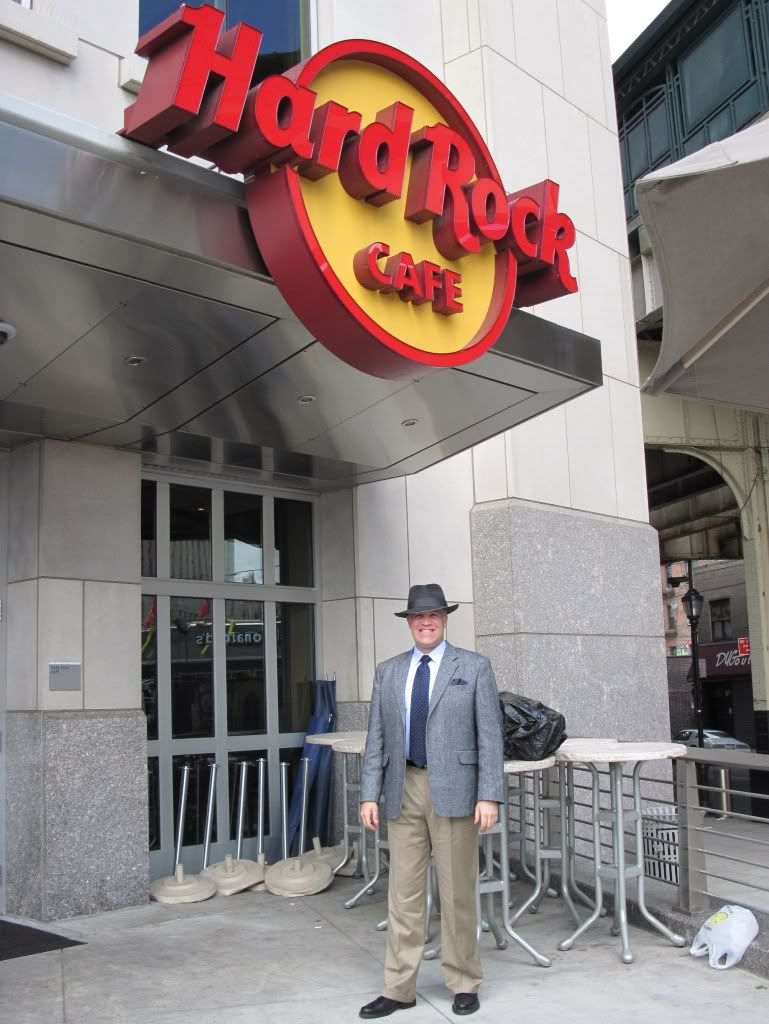 After lunch, I walked down 5th Avenue, stopping at a bunch of stores to window shop, like FAO Schwartz, the NYC Apple Store, which was awesome, the actual Saks 5th Avenue, which was nice, and others Then I went down to JJ's Hat Store, and found another great hat I bought.
After that, it was Brooks Brothers, going to their flagship BB store on Madison Ave and 44th Street. I have their AAAC corporate discount card, and they were having a storewide 25% off sale for that, so I picked up some ties and pocket squares. I gotta say--thank goodness I don't shop stores in NYC for my everyday stuff--I saw some crazy prices throughout the day, like $600 shoes, a $5,000 suit, etc. For a guy that doesn't get an opportunity to go to nice stores very often, though, it was fun to go to some nice shops, dressed nicely, and get some royal treatment. Got a complimentary shoe shine while I was looking at the $600 BB shoes.
Had some great NY pizza, took the train out of NYC, and then drove down to NJ. Was EXHAUSTED. Took some pics before going to bed of my new stuff, though. First is one of the new hats with my trench coat.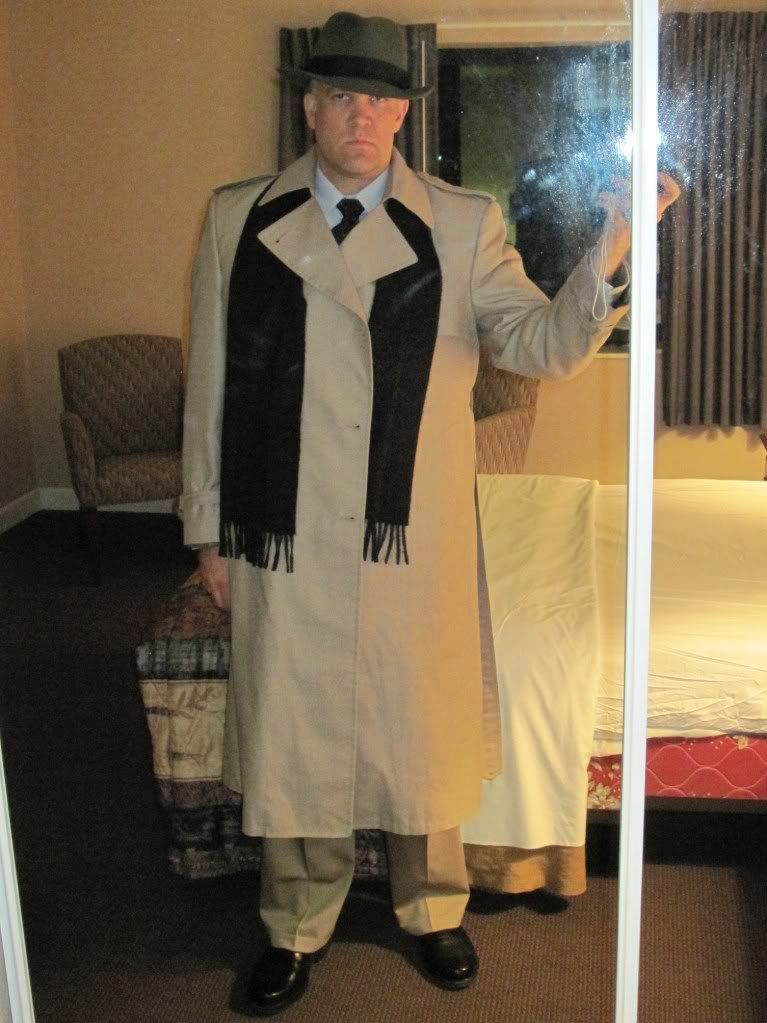 Then my 3 new hats in the mirror. The first two are actually the same hat model, with one a medium grey, the other one charcoal grey. (one was on a great sale) The third one is the $10 hat out of the clearance bin at the Hat Corner, that will be a "beater hat" for cheap events like hiking or something. The last pic is one of the new Brooks Brothers ties and new polka-dotted silk BB pocket square, trying on as an example.
(then today, to top off the good times, I went to my favorite pizza/sandwich shop by my training location here in Jersey, and got a big old Philly cheesesteak. YUMMY!)