I was going to wait on this, but the stores are playing soppy, modern pop versions of carols, the decorations are up, and Baby, it's cold outside. Now I'm all giddy.
Another Yuletide season is upon us, with its attendant spirit of giving. So I am keeping with time-honored Noel tradition and gifting to the Flounge: something it already has plenty of and probably doesn't need any more. Namely, a scan from Esquire. This is from the issue dated January 1937, but is clearly the X-mas issue, and this buyer's guide is
Last Minute Gifts That Don't Look It
.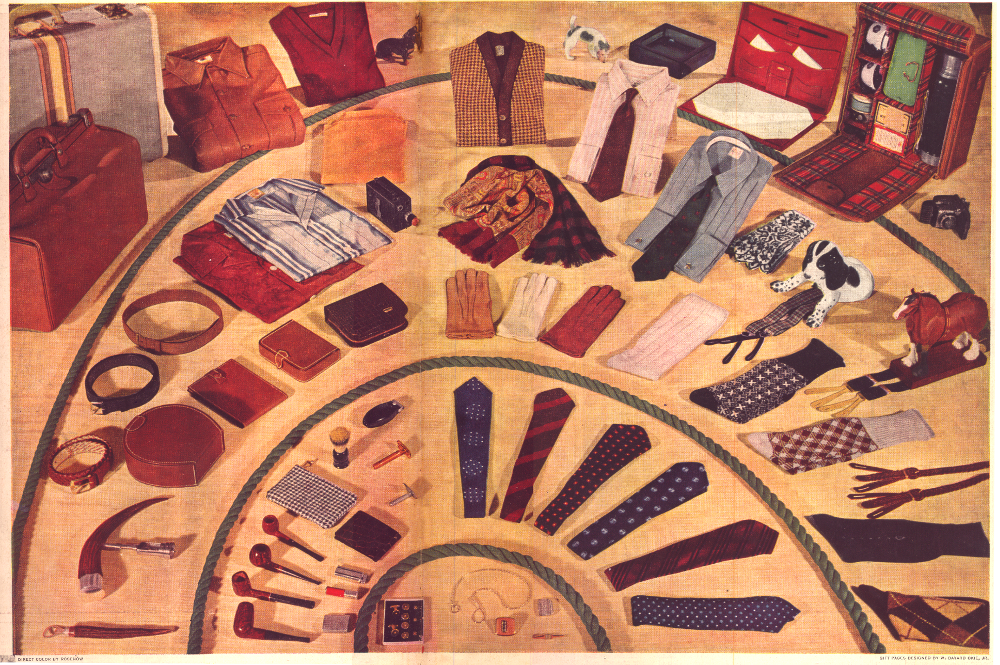 For those of us who are still looking for inspiration in filling out a vintage-style wardrobe and collection of accessories--or know someone who is--this may spark some ideas. Reading this, it struck me how easy the smart man about town must have been to shop for, given his need to replenish socks, hankercheifs and pipe tobacco.
The legend to the key is as follows.
1. Dinner jacket set of black onyx cuff links, studs, and waistcoat buttons.
2. Monogrammed gold plated belt buckle.
3. A key chain for slave drivers, with holder in the shape of a bull whip.
4. Sterling silver belt buckle bearing a silver initial.
5. Initialed tie clip.
6. A pipe with an extra length bowl.
7. Octagonal bowl pipe.
8. Pipe with apple shaped bowl.
9. A small pipe sporting the outdoor design usually reserved for larger ones.
10. Black and white hound's tooth check tweed tobacco pouch.
11. Billfold of crocodile leather.
12. Shaving brush of badger hair bristles.
13. Electric shaver for any current—AC or DC.
14. Double edged razor blades—the new one piece razor hangs together for them.
15. Imported razor with hollow ground blade—part of a set including automatic hone and strop.
16. Foulard silk tie with grouped spot design.
17. Club stripe rep silk tie.
18. Cashmere wool tie with spaced madder figures.
19. Spitalfields silk tie with an overall pattern.
20. Fancy striped rep tie.
21. Unusual design of overall pattern silk tie.
22. Bottle opener with stag horn handle.
23. Cork screw with matching stag horn handle.
24. Braided brown calf belt.
25. Collar box of pigskin with saddle stitching.
26. This travelling mirror is protected by a saddle stitch pigskin case for at least seven years.
27. Jewelry box in saddle stitched pigskin.
28. Monogrammed crocodile leather case with slide fastener.
29. Buffed hogskin gloves.
30. Yellow buck gloves for town and dress wear.
31. Cape skin gloves for all-round wear.
32. Hand loomed white wool Austrian hose for sportswear.
33. Bright plaid braces.
34. Smartly patterned blue and white all-wool hose.
35. Braces in a favored green shade.
36. Plaid designed hose.
37. Suspenders in brown braided leather.
38. Clocked wool hose.
39. Argyle plaid wool hose.
40. A black leather belt.
41. Ostrich skin belt.
42. Silk lounging pajamas.
43. Striped broadcloth pajamas with an open notched collar.
44. The latest design in small cameras.
45. Motion picture camera.
46. A pleated bosom sage green shirt with French cuffs.
47. A tie to match.
48. Imported Norwegian gloves with Telemark pattern.
49. Cocker spaniel puppy in imported glazed pottery.
50. Hand carved wooden draft horse tanding about ten inches high.
51. Pigskin grip in a convenient size.
52. Newly designed traveling bag of rawhide.
53. Leather coat for general sportswear.
54. V-neck Austrian stitch red cashmere pull-over.
55. [There is no 55. Guess the store was out.]
56. Turtle-neck light weight pull-over in canary yellow.
57. Knitted and tweed cardigan.
58. Wool muffler.
59. Another wool muffler.
60. Button down collar attached shirt in the new spaced stripe version.
61. Wine color heavy silk striped tie.
62. Writing tablet finished in red leather.
63. Canvas case with slide fastener boasting a "Thermos," a sandwich kit and space for cartidges.
64. Glazed pottery dachshund.
65. Heavy weight blue glass ashtray.
66. Imported porcelain figure of a wire haired Scotch terrier.
67. Pocket size lighter in a black and chrome finish.
68. Red enamel and chrome chromium flameless lighter simulating a lipstick.
69. A streamlined silver-plated pocket lighter.
The older hands on the forum may find all this stuff old hat...(wait a minute, they go nuts for old hats,
think
, Nobert) may find this stuff yesterday's news...(no, they're into that too...)
The older hands on the forum may find this stuff a bit entry-level, or already have items similar or identical to the ones in the gift-giving guide. For you, I got a picture of Santa smoking a Lucky.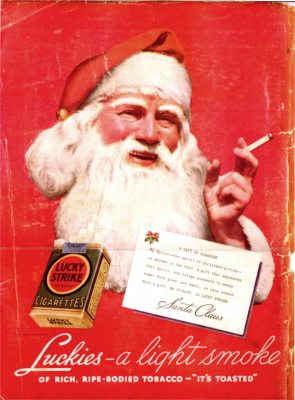 Merry Christmas!
Last edited: