See photos.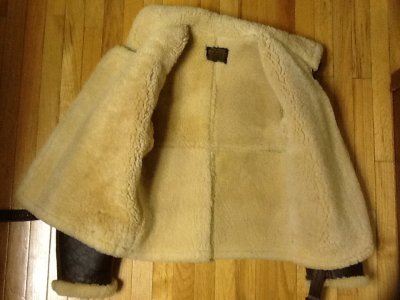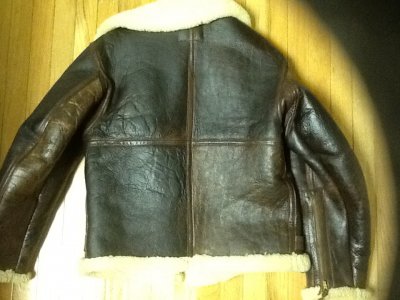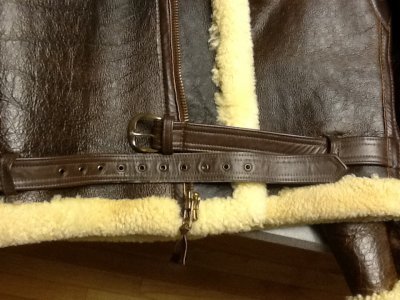 This is my circa 1978 Avirex Irvin, size 38, that I have owned since new. The jacket was carefully stored and worn outside about a grand total of 20 times. As depicted, the jacket has light color fleece and seal color outer with some mismatching of tone. The fleece does not seem to be excessively fluffy or thick like some of the more recent repros, and so the wearer should not feel like the Michelin Man, but it is very warm and seems to resemble that on the original jackets, at least as far as my nonexpert eye can tell.
After years of storing the jacket for I-don't-know-what, I decided this winter to either wear the jacket or sell it and, after a few-day trial, I reluctantly concluded the jacket now is too small for me. Not as skinny as I was in 1978, I now normally wear a 40 or 42 jacket. I can get into the Avirex and wear it -- so I would characterize the fit more like a 39 or tight 40 -- but I decided to order a new Aero pre-war Irvin that will fit right.
The jacket is clean inside and out and from a non-smoking home and, as indicated, it was carefully stored to avoid dust, etc. All zips are original to the jacket and work fine. There is a faint, intermittent white mark, about 1" long, on the outside of the left sleeve, but I could not get the mark to be visible in a photo. As depicted in one photo, the belt shows some abrasion. I have not cinched the belt much, so the belt material must be pretty cheap, maybe vinyl but I am not sure. I have pecarded the jacket a couple of times in the last few years.
Measurements are as follows:
Pit to pit across front -- 23
Shoulder to shoulder seam across back -- 21
Back collar seam to bottom of hem -- 25.5
Sleeve from shoulder seam, along outer curve of sleeve to end of cuff -- 25.75
$250 plus shipping from Iowa. If interested, please email me at
dixieina@aol.com
. Thanks.