("It's ABOUT TIME!" blasts Sally, her fist pounding the kitchen table. "T'em cops, wastin' time raidin' cawd games when t'eeahs a wawr on!" "T'at remines me," says Joe. "Y'heah f'm ya brutteh lately?"

"T'ey made 'im a cawrpr'l," declares Sally with not a little pride. "T'ey said he shows great promise as a leadeh of men." "Leadin'm 'rouna exehcise yawrd." "What?" "Nut'n.")

...
It seems Sally might have a bit of a blind spot when it comes to her brutteh.
I wonder if there are less suicides today than in the 1940s or if they are just reported / covered differently (less prominently) to, hopefully, reduce copy cats. My non-scientific / not-at-all professional view as a regular reader of news is that there are less today, but again, I could see that being the result of a change in the way they are covered and not representative of an actual decline.
...

The Federal Trade Commission has charged the American Tobacco Company with illegal misrepresentation in the advertising of Lucky Strike and Pall Mall cigarettes. The complaints charge that Luckies are not "toasted," do not have twice as many exclusive smokers as all other brands among "independent tobacco experts," and are not "less irritating to the throat" than other brands, and that the tobacco used in their manufacture is not better than that used by competing brands. The complaints also charge that Pall Malls do not reduce finger stains, do not protect the throats of smokers, and that the smoke is not "filtered" due to the extra length of the cigarette in such a way as to reduce irritants. The company has 20 days to file a response to the charges. The FTC recently filed similar complaints against the manufacturers of Camel, Philip Morris, and Dunhill cigarettes.
...
So the well-known "Mad Men" ad campaign for "toasted" tobacco was taken from old news headlines.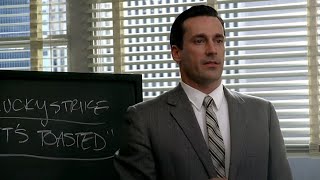 ...

("WE WANNA BE LIKE BO -- AMERICA'S #1 HERO DOG! WOOF!")

...
"I don't care. It's not about being a hero or popular, it's about winning the war and if that flee-bitten, no-talent hack of dog from a third-rate (doesn't publish on Sunday) strip with its infantile plots and stupid dialogue can inspire other dogs to serve, then I wouldn't dream of being bitter or petty about it. I'll take the high road."
"Excuse me, do you know what 'I'll take the high road' means?"
"Shut up, I hate you."
...

(Imagine how many contractors there are getting rich off the "secret underground room" business.)

...
Today, a VC firm would have taken a few of those companies public and listed one as UROOM, which would become a meme stock and future target of a SEC investigation, but for now, the stock would be flying high. In the '50s, the same companies would be busy building elaborate underground Cold War bunkers and in the 1960s they'd be building elaborate underground lairs for all the megalomaniacs, like Ernst Blofeld, looking to take over the world. The business of building secret underground rooms will have its ups and downs, but in 1942, it seems like a solid long-term investment, at least for the next few decades.
...

("Your dog? Bo is ALL AMERICA'S DOG. Aren't ya boy?" "WOOF!")
"Where's my stuffed toy? I need it now, right now!"
And in the Daily News...

Aw, I'm just a little disappointed that the wedding didn't climax with Bobby Clark popping out of a trunk, but I guess you can't have everything.

...
I was just hoping Page Four would give us a pic of her black wedding attire. I get not wearing white to your second wedding, but black is a bit of an out-there choice in '42.
...

Gee.

...
"That's how a true professional owns an entire scene with screen presence, not dialogue."
"They say Bo is getting 1000+ fan letters a week. Here's your two from this week."
"I hate you, drop dead."
...

"I bring you a message from -- Hu Shee!" "Who? I forgot all about her!"

...
If so, Hu Shee now has her own Hu Shee.
Terry, not that Mullins character, is the real beefcake this day.